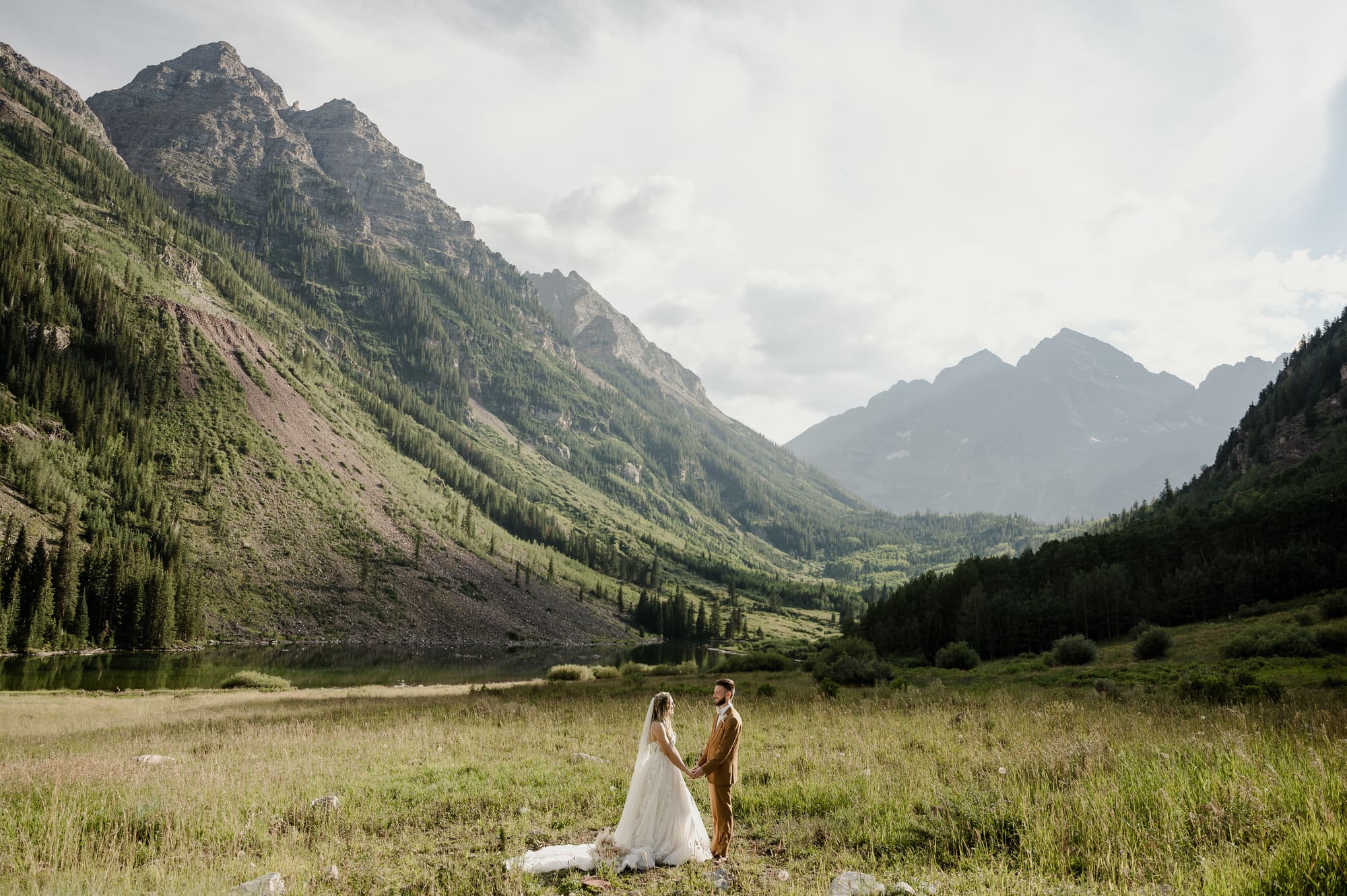 photographer, packages & locations
Aspen is one of the most breathtaking destinations in Colorado featuring majestic mountain ranges, pristine lakes, and rushing waterfalls. Whether you're looking for a private ceremony with just the two of you, or a small gathering of friends and family, Aspen offer the perfect setting for couples looking to exchange their vows. In this blog,
As Aspen elopement photographers, we'll explore the pros and cons to eloping in Aspen and the best tips and tricks to plan the perfect elopement in this stunning destination. So, if you're considering an Aspen elopement, sit back, relax, and let us guide you on this exciting journey!
How To Plan An Aspen Elopement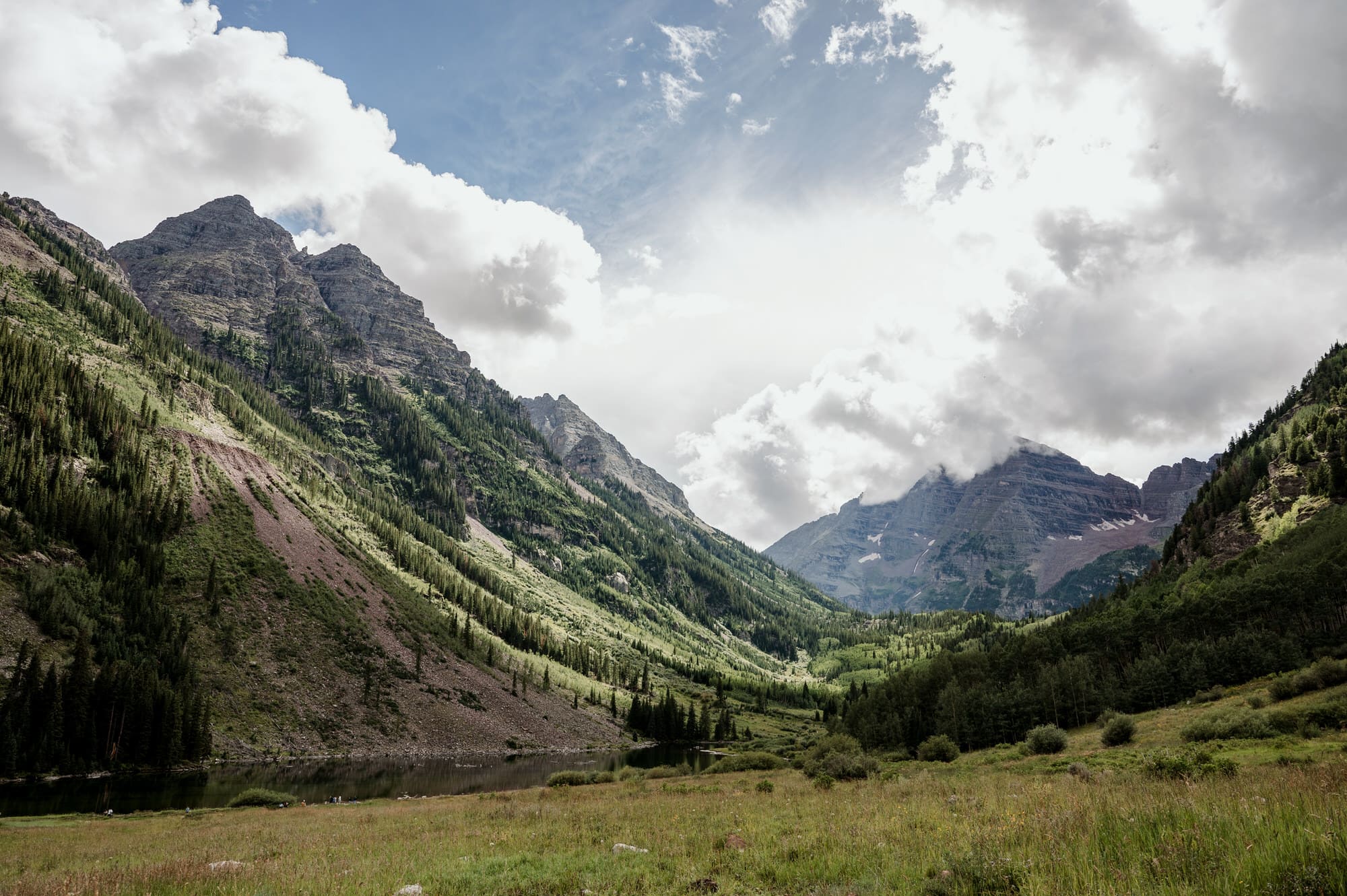 Is this your first time trying to plan an elopement? Don't worry- as Colorado elopement photographers, we have quite a few of these under our belt and we're here to help you through the whole process! Here's a quick step by step guide on how to elope in Aspen:
Next, you'll book your lodging, transportation and any additional vendors such as hair and makeup, a florist, officiant, etc. (don't worry, we'll send you ideas for all of these). We'll collaborate on a timeline to fit in all the locations and activities you want while getting the best photos throughout the day! You'll also get your marriage license prior to the wedding.
Most couples hire us before they start planning anything! The reason for this is because we help our couples with logistics such as choosing the right date, which location(s) are perfect for them, navigating permits, finding local vendors, etc. You don't have to do it all yourself, we're here to help you.
You'll have the best day ever and we'll be there capturing every moment! Within a few days you'll have sneak peek photos in your inbox, and the full gallery within 2-3 months. All that's left is to choose which photos to print!
After you've set a date with us you'll gain access to our exclusive Aspen location guide. You'll easily be able to see which location(s) perfectly fit what you're looking for and have all the info you'll need to obtain any reservations or permits needed.
How much does it cost to get married in Aspen?
The cost to get married in Aspen starts at $30 which covers your marriage license from Pitkin County. At a minimum, you'll likely want to purchase wedding attire, hire a photographer, videographer, florist, hair and makeup artist. You may also need to account for travel, transportation and lodging.
The total cost for your wedding will vary significantly depending on the style of wedding you choose to have. For example, a simple elopement with no guests will be much more affordable than a wedding with guests which you will then need a venue to host a reception, cater food, hire additional vendors, etc. It's important to note that elopements can be as simple or as extravagant as you desire, there is no set cost for this type of wedding!
Aspen is one of the more expensive towns in Colorado. You're likely to spend more on lodging here, especially during peak season.
The couples that hire us value their photos and experience more than anything, which is why they typically spend majority of their budget on their photography package. Below is a breakdown of the estimated expenses for an elopement or small wedding in Telluride. This is not a quote or elopement package.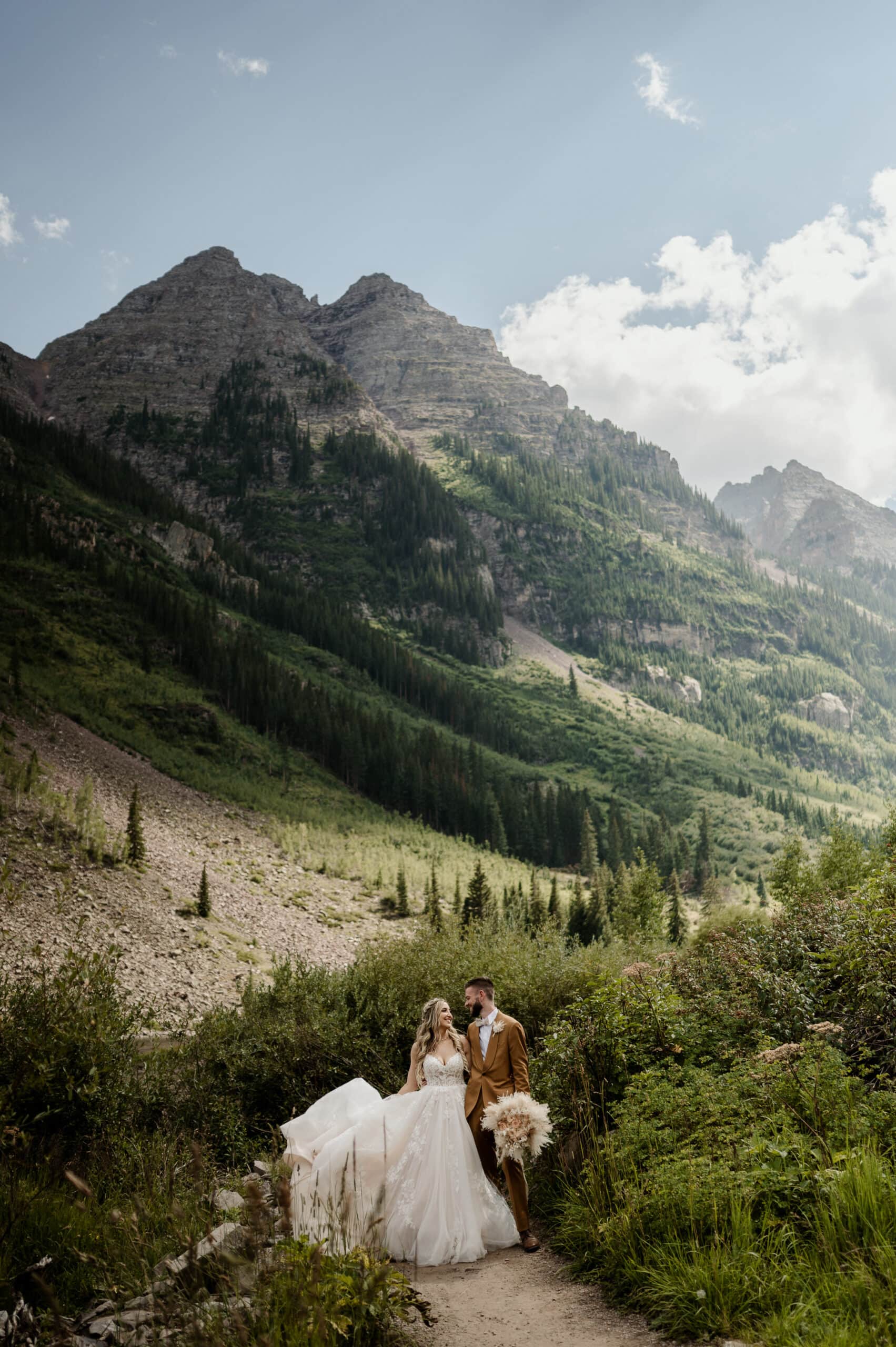 Multi-Day ELOPEMENT
(with guests, photo + video)
Full Day ELOPEMENT
(no guests, Photo + Video)
Half Day Elopement
(NO Guests, Photo only)
Marriage License - $30
Photography - $8,000
videography - $3,500
Officiant - free (included with our services)
Wedding Attire - $3000
Forals - $500 (Bouquet + Boutonnière)
Hair & makeup - $500
lodging - $1500 (three nights at an airbnb)
Marriage License - $30
Photography - $9,900
videography - $3,500
local Officiant - $500
Wedding Attire - $4000
Forals - $1000 (Bouquet, Boutonnière & ceremony arrangement)
Hair & makeup - $800
lodging - $5,000 (three nights at a luxury resort)
reception venue & dinner - $200+/guest
Marriage License - $30
Photography - $6000
Officiant - free (included with our services)
Wedding Attire - $1500
Forals - $300 (Bouquet + Boutonnière)
Hair & makeup - free (diy)
lodging - $100 (three nights camping)
We always recommend having your wedding on a weekday (Monday-Thursday) and eloping in the morning and/or evening for the most intimate experience.
The best time to elope in Aspen depends on your preferences and priorities, but many people consider late September to be the best time for elopements due to the cooler temperatures and beautiful fall foliage. However, summer months (mid-June through the end of August) can also be popular due to warmer weather and more outdoor activities. Keep in mind that many locations become inaccessible in the winter until spring and sometimes even early summer due to snow.
Aspen can be quite expensive, especially during peak tourist seasons. If you're on a tight budget, you may want to consider other destinations in Colorado or nearby states that offer similar experiences at a lower cost.
Aspen Elopement Locations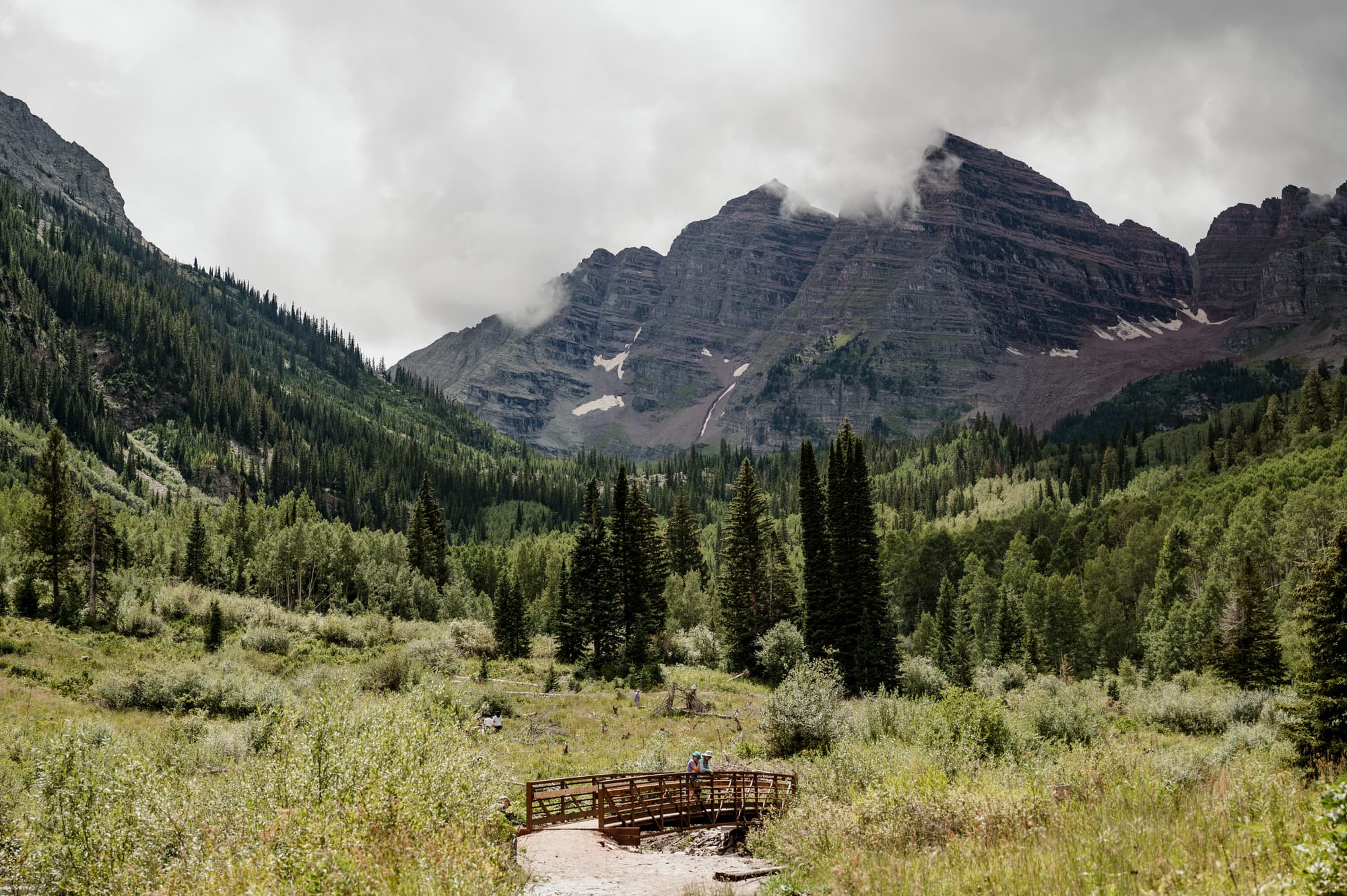 Aspen is a charming town located in the Rocky Mountains of Colorado. The town is known for its stunning natural beauty, with majestic mountains, crystal-clear lakes, and lush forests. It's a popular destination for outdoor enthusiasts, with skiing, snowboarding, hiking, mountain biking, and many other outdoor activities available all year round.
Aspen also offers a vibrant cultural scene, with many excellent restaurants, shops, and galleries. The town is home to several cultural events and festivals, including the Aspen Music Festival, the Food & Wine Classic, and the Aspen Ideas Festival. In addition to its natural and cultural attractions, Aspen is known for its luxurious amenities and services. The town has many high-end resorts, spas, and restaurants that cater to affluent visitors.
Here are some of the most popular and scenic places to elope in Aspen: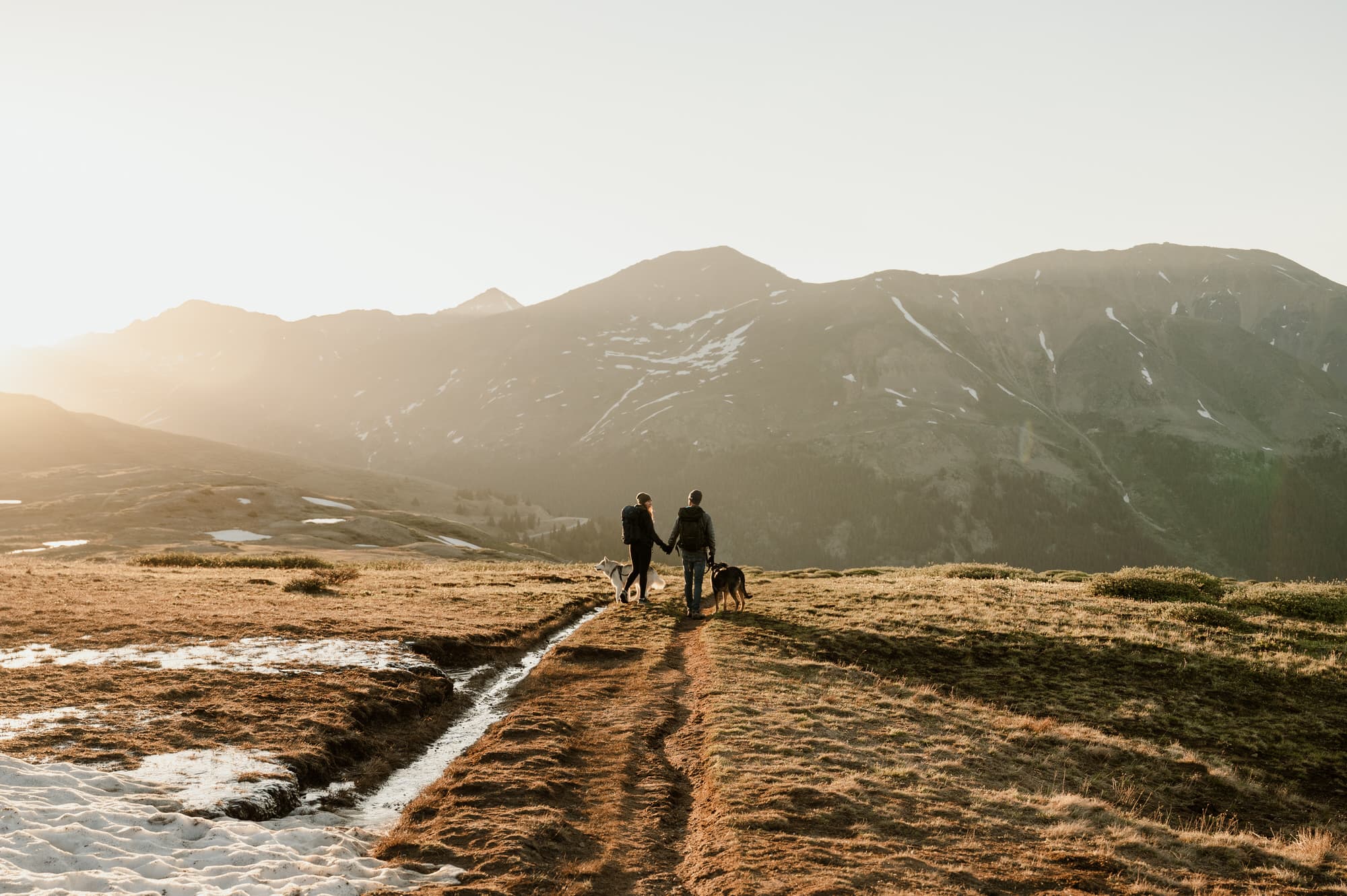 If you love mountains and are looking for a beautiful and unforgettable location for your elopement, Aspen can be a great choice. Located in the heart of the Rocky Mountains, Aspen is surrounded by stunning peaks and valleys that provide a beautiful and scenic backdrop.
Maroon Bells, Independence Pass, Ashcroft Ghost Town, Smuggler Mountain Trail, Snowmass Ski Area, Ajax Mountain, Hunter Creek Trail.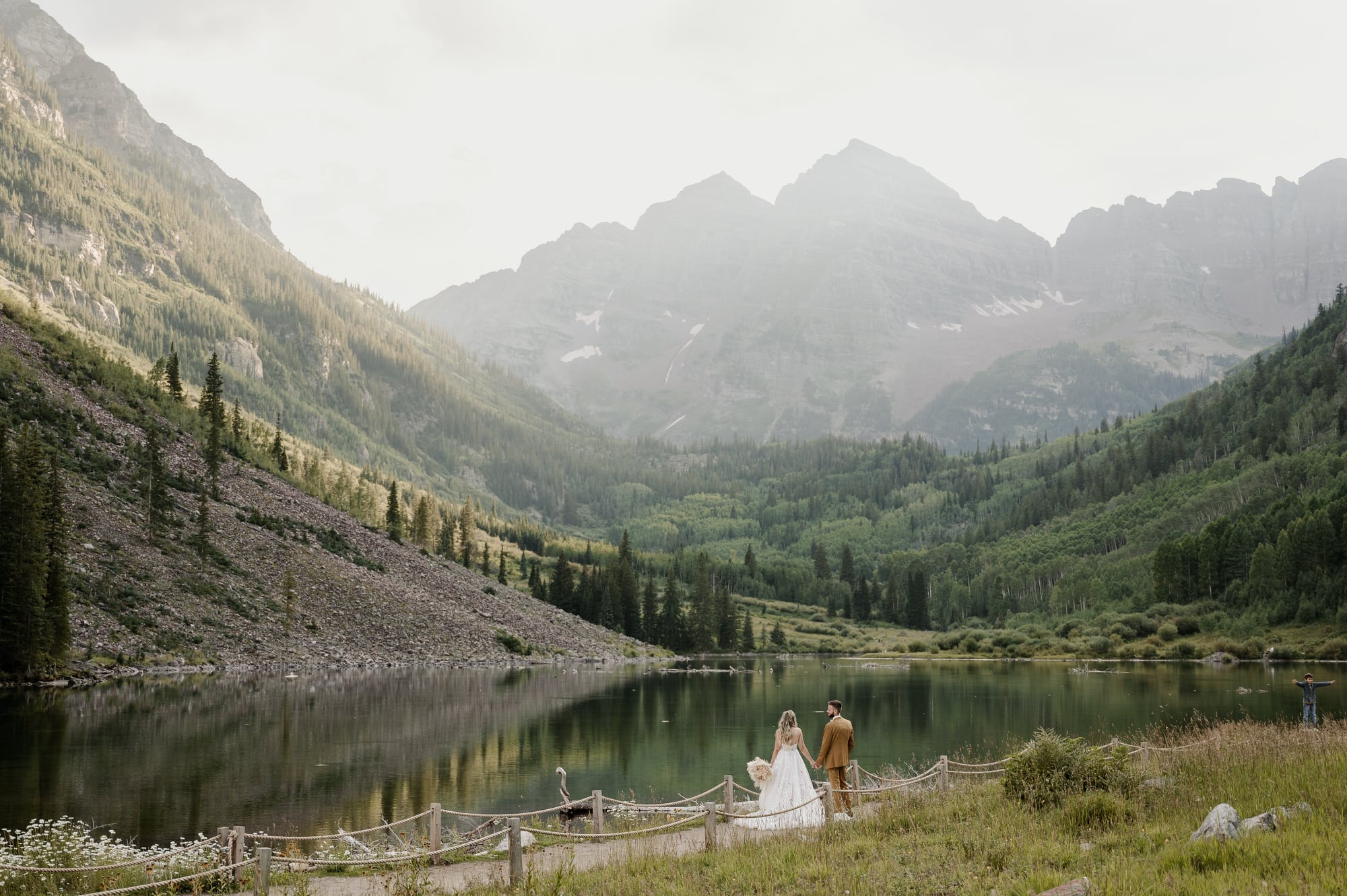 Maroon Lake is the most beautiful lake in Aspen that doesn't require hiking to get to. If you're up for hiking and a bit of a drive, there are many other scenic lakes around Aspen. If you're after a lake, we personally love Twin Lakes which is about an hour drive outside of Aspen.
Maroon Lake, Crater Lake, Lost Man Lake, American Lake, Cathedral Lake, Snowmass Lake, Conundrum Hot Springs, Geneva Lake, Thomas Lakes, and Ruedi Reservoir.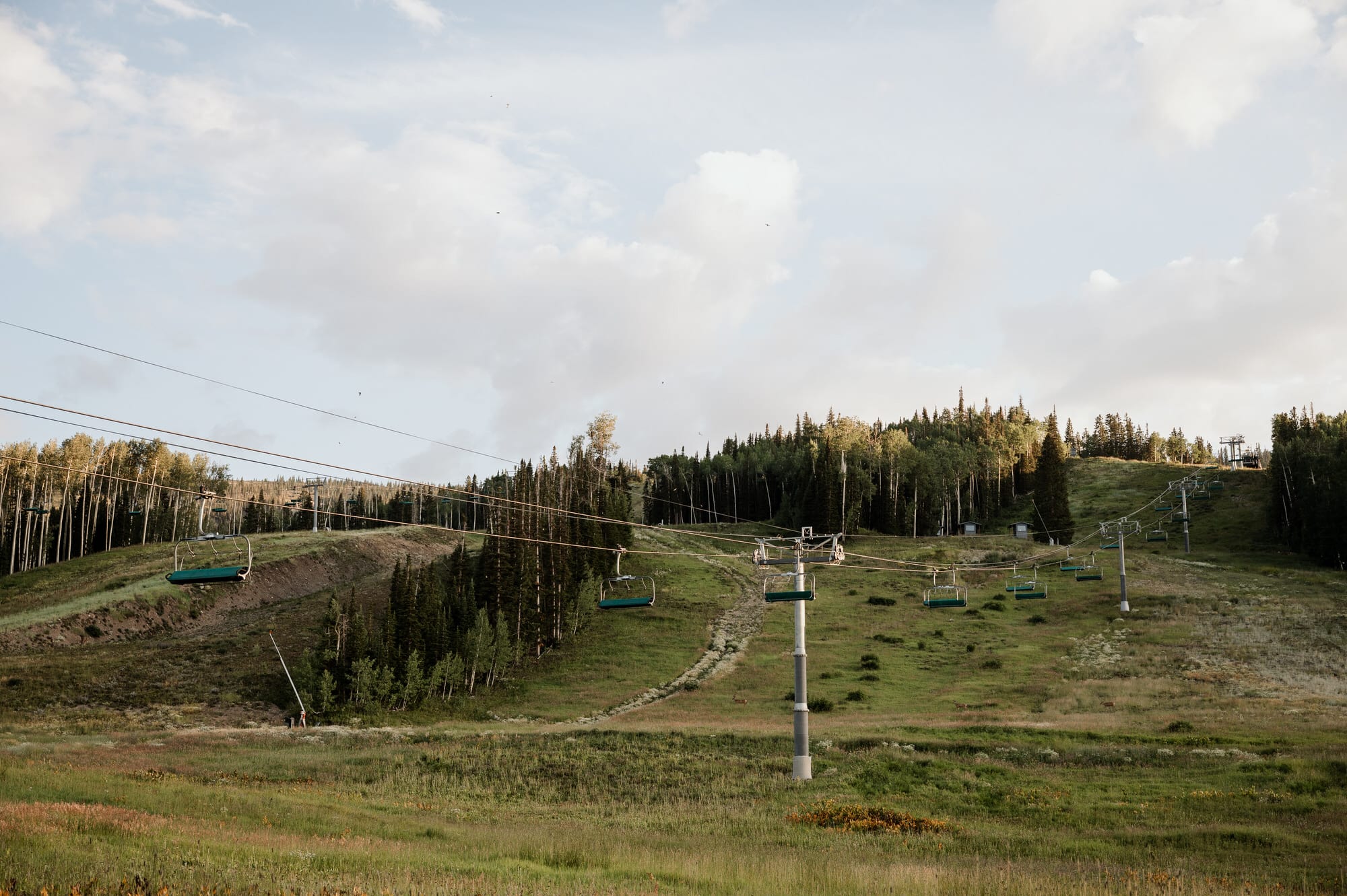 Want epic views without the hike? There are several gondolas in Aspen that provide access to the ski slopes and other scenic areas. One of the most well-known gondolas in Aspen is the Silver Queen Gondola, which takes visitors up to the top of Aspen Mountain. The gondola operates year-round and offers stunning views of the surrounding mountains and valleys.
silver queen gondola to Aspen Mountain, Elk Camp Gondola to Snowmass, Exhibition Chairlift to Aspen highlands or Summit Express Chairlift to buttermilk.
rent a shelter at a public park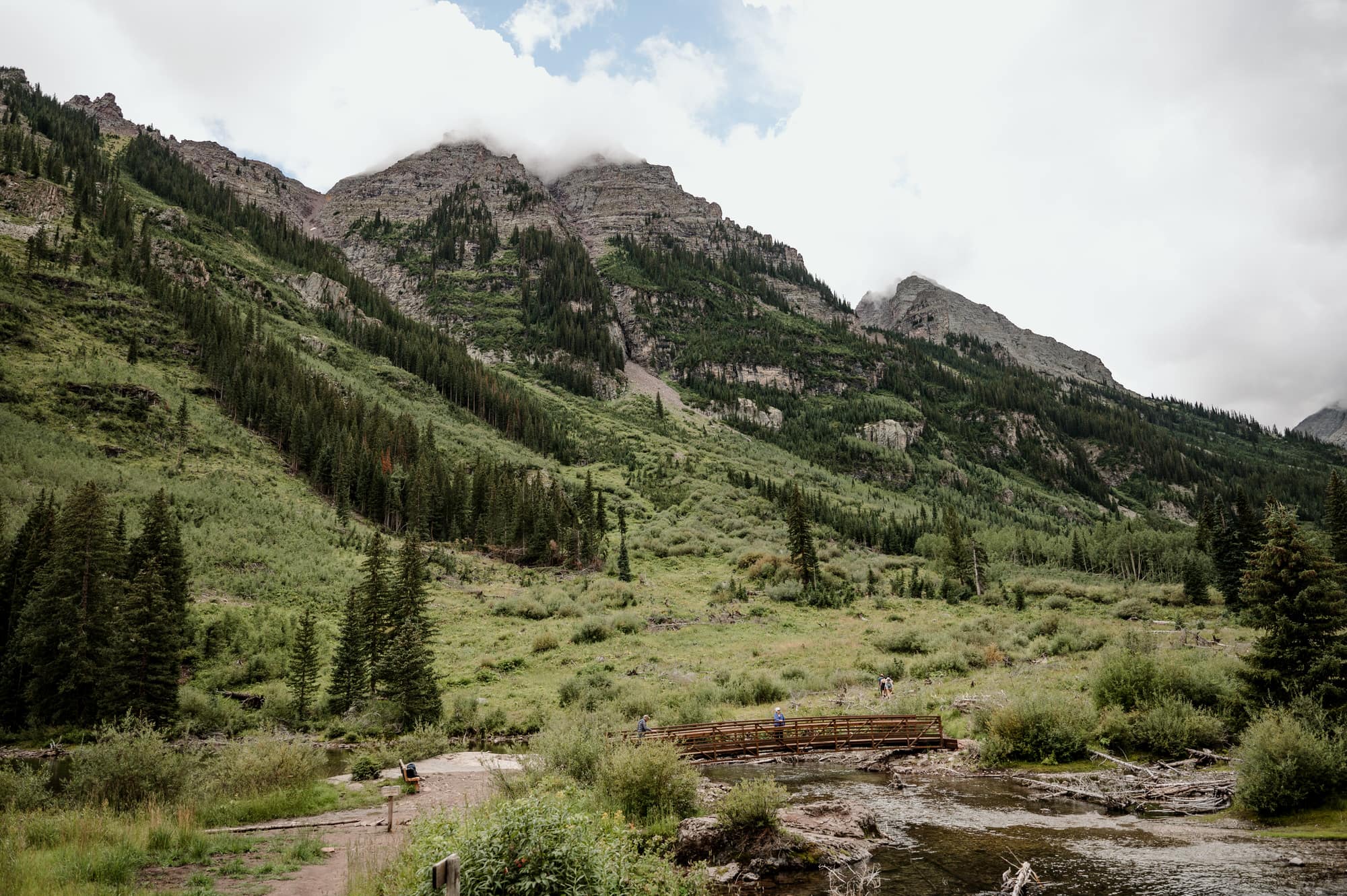 Aspen Parks and Recreation offers a variety of shelter rentals for events and gatherings. Keep in mind that the surrounding locations are public even if you've reserved a shelter, so don't expect complete privacy at these locations. Rental fees and availability may vary depending on the park and the time of year.
Rio Grande Park, Koch Lumber Park, WILLOUGHBY/LIFT 1, Herron Park, wagner park, MOLLIE GIBSON PARK, PROMONTORY PARK, JOHN DENVER SANCTUARY, HARMONY PARK, FOX CROSSING PARK.
Small Wedding Venues Aspen Colorado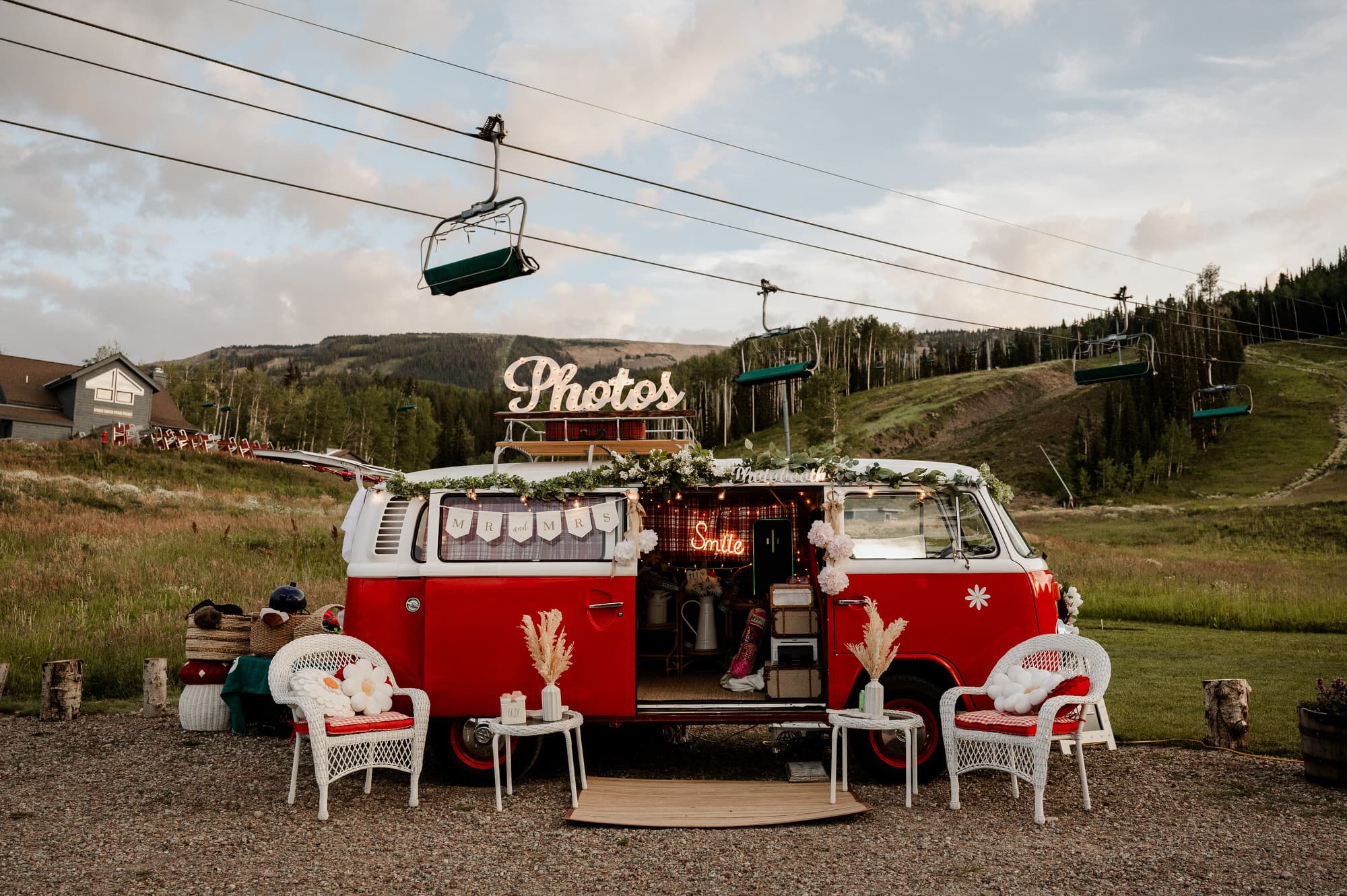 If you're planning a wedding with 30+ guests, a small wedding venue may be better suited for your event. Aspen offers a variety of unique and stunning wedding venues for couples seeking a memorable and picturesque backdrop for their special day. Here are some popular small wedding venues in Aspen Colorado:
Maroon Bells Amphitheater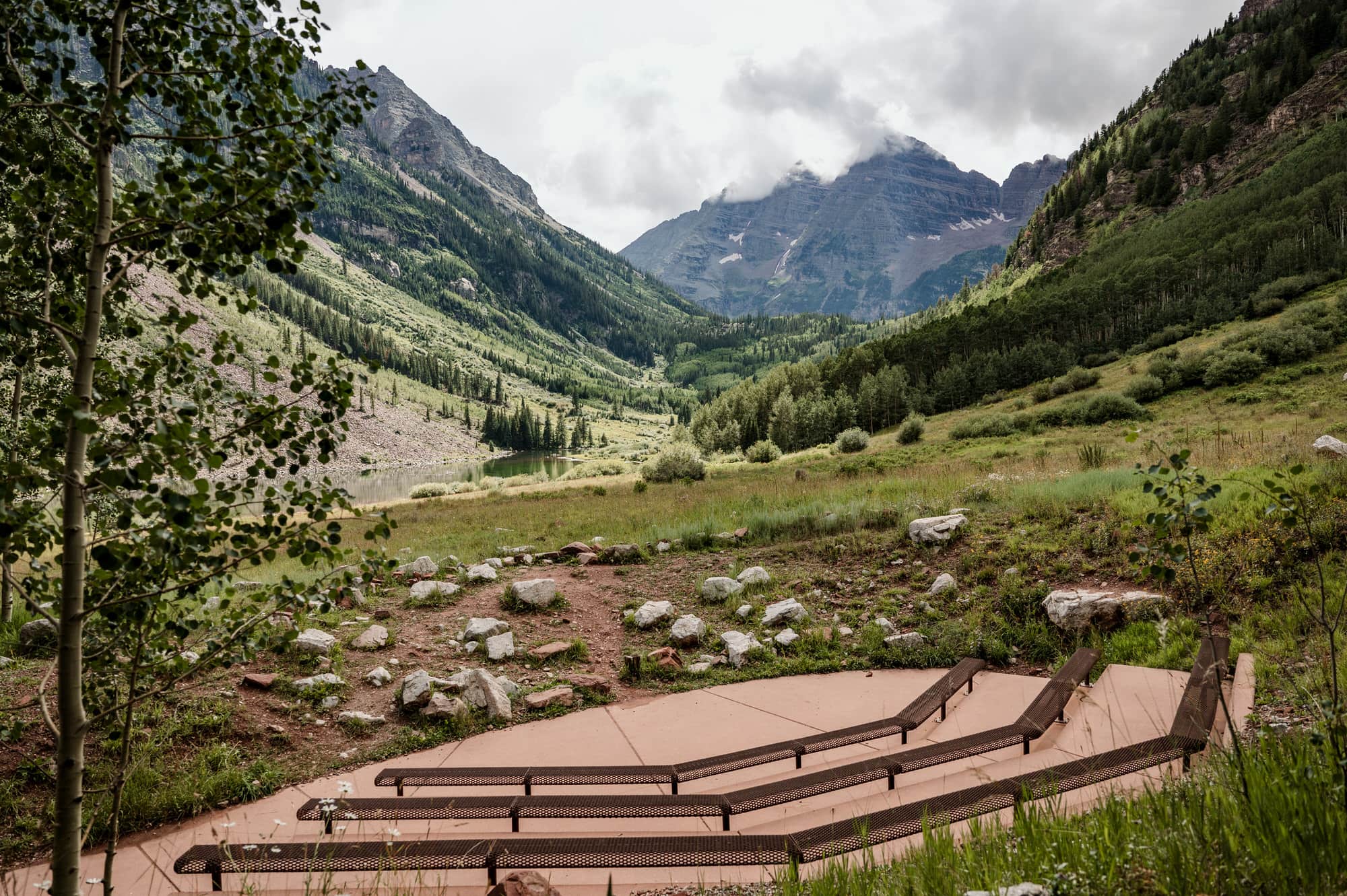 The Maroon Bells amphitheater is a picturesque outdoor venue, with a stunning mountain backdrop, a serene lake, and a beautiful natural landscape. The amphitheater is available for ceremonies only, needs to be reserved 1 year in advance and sells out extremely quickly. This is not a private location- it's very popular and there will be many other visitors present.
cost: $200
guest count: up to 50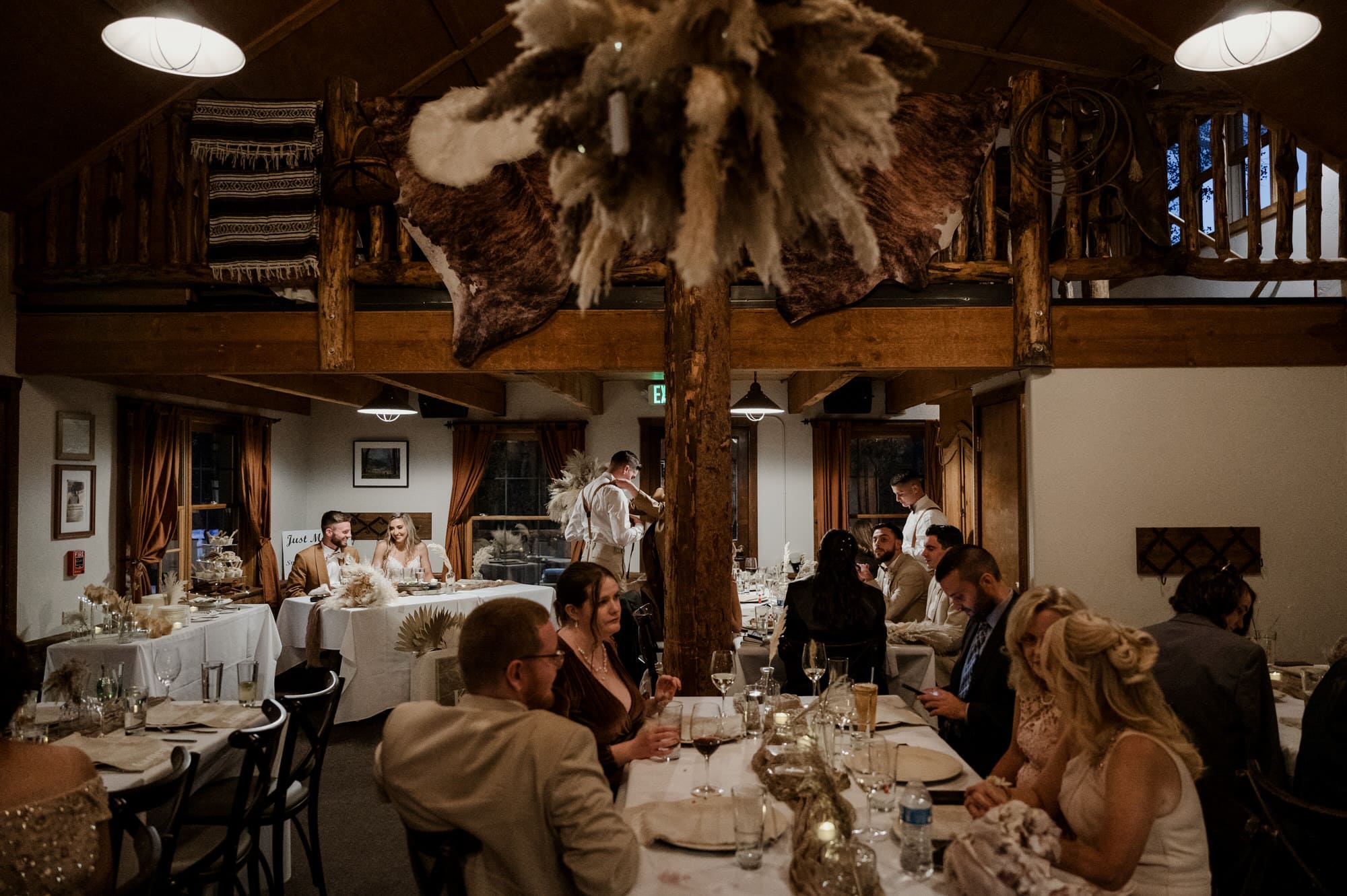 The Lynn Britt Cabin is a historic log cabin located in the Snowmass Ski Area in Aspen, Colorado. Its rustic charm and beautiful mountain setting make it a popular choice for small weddings. This venue offers both ceremony and reception options. It's common to have a Maroon Bells ceremony and Lynn Britt reception!
Cost - Starts at $10,000 for weekday weddings under 60 guests.
Capacity - Summer 65 inside or 200 in tent outdoors, 50 winter.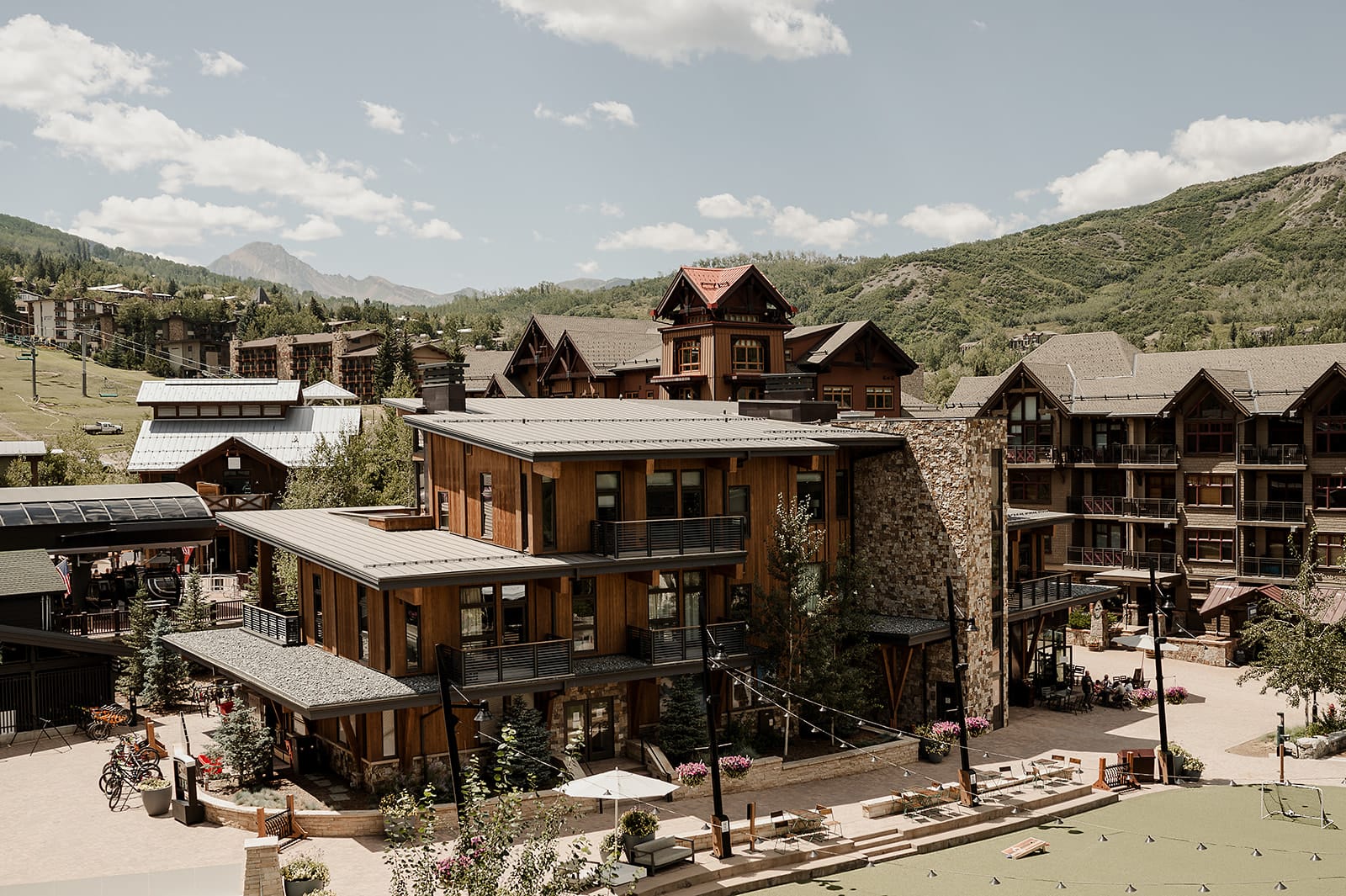 The Limelight Inn is a luxurious hotel located in Snowmass Village. They have a ceremony location, the Snowmass Wedding Terrace, which overlooks the surrounding mountains and is perfect for outdoor ceremonies. It features a meadow surrounded with aspen trees and mountain views.
cost - varies
capacity - up to 146 guests
Pine Creek Cookhouse - Located in Castle Creek Valley, just outside of Aspen, Pine Creek Cookhouse is nestled among the picturesque mountains and features breathtaking views of the surrounding landscape. The venue features a rustic, yet elegant atmosphere, with natural wood finishes, cozy fireplaces, and large windows that showcase the stunning views.
The Cliffhouse (at the top of Summit Express Lift) - This mountaintop location offers stunning panoramic views of the surrounding peaks and valleys, making it a picturesque and romantic setting for a wedding. It's modern interior features floor-to-ceiling windows, a spacious deck, and a cozy fireplace.
Aspen Meadows Resort - Choose from a variety of ceremony and/or reception options such as Anderson Park, Bass Terrace and more.
T-Lazy-7 Event Lodge - Located only 15 minutes from Maroon Bells, this is the closest venue to the amphitheater making it a great choice for your wedding reception! You can also have your ceremony here as they have a ceremony meadow with stunning mountain views.
Spring Creeks Ranch - Located about 30 minutes outside of Aspen, Spring Creeks Ranch offers really nice mountain views. Starting at just $5000 for weekday weddings, this is one of the more affordable small wedding venues in Aspen, Colorado.
Little Nell Wedding Deck / Wedding Overlook - Possibly the most beautiful venue in all of Colorado, The Little Nell is a luxury wedding venue in Aspen. The wedding deck and overlook features breathtaking views of the surrounding mountains and is accessible via gondola ride, which adds an element of adventure and excitement to the wedding day. This venue is not budget friendly.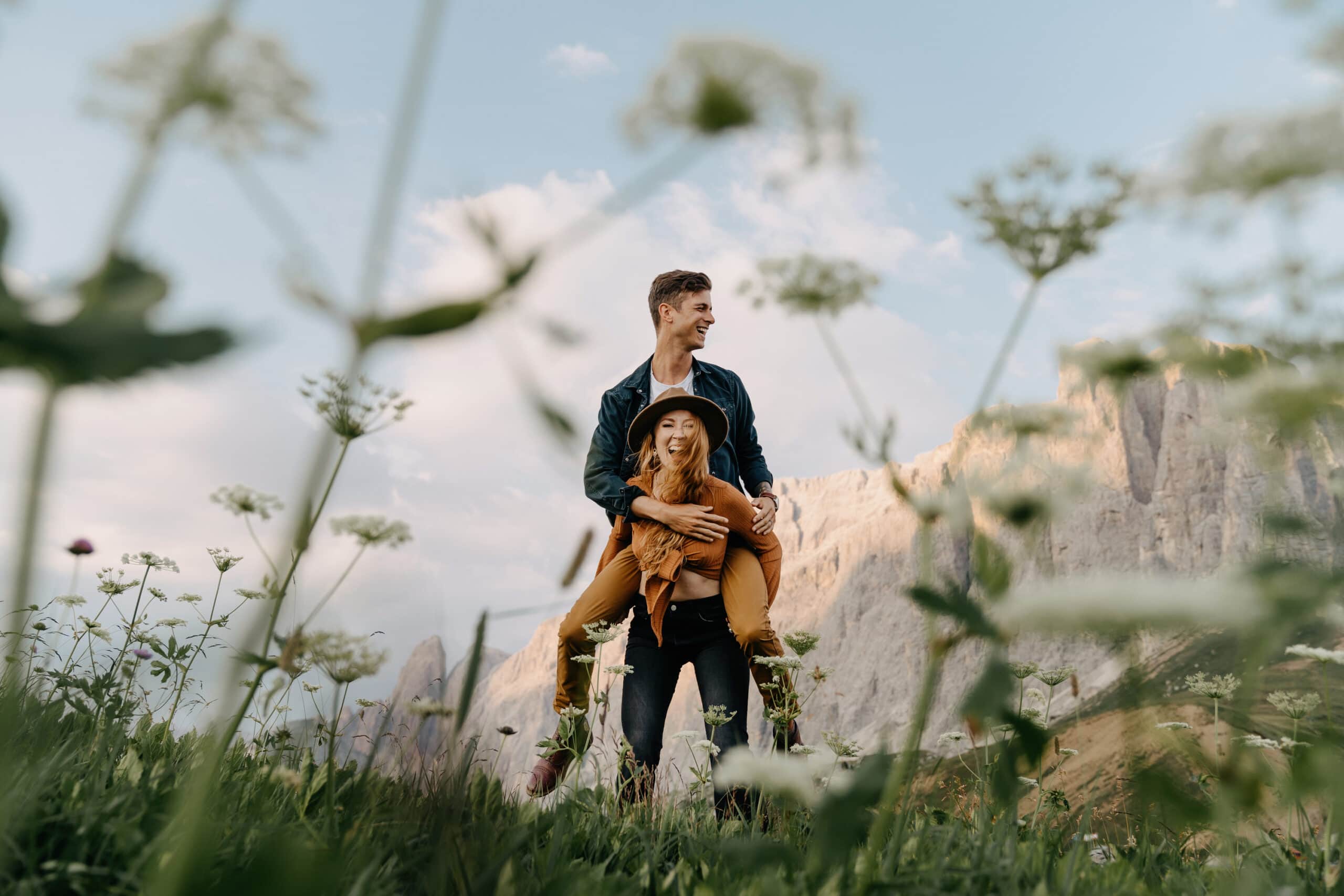 Hey, we're Savannah & Greg!
Aspen Elopement Photographers
We're a husband and wife team specializing in elopement photography and videography in Colorado. We believe eloping is the best way to get married, so much so that we did it ourselves! We know it can feel overwhelming not knowing where to start, which is why we help couples set a date, pick a location, make a timeline, etc!
Aspen Elopement Videography
Having a videographer for your elopement allows you to relive the magic and emotions of your special day for years to come. While photography is important, a video can capture the nuances of your ceremony and the events surrounding it in a way that photos cannot. We'll create film that captures the essence of your elopement, providing a lasting record of your memories and allowing you to share them with family and friends who couldn't be there with you.
Photography & Videography Packages
Photography & Videography
It might seem counterintuitive to look for a photographer before you have an exact location and date set, but trust us on this one. If you're looking for some help finding the perfect location, an elopement photographer who specializes in the area you're considering will be a huge help to you.
Professional photography and optional videography services from an experienced husband/wife team who've photographed over 150 weddings together. Posing guidance and direction to make you feel and look great in front of the camera, no experience necessary.
A 50+ page digital planning guide to help you through the whole elopement planning process. Including tips on booking travel and lodging, buying your attire, activity ideas, packing checklists, including family and more.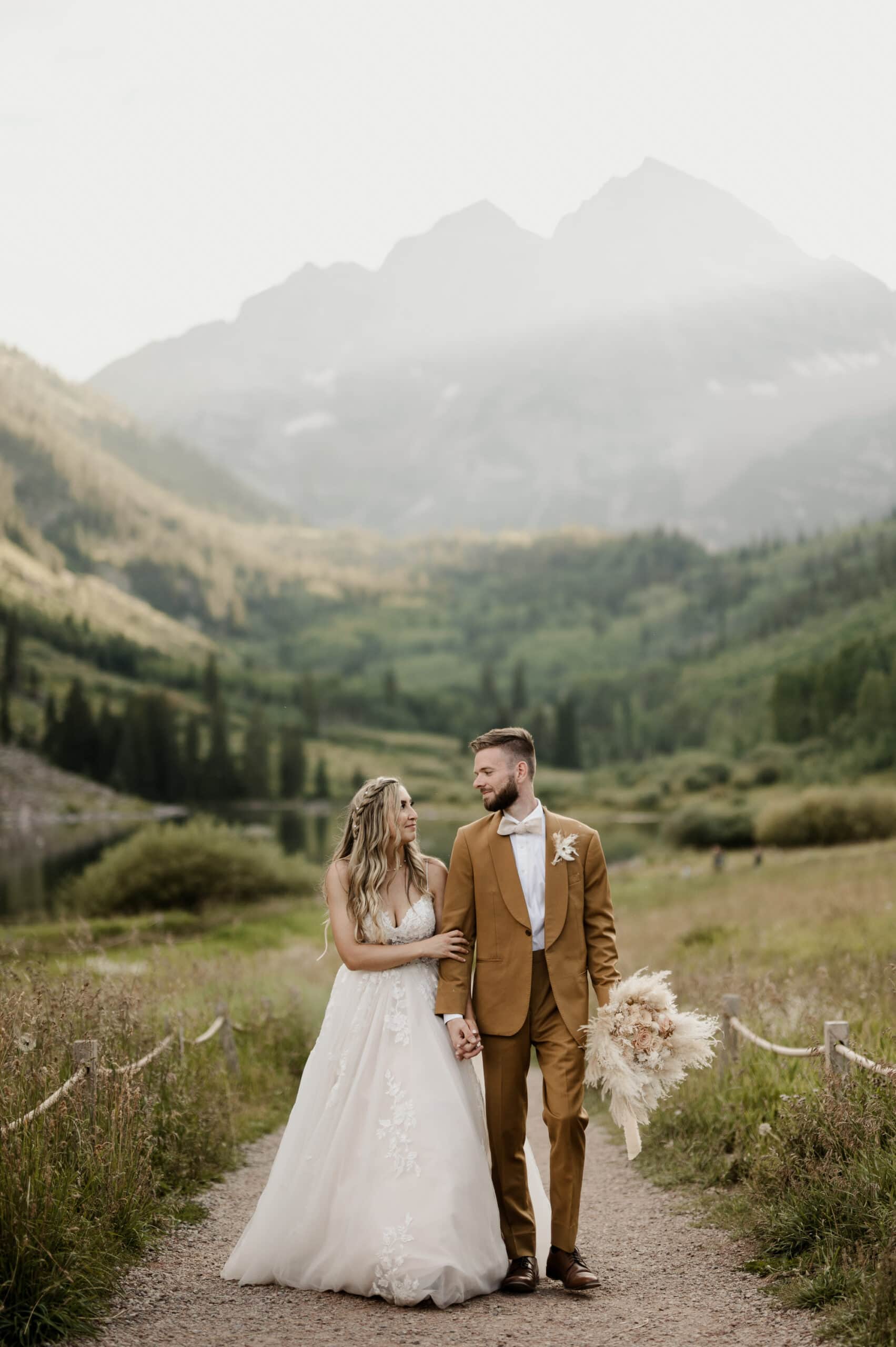 A list of all the most beautiful locations in the area you choose based on scenery, accessibility, permits and logistics. We do the work so you don't have to!
We'll craft a timeline that fits all the locations, activities, and moments you have planned for your day as well as consider ideal lighting and making sure your whole experience is relaxed and stress free.
Looking for a florist, hair and makeup artist, or other vendors? We've got you covered with local recommendations.