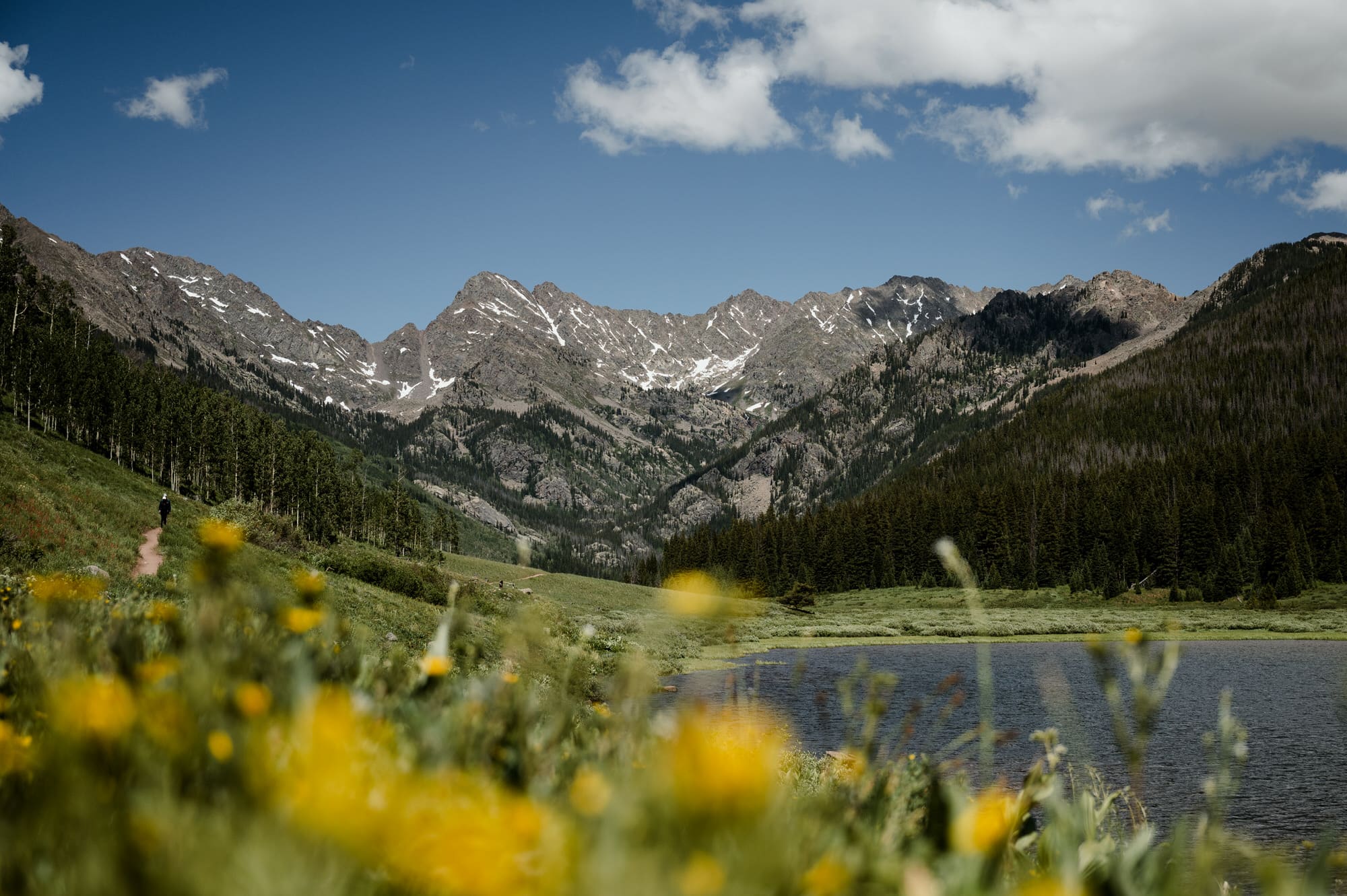 videography, photography, elopement packages, locations and more.
Are you searching for the perfect location to exchange vows? Look no further than Vail, Colorado. Tucked away in the Rocky Mountains, Vail boasts the most stunning scenery. From majestic mountain views to peaceful forests and babbling brooks, Vail is the ideal backdrop for elopements.
As Vail elopement photographers, we'll be there to guide you through the planning process every step of the way. From selecting the best locations for your ceremony and photos, to recommending accommodations and providing elopement packages and pricing, we've got you covered.
Whether you're in search of an adventurous outdoor experience or an intimate and romantic ceremony, Vail has something for everyone. So let us help you create your dream elopement in this breathtaking destination that you'll cherish for years to come!
How To Plan A Vail Elopement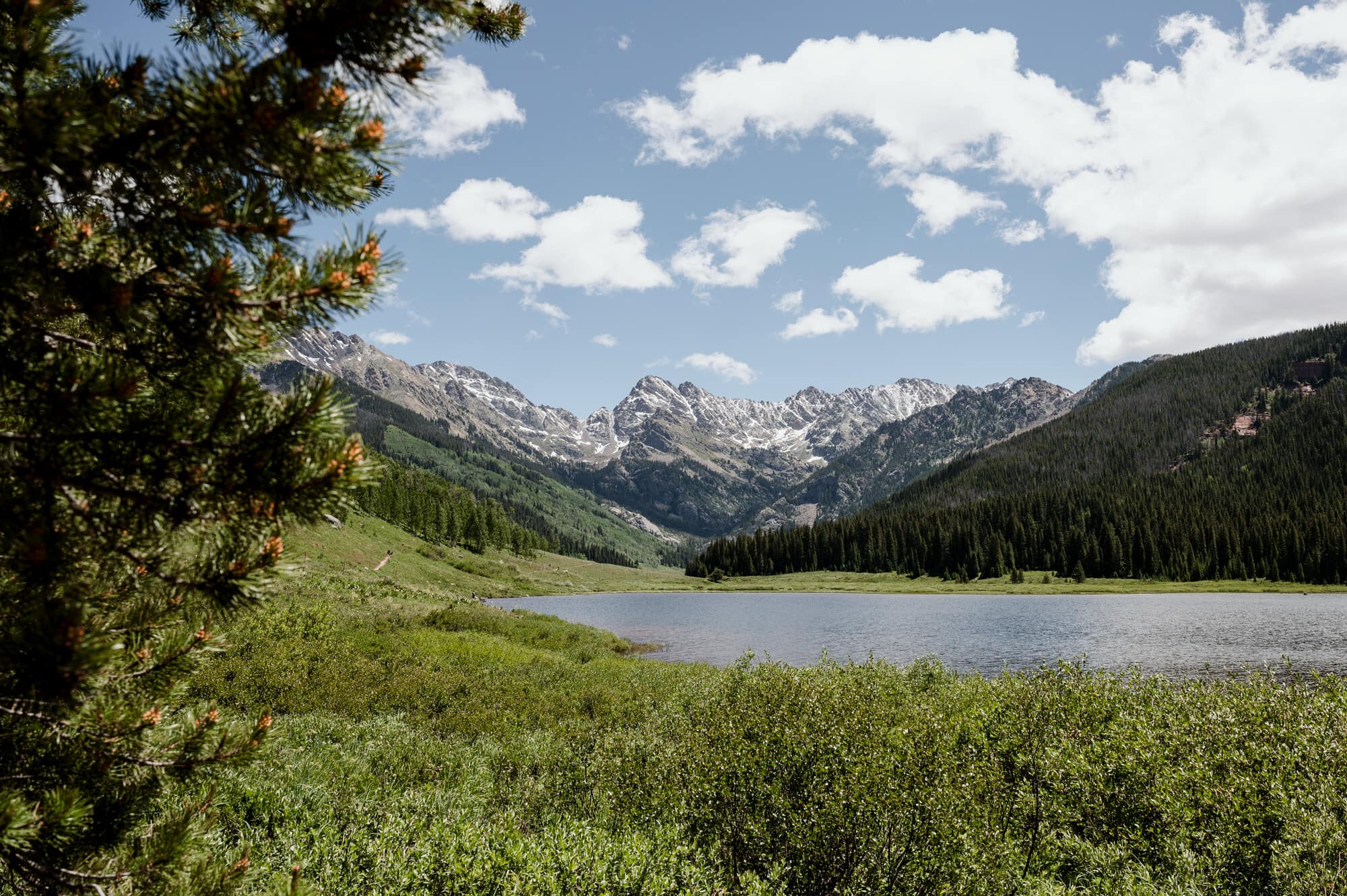 Is this your first time trying to plan an elopement? Don't worry- as Vail elopement photographers, we have quite a few of these under our belt and we're here to help you through the whole process! Here's a quick step by step guide on how to elope in Vail:
Next, you'll book your lodging, transportation and any additional vendors such as hair and makeup, a florist, officiant, etc. (don't worry, we'll send you ideas for all of these). We'll collaborate on a timeline to fit in all the locations and activities you want while getting the best photos throughout the day! You'll also get your marriage license prior to the wedding.
Most couples hire us before they start planning anything! The reason for this is because we help our couples with logistics such as choosing the right date, which location(s) are perfect for them, navigating permits, finding local vendors, etc. You don't have to do it all yourself, we're here to help you.
You'll have the best day ever and we'll be there capturing every moment! Within a few days you'll have sneak peek photos in your inbox, and the full gallery within 2-3 months. All that's left is to choose which photos to print!
After you've set a date with us you'll gain access to our exclusive Vail location guide. You'll easily be able to see which location(s) perfectly fit what you're looking for and have all the info you'll need to obtain any reservations or permits needed.
How much does it cost to elope in Vail?
The cost to get married in Vail starts at $30 which covers your marriage license from Eagle County. At a minimum, you'll likely want to purchase wedding attire, hire a photographer, videographer, florist, hair and makeup artist. You may also need to account for travel, transportation and lodging.
The total cost for your wedding will vary significantly depending on the style of wedding you choose to have. For example, a simple elopement with no guests will be much more affordable than a wedding with guests which you will then need a venue to host a reception, cater food, hire additional vendors, etc.
It's important to note that elopements can be as simple or as extravagant as you desire, there is no set cost for this type of wedding! The great thing about eloping is that you can allot your funds towards an experience and things that you value rather than an expensive venue and material items.
The couples that hire us value their photos and experience more than anything, which is why they typically spend majority of their budget on their photography package. Below is a breakdown of the estimated expenses for an elopement or small wedding in Vail. This is not a quote or elopement package.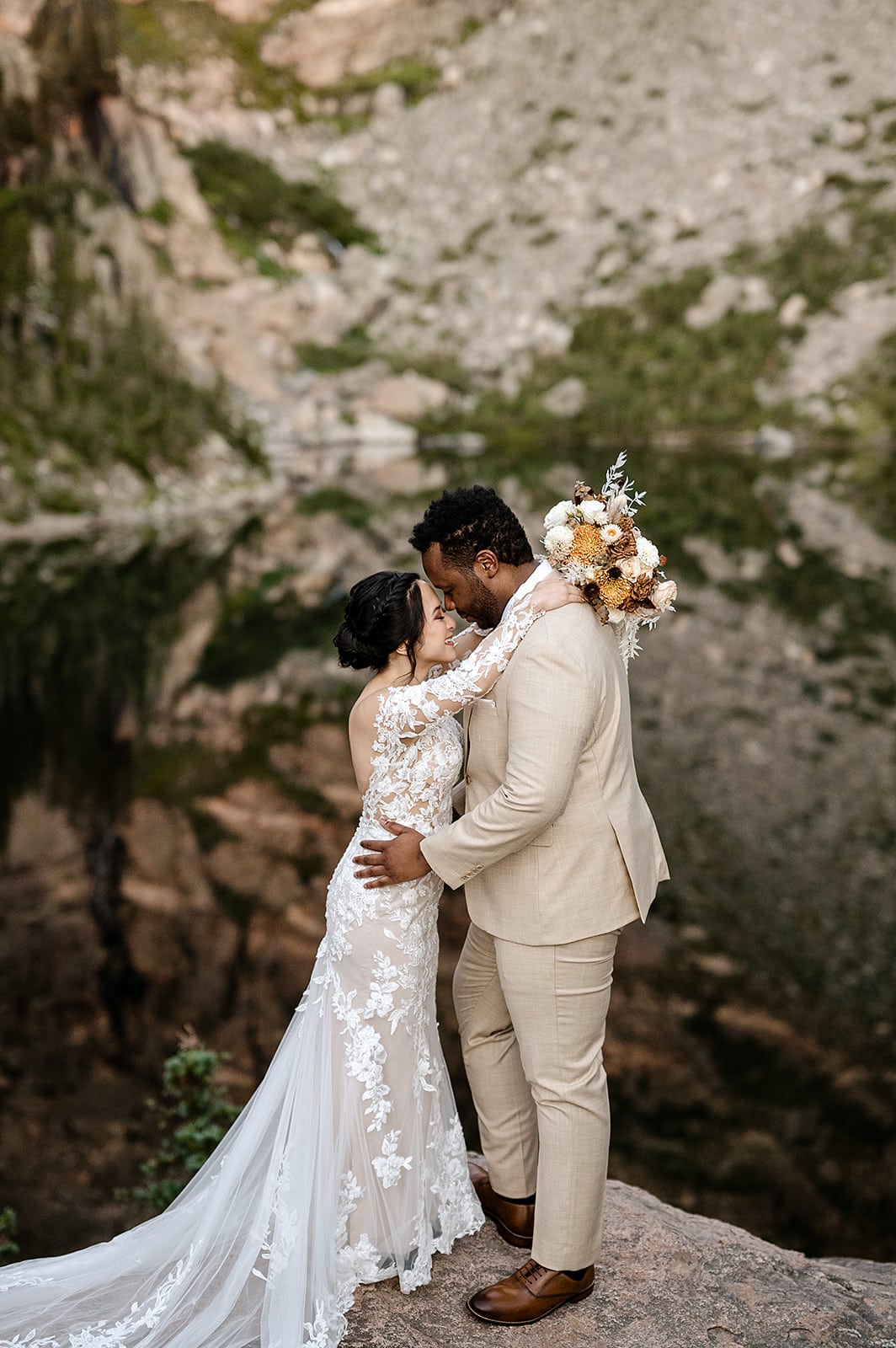 Multi-Day ELOPEMENT
(with guests, photo + video)
Full Day ELOPEMENT
(no guests, Photo + Video)
Half Day Elopement
(NO Guests, Photo only)
Marriage License - $30
Photography - $8,000
videography - $3,500
Officiant - free (included with our services)
Wedding Attire - $3000
Forals - $500 (Bouquet + Boutonnière)
Hair & makeup - $500
lodging - $1500 (three nights at an airbnb)
Marriage License - $30
Photography - $9,900
videography - $3,500
local Officiant - $500
Wedding Attire - $4000
Forals - $1000 (Bouquet, Boutonnière & ceremony arrangement)
Hair & makeup - $800
lodging - $5,000 (three nights at a luxury resort)
reception venue & dinner - $200+/guest
Marriage License - $30
Photography - $6000
Officiant - free (included with our services)
Wedding Attire - $1500
Forals - $300 (Bouquet + Boutonnière)
Hair & makeup - free (diy)
lodging - $100 (three nights camping)
We always recommend having your wedding on a weekday (Monday-Thursday) and eloping in the morning and/or evening for the most intimate experience. The best time to elope in Vail, Colorado depends on the type of experience you're looking for. Here's a breakdown of the different seasons to help you decide:
Summer (June to August): The summer months in Vail are warm and sunny, with temperatures ranging from the mid-70s to low 80s Fahrenheit. This is a popular time for outdoor activities like hiking, biking, and golfing, as well as for weddings and elopements. The landscape is lush and green, with wildflowers in bloom and picturesque mountain vistas. However, summer is also peak tourist season in Vail, so be prepared for crowds and higher prices.
Fall (September to November): Fall in Vail is a beautiful time to elope, with the changing colors of the aspen trees creating a stunning backdrop for your photos. The weather is cooler, with temperatures ranging from the 40s to the 60s Fahrenheit (around 5-20 Celsius). September is a particularly lovely time to visit, as the weather is still mild and you can catch fall colors if you're lucky.
Winter (December to February): If you're looking for a winter wonderland for your elopement, Vail is a great choice. The ski resorts are in full swing, and there are plenty of opportunities for winter sports like skiing, snowboarding, and snowshoeing. The snow-covered landscape is magical, and there are fewer tourists in the winter months. However, the weather can be quite cold, with temperatures ranging from the single digits to the 30s Fahrenheit (around -15 to 0 Celsius).
Spring (March to May): Spring in Vail is a quieter time to elope, with milder temperatures and fewer crowds than in the summer. The weather can be unpredictable, with snowstorms possible through April, but the landscape is beginning to come alive with new growth. March is a great time to hit the slopes, as the snow conditions are usually still good.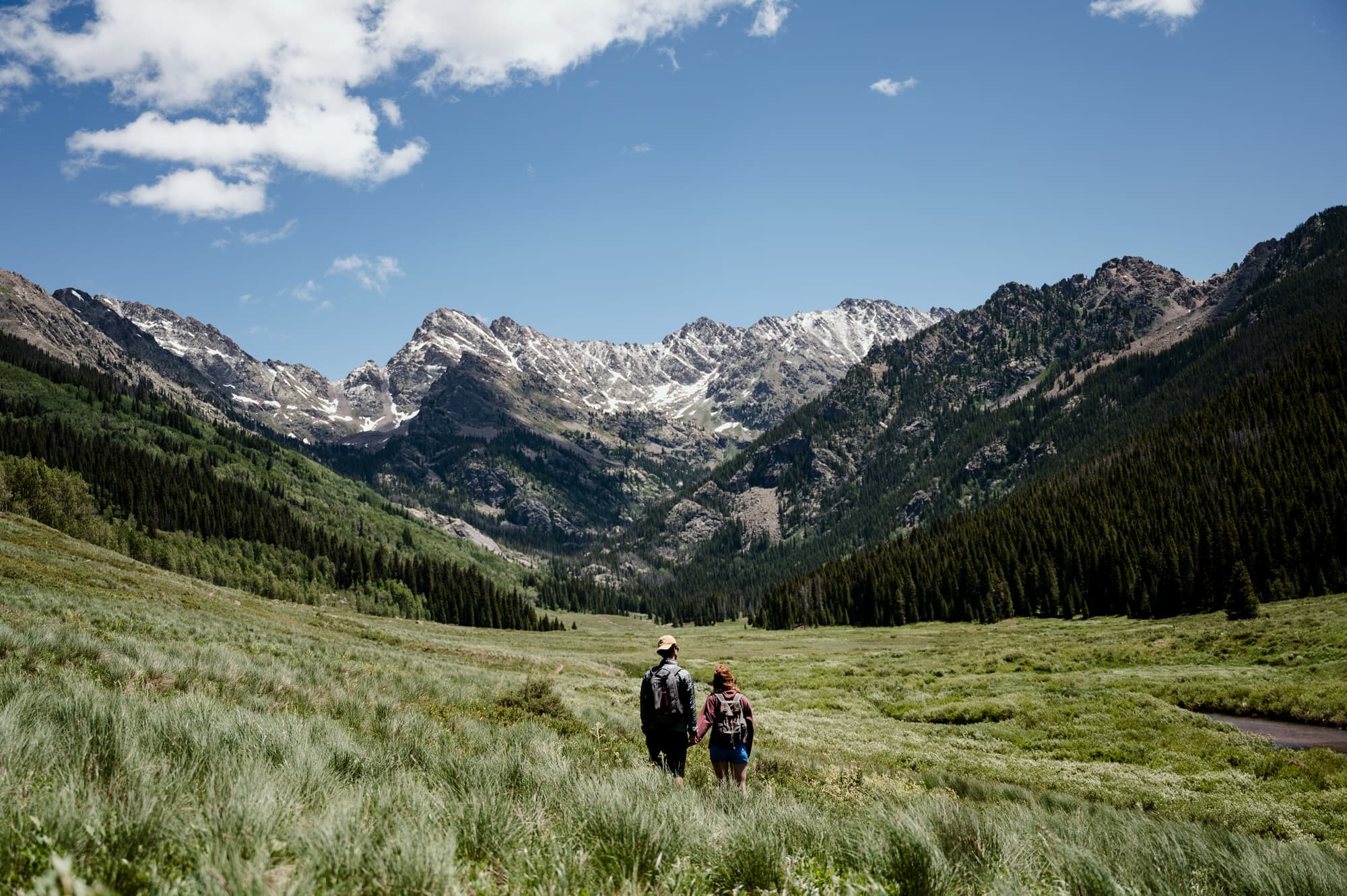 Vail, Colorado is known for its stunning mountain scenery and outdoor activities, including skiing, snowboarding, hiking, and mountain biking. It also boasts a vibrant arts and culture scene, luxury accommodations, and high-end dining options.
Here are some of the most popular and scenic places to elope in Vail: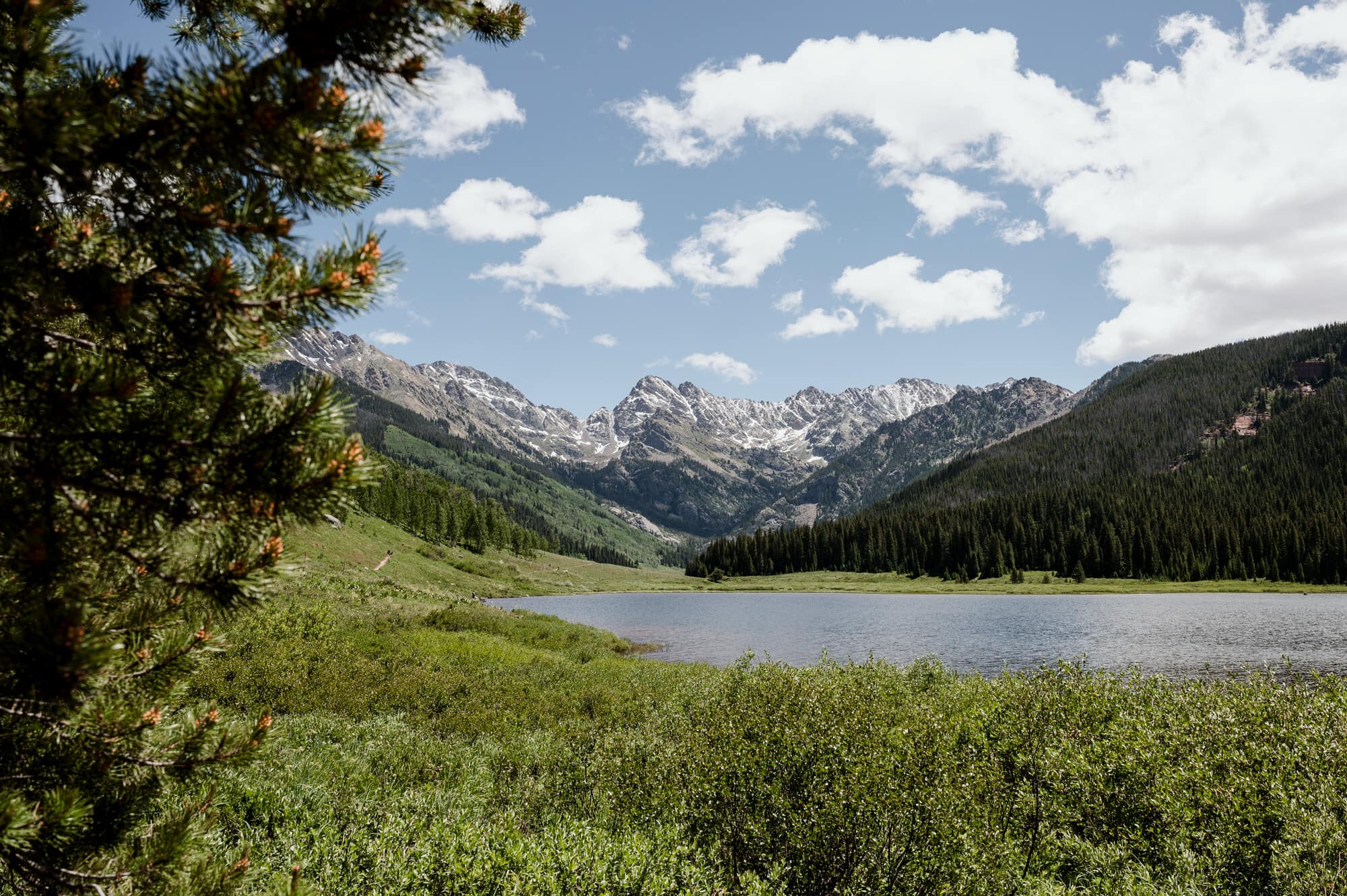 Eloping at a lake in Vail is a unique and intimate way to celebrate your love amidst the stunning natural beauty of the Rocky Mountains. With picturesque views and a range of outdoor activities available, it's a perfect way to create unforgettable memories. Whether you're kayaking across a crystal-clear lake or exchanging vows on a peaceful shoreline, a lakeside elopement in Vail is a beautiful and memorable way to start your journey as a couple.
Upper Piney Creek, Gore Lake, Booth Lake, Black Lake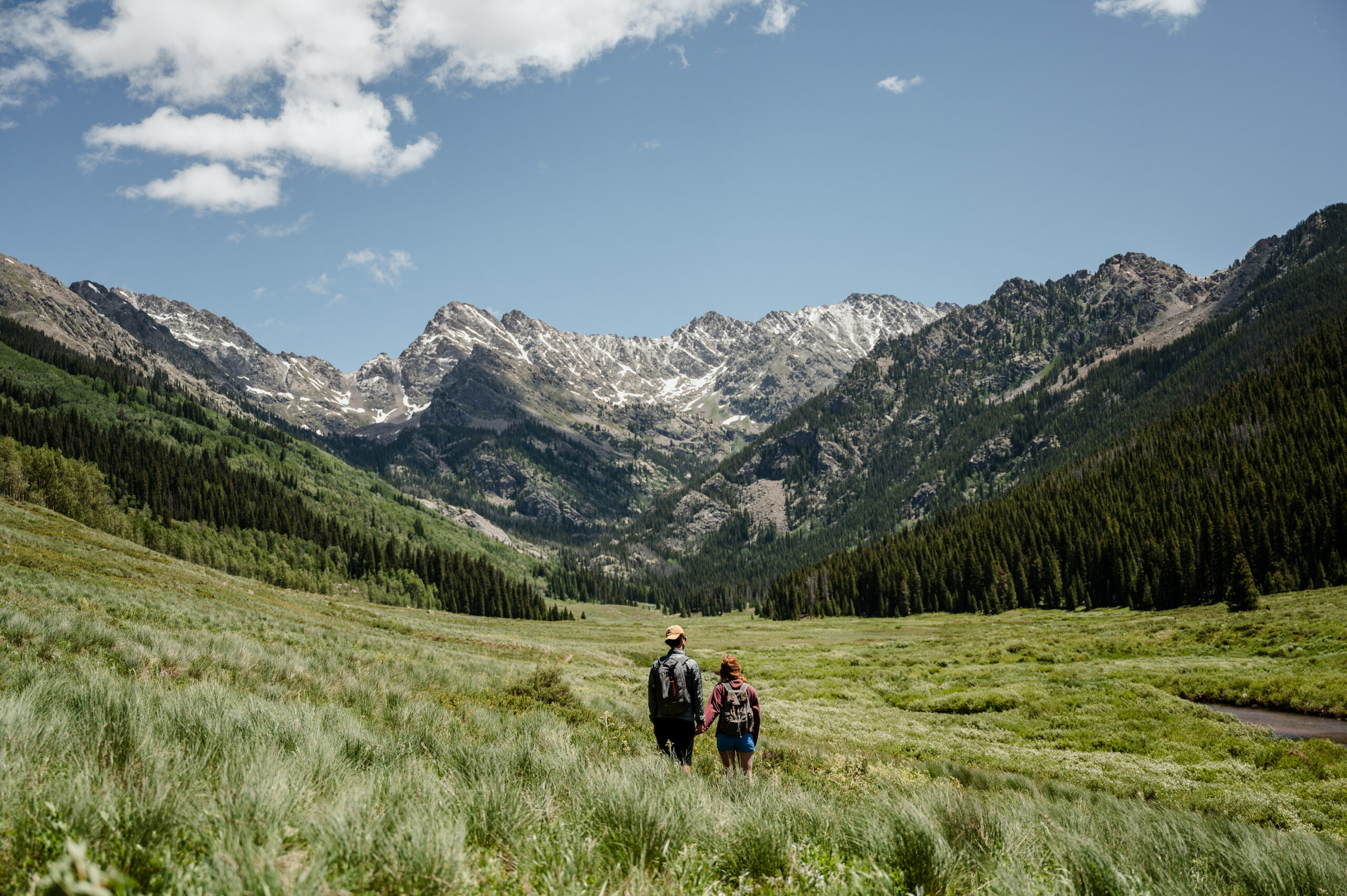 Eloping at a mountain in Vail is a popular choice for couples seeking a unique and breathtaking wedding ceremony. The Rocky Mountains provide a stunning backdrop for a wedding, with adventure and romance that can't be found in a traditional venue. It offers intimacy and privacy, with only the natural beauty of the mountains to surround you.
vail mountain, Beaver Creek Mountain, Vail Pass, Shrine pass, shrine Ridge Trail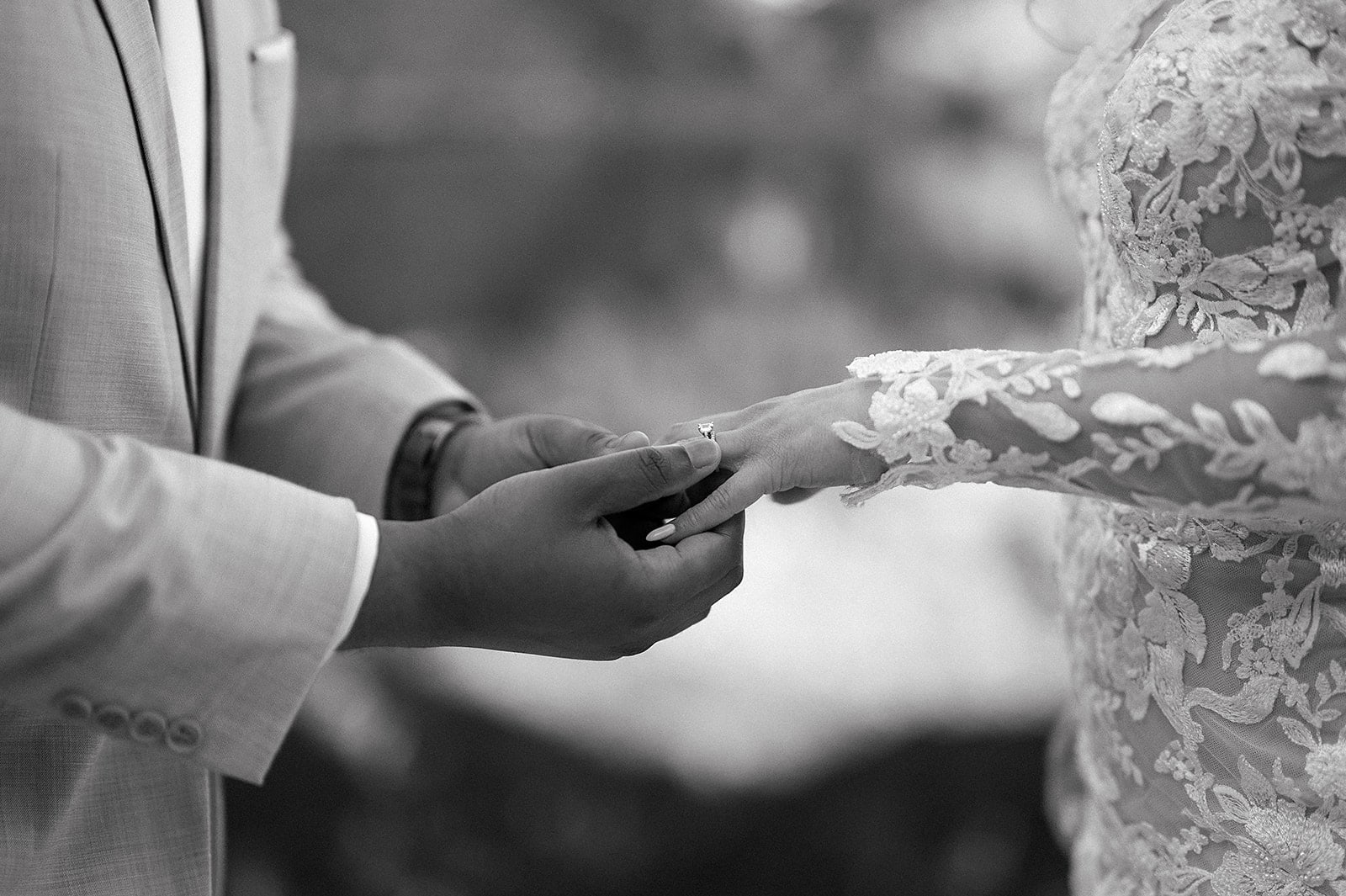 If you're planning a wedding with 30+ guests, a small wedding venue may be better suited for your event. Vail offers a variety of unique and stunning wedding venues for couples seeking a memorable and picturesque backdrop for their special day. Here are some popular wedding venues in Vail:
Holy Cross Event Deck - At the top of Vail mountain resort is the Holy Cross Event Deck which features 360 degree views of the surrounding mountains. It's available mid-June through mid-September and starts at $5,000.
Julia's Deck (AKA Mount Of The Holy Cross Overlook Observation Site) - Accessed by an easy 1/8 mile accessible trail. The small wooden deck has 3 benches for seating and can hold approximately 30 people. The parking area can hold up to 10 vehicles. Call the Holy Cross Ranger District to reserve a 2-3 hour time slot during the summer months.
Collective Retreats Vail - Enjoy the ultimate glamping adventure with Collective Retreats in Vail.
Larkspur - A wedding venue overlooking the Gore mountain range with ceremony and reception options.
Piney River Ranch - The Piney River Ranch is a stunning wedding venue located in a remote and picturesque setting. The venue features a rustic log cabin, a lakeside ceremony site, and sweeping views of the mountains. The estimated pricing for a wedding at Piney River Ranch starts at $10,000 and does have a 50 guest minimum.
Donovan Pavilion - The Donovan Pavilion is a beautiful wedding venue located on the banks of Gore Creek. The venue features floor-to-ceiling windows, a stone fireplace, and a spacious outdoor terrace that offers stunning views of the mountains. Pricing for a wedding at the Donovan Pavilion starts at $5,100 for an 8 hour rental Monday-Thursday.
Vail Golf and Nordic Club - The wedding island at the Vail Golf and Nordic Club starts at $5,750 for a weekday during off season.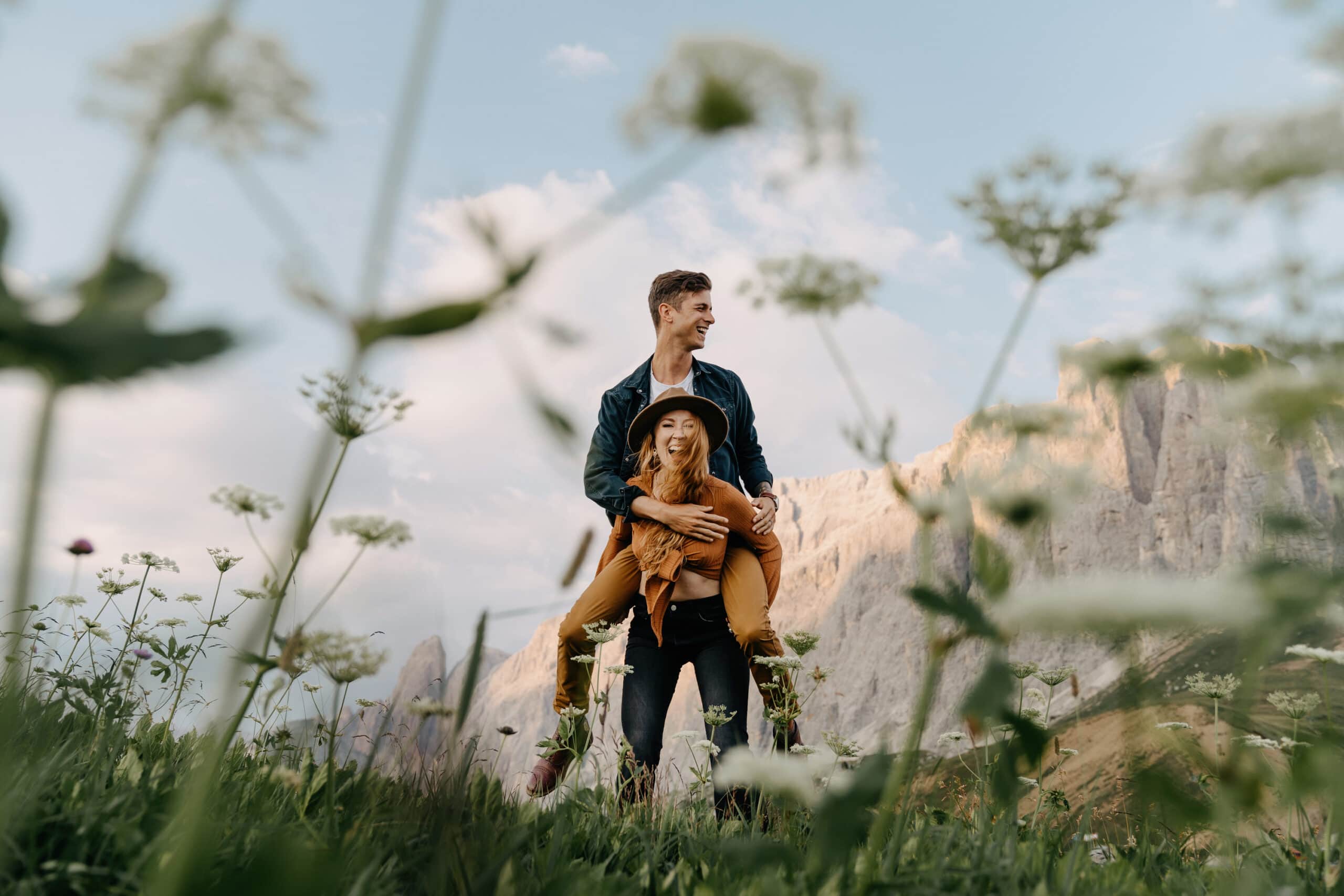 Hey, we're Savannah & Greg!
Vail Elopement Photographers
We're a husband and wife team specializing in elopement photography and videography in Colorado. We believe eloping is the best way to get married, so much so that we did it ourselves! We know it can feel overwhelming not knowing where to start, which is why we help couples set a date, pick a location, make a timeline, etc!
Vail Elopement Videography
Having a videographer for your elopement allows you to relive the magic and emotions of your special day for years to come. While photography is important, a video can capture the nuances of your ceremony and the events surrounding it in a way that photos cannot. We'll create film that captures the essence of your elopement, providing a lasting record of your memories and allowing you to share them with family and friends who couldn't be there with you.
Photography & Videography Packages
Photography & Videography
It might seem counterintuitive to look for a photographer before you have an exact location and date set, but trust us on this one. If you're looking for some help finding the perfect location, an elopement photographer who specializes in the area you're considering will be a huge help to you.
Professional photography and optional videography services from an experienced husband/wife team who've photographed over 150 weddings together. Posing guidance and direction to make you feel and look great in front of the camera, no experience necessary.
A 50+ page digital planning guide to help you through the whole elopement planning process. Including tips on booking travel and lodging, buying your attire, activity ideas, packing checklists, including family and more.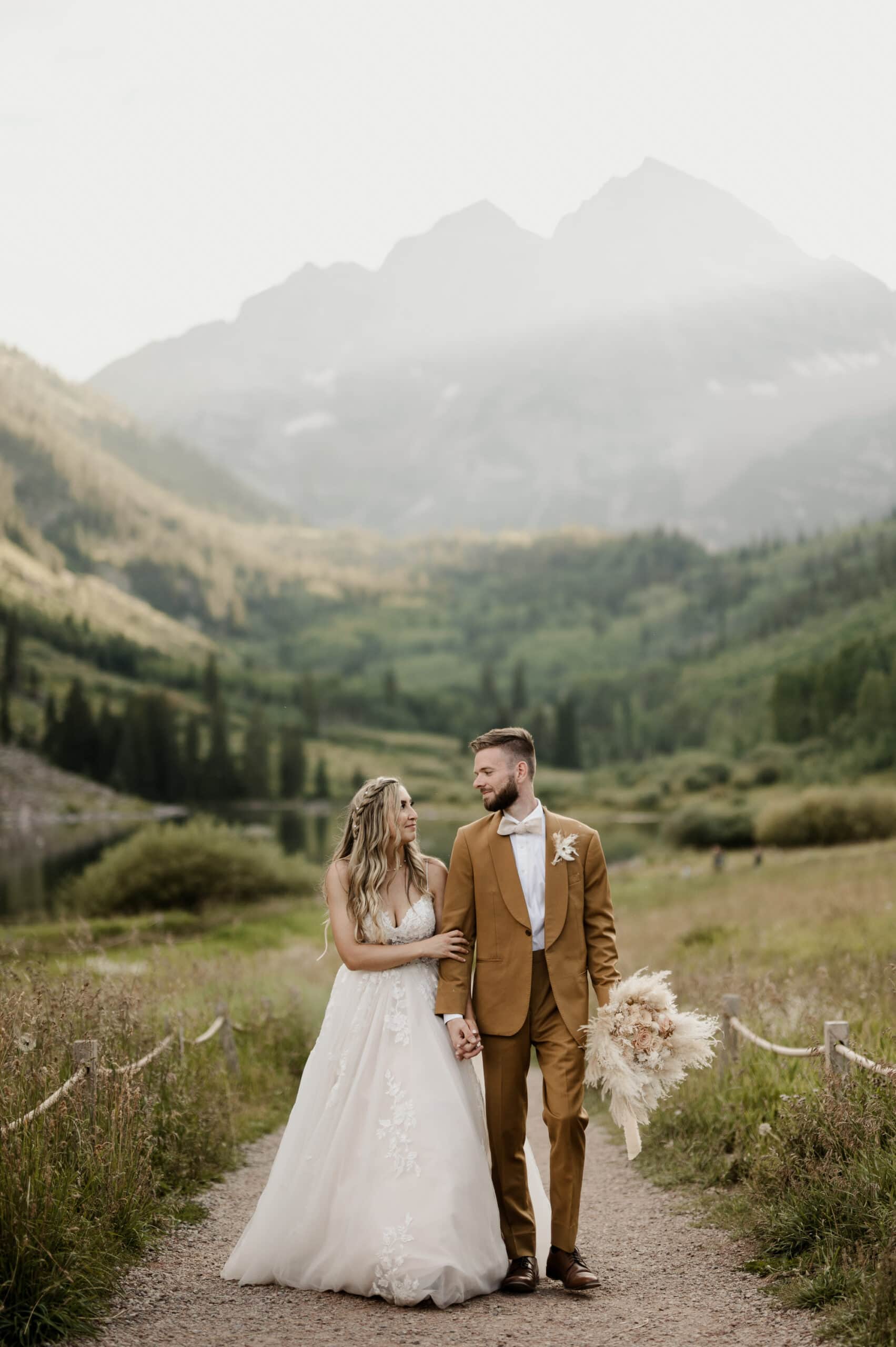 A list of all the most beautiful locations in the area you choose based on scenery, accessibility, permits and logistics. We do the work so you don't have to!
We'll craft a timeline that fits all the locations, activities, and moments you have planned for your day as well as consider ideal lighting and making sure your whole experience is relaxed and stress free.
Looking for a florist, hair and makeup artist, or other vendors? We've got you covered with local recommendations.