Engagement Photo Outfits | What To Wear
Now that you've gotten engaged, it's time to commemorate the event with a gorgeous, intimate engagement shoot. This can be one of the most exciting and nerve-wracking things about getting engaged, especially when it comes to outfits.
If you're stuck wondering how to dress for a photo shoot, you're not alone. Choosing engagement photo outfits can be intimidating since they'll be going on everything from save-the-dates to the walls of your new home.
Fortunately, we're here to help. Before you book your session, there are a few things you can do to ensure that your outfits will be comfortable, coordinated, and lovely.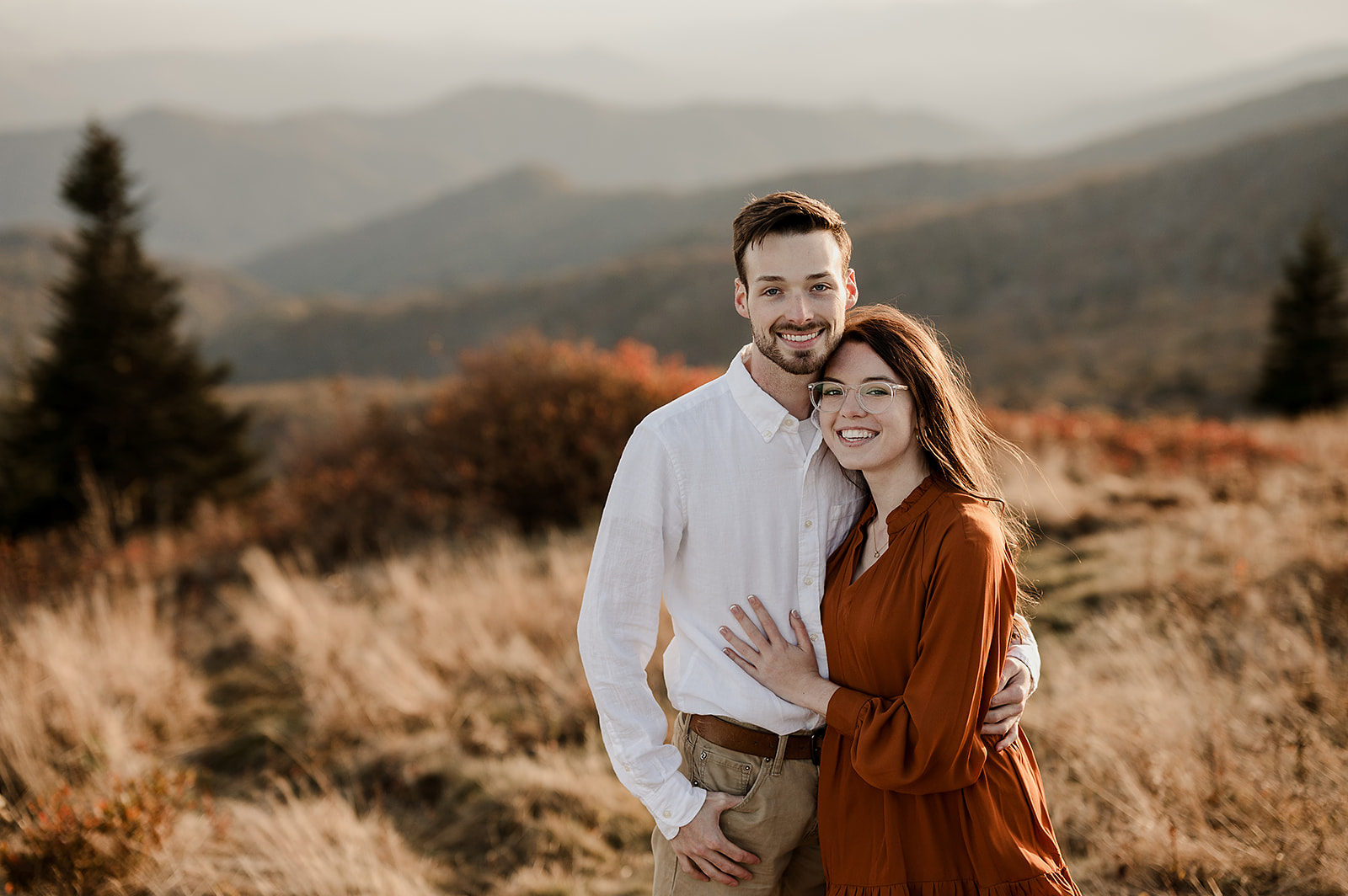 Considering the Season and Environment For Your Engagement Photo Outfit
Our first tip is to wear clothes that feel like you. If you're an athleisure-loving couple, dressing up in a ballgown or tux might make you feel stiff and awkward. If you feel uncomfortable, it's going to show in the pictures. Instead, opt for clothing that makes you feel comfortable and confident. The idea is to look like yourself at your absolute best.
Tip number two is to complement, not match, your partner. While matching outfits are super cute for Christmas cards, they can feel gimmicky in engagement shoots. Instead, select complementary colors and solid prints. This will help you look coordinated without distracting from the focus of the engagement photoshoot. You want to draw the eye to your faces and the love between the two of you. For that same reason, lean towards pastels, cool colors, and neutral tones. Avoid bright, distracting colors and prints. Chose colors that compliment your features and skin tone.
Then, tie your outfits together with a color scheme. Pick one or two colors and fabrics to incorporate into your outfits. For example, if you're wearing a forest green piece in your first outfit, have your partner incorporate that color into their second one. This will help your photos look synergetic throughout the album without being too matchy.
Think about incorporating one or two accessories into your outfits as well. Statement pieces like scarves and necklaces add extra pizzaz to your outfits while drawing attention to your face. You should also layer up. This helps you be prepared for whatever mother nature throws at you on the day of the shoot and creates visual interest. Opt for classic pieces rather than trendy ones. Think about timeless looks that you will enjoy looking at ten or twenty years in the future.
Fall Outfit Inspiration
One crucial step to building your perfect engagement outfit is coordinating with the season. If you're getting engaged in the fall, pick outfits that feature fall colors and fabrics. Denim pieces are always a great choice for fall engagement photoshoots. Incorporate reds, oranges, yellows, browns, and whites into your outfits.
Since the weather is cooler, layer up. Use scarves, jackets, shawls, and other pieces to add dimension to your outfits. Chunky necklaces and cute boots are other great choices.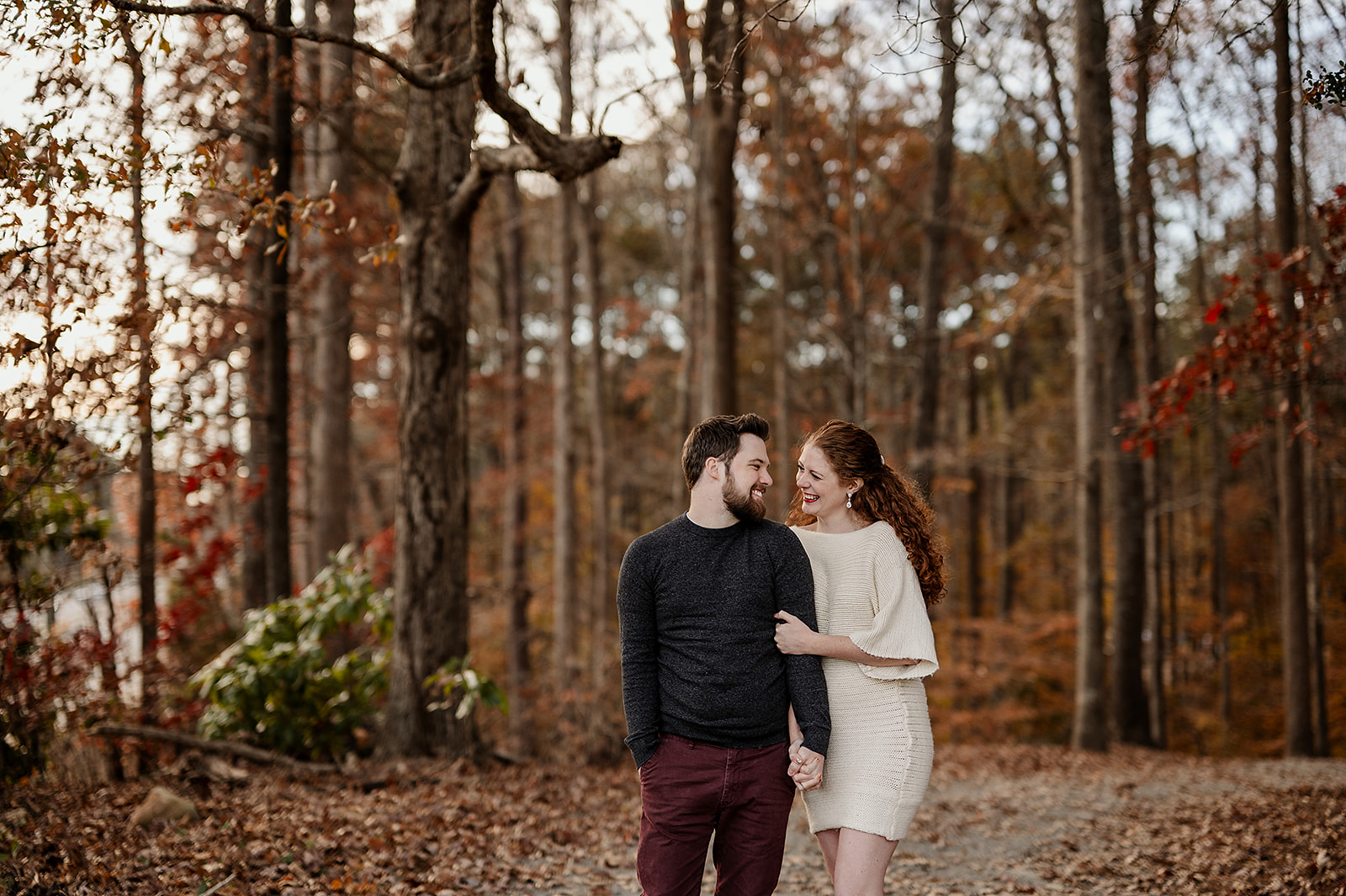 Engagement Outfits for Winter
For a winter engagement, think about incorporating fabrics like fur and leather to add dimension and warmth to your photos. Go with dark jewel tones for colors like emerald greens and deep purples.
If you and your partner are winter sports enthusiasts, a photoshoot in your ski gear is an adorable choice.
Make sure you select clothing that is going to keep you warm and comfortable if you're in a snowy environment. You should also avoid gimmicky holiday-themed clothes like Christmas sweaters. Let your engagement be its own event.
Summer Engagement Photo Outfits
A summer engagement is a perfect time to go barefoot on the beach in a pair of nice shorts. For a summer photoshoot, chose light and flowy fabrics like lace and cotton.
For the summer, chose bright colors that compliment your skin tone. Pick one, maybe two bright colors that look nice on you and incorporate them into your outfits.
If you go with patterns, keep them subtle. Don't let your cool, vintage Hawaiian shirt take the attention away from your faces.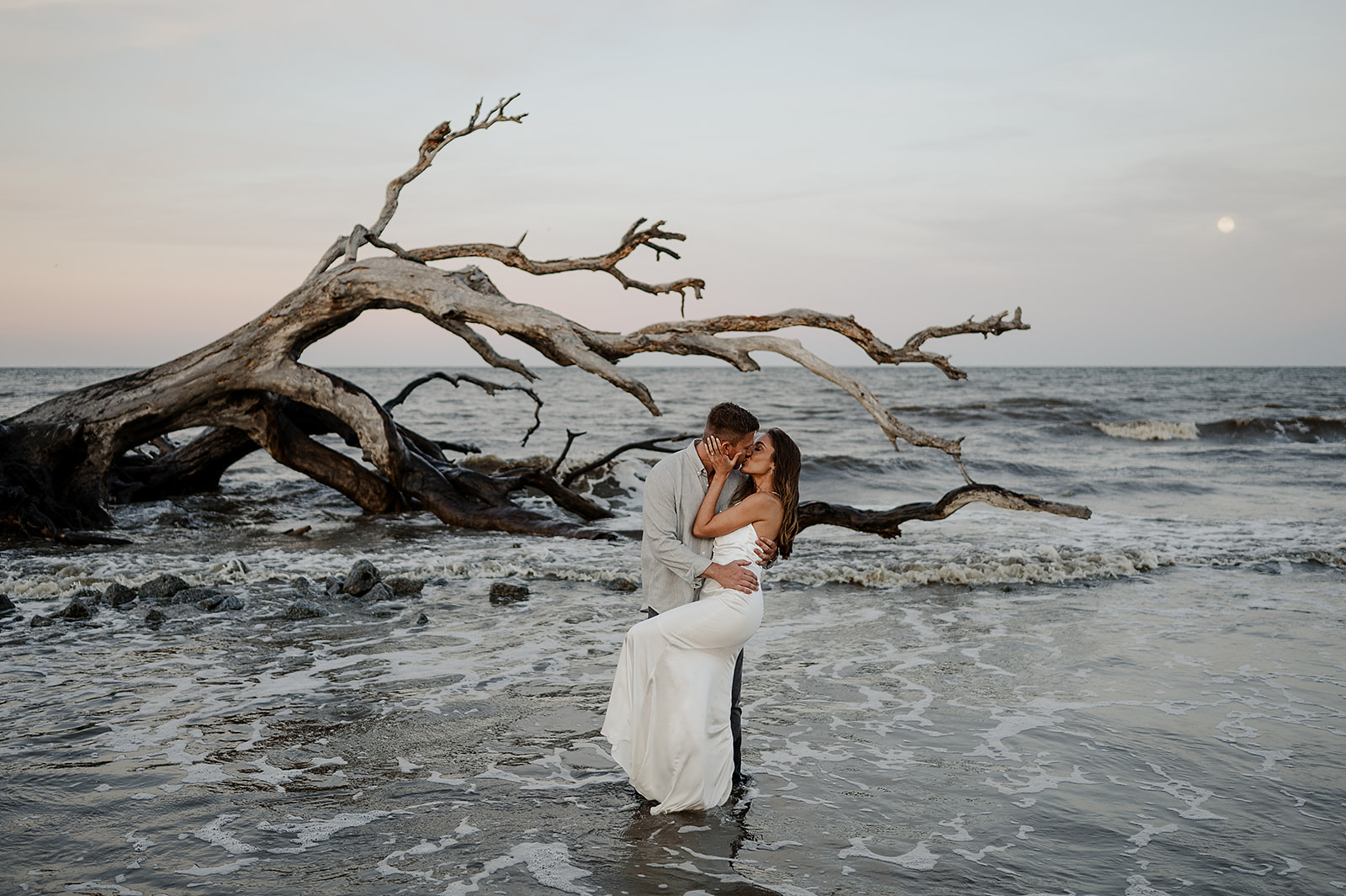 Spring Engagement Pictures
Pastels and soft colors are perfect for spring engagements. Use light layers to create contrast and depth in your outfits. Fabrics like lace, cotton, and silk are great choices.
Spring is also a great season for incorporating slender jewelry and open-toed shoes into your outfits. You can also opt for pastel button-downs and nice slacks.
Casual Engagement Outfits
A casual engagement shoot is a perfect time to showcase your passions as a couple. Stage a photo shoot of you and your partner enjoying whatever it is that you love most. From surfing to skiing to tasting beer, incorporate your favorite activity into the shoot.
For casual outfits, slip into whatever makes you most comfortable doing the activity you love. Try wetsuits for surfing, ski suits for skiing, or an outfit that makes you feel confident. Make sure it matches the season and environment.
Formal Attire
Formal engagement photos always turn out gorgeous. For formal outfits, a good rule of thumb is to go one level of fancy down from whatever you'll be wearing in your wedding photo shoot.
Two or three-piece suits are a perfect choice. A dress in a luxe fabric that highlights your features is also perfect. If you don't want to shell out money on formal wear, you can always rent a fancy outfit online.
Engagement Photo Dresses
Dresses for engagement photos should fit the season that you're being photographed in. Sundresses are perfect for spring and summer. Lean towards light fabrics and seasonally appropriate colors.
For winter and fall, look for dresses with thicker, warmer fabrics. Sweater dresses are a great choice and can be classed up with a scarf or chunky necklace.
Prioritize dresses that highlight your best features and make you feel confident. Stick to classic shapes and styles that will still look good in twenty or thirty years.
Choose Authentic Collective for Your Engagement Photos 
Now that you know how to choose engagement photo outfits, you can relax and get ready to enjoy your shoot. Engagement photoshoots should be a fun, intimate experience that results in photos that you'll enjoy for years to come.
If you're ready to book a professional photographer for your engagement photo shoot, contact us today and let us capture this magnificent moment in your life.