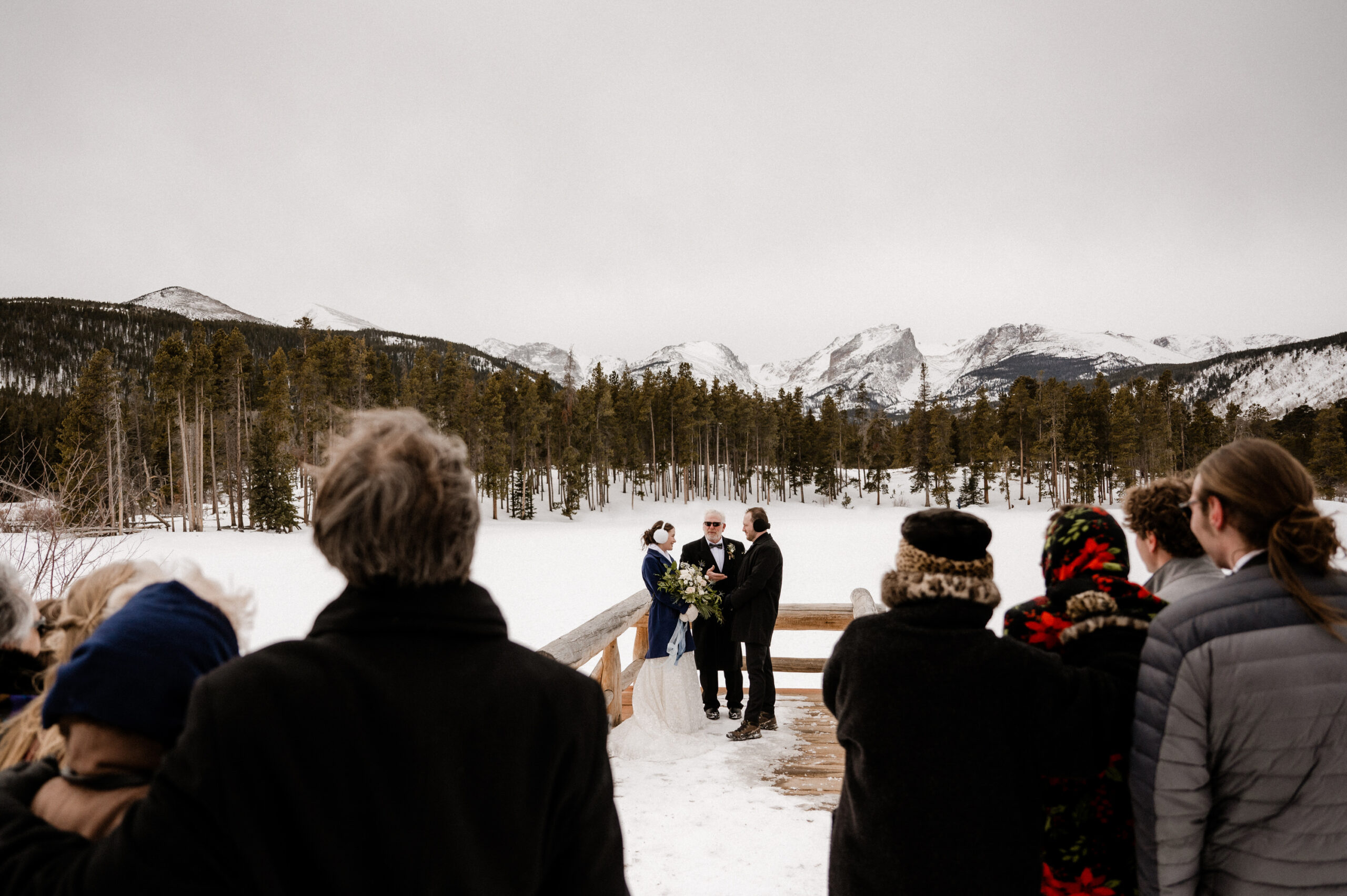 Sprague Lake Wedding & Elopement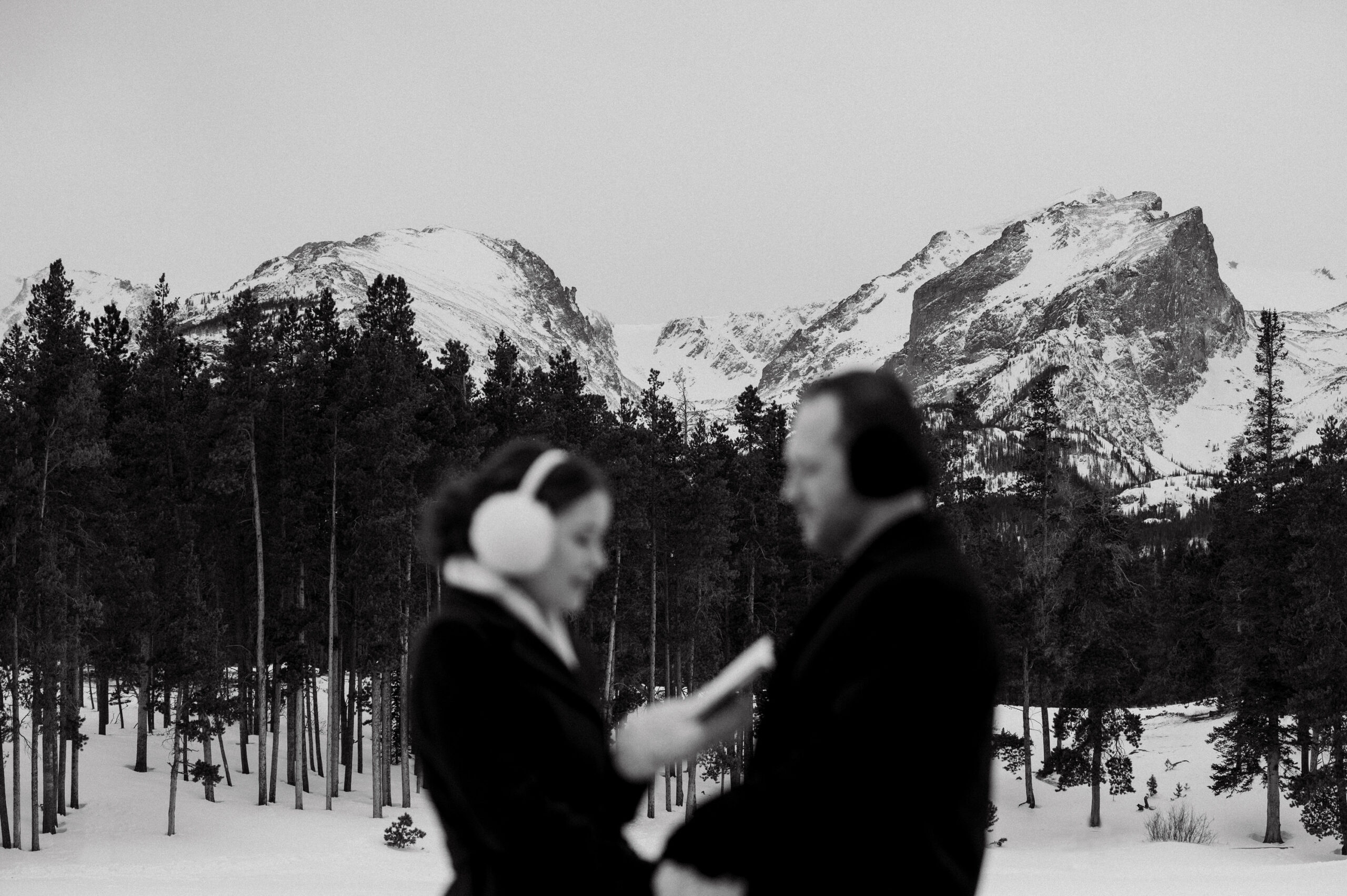 How to Plan A Sprague Lake Wedding
To get married at Sprague Lake, you'll need to apply for a wedding permit for Rocky Mountain National Park. Permits can be applied for up tp one year in advance and book up quickly for popular months.
The cost for a Sprague Lake wedding is only $300 (the cost of the permit) as well as the RMNP entrance fee ($35/vehicle). You can have up to 15 guests in the summer months or up to 30 guests for a Sprague Lake winter wedding.
This ceremony site is mobility impairment accessible, it's just a short walk from the parking lot along a flat dirt path. This location, like most in RMNP, is not pet friendly.
When To Get Married At Sprague Lake
Sprague Lake is a great place to elope in any season! This ceremony location in Rocky Mountain National Park is available year-round. Summer provides lovely temperatures and beautiful views of the lake, while winter has less crowds. If you're aiming for a winter wedding, March is the snowiest month and the lake freezes over!
We highly recommend planning your elopement for a weekday (Monday-Thursday) to avoid crowds. The lighting is best in the evening, close to sunset.
Sprague Lake Winter Wedding
Sprague Lake Summer Wedding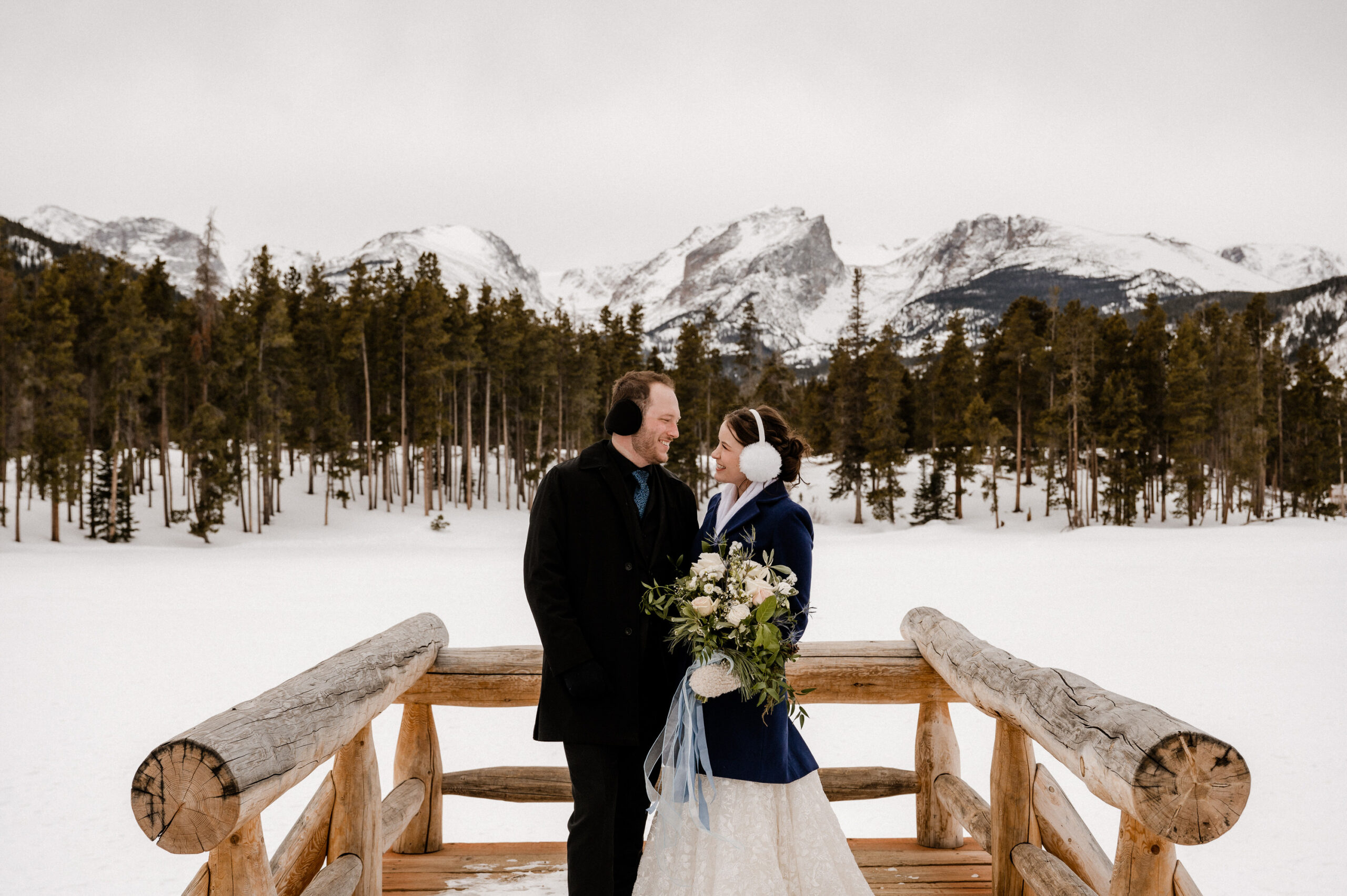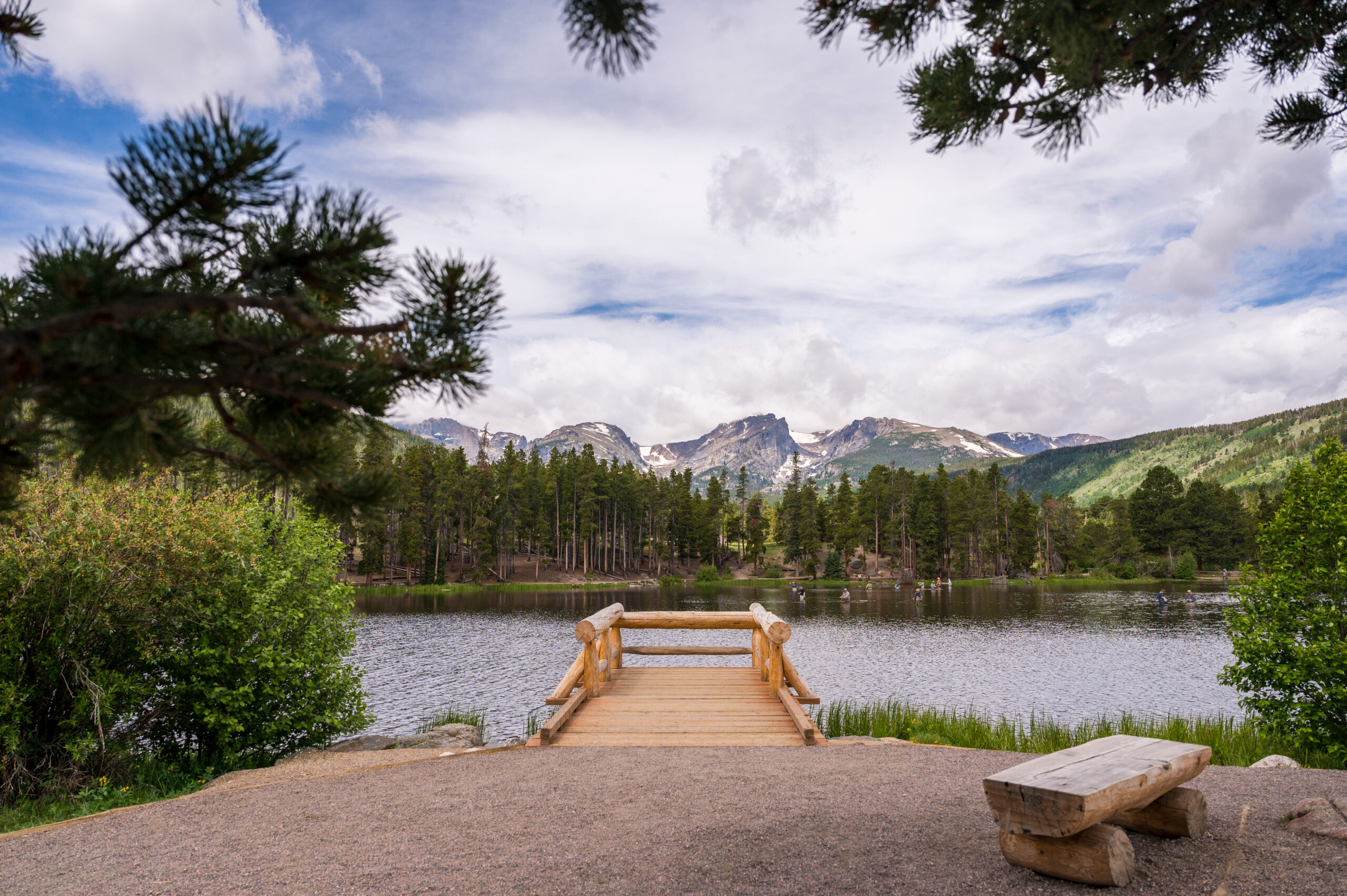 ROCKY MOUNTAIN NATIONAL PARK
Jade & James' Sprague Lake Wedding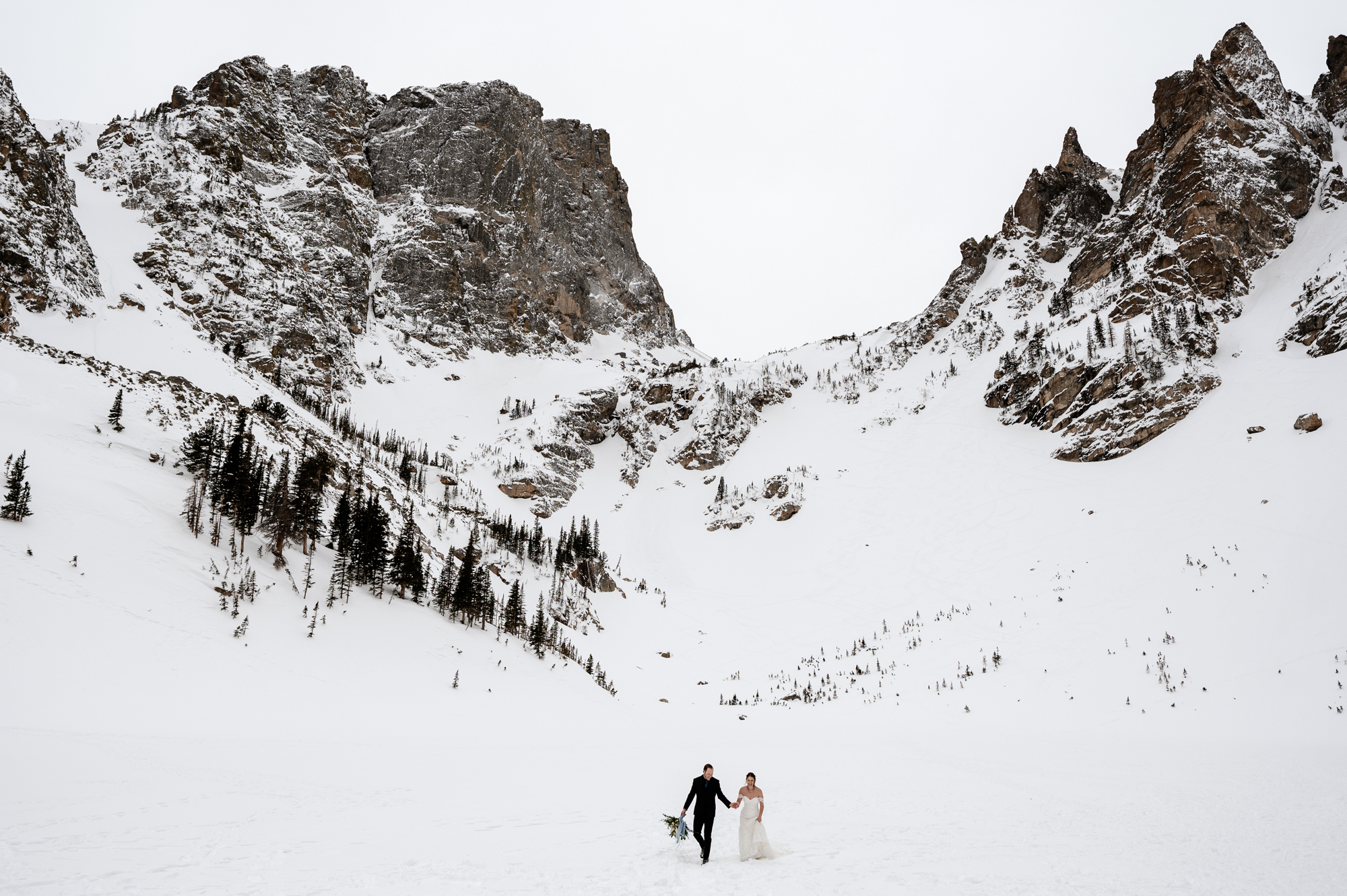 An intimate ceremony that the parents officiated, a snowy hike through Rocky Mountain National Park, dancing on a frozen alpine lake and ending the day with a cozy reception catered by a private chef. Jade & James truly crafted their wedding with intention and encapsulated everything they love into their day.
Rocky Mountain National Park has always been special to Jade and James, as they're both from Colorado and have loved exploring the park together since they started their relationship in high school. They knew they wanted to get married in RMNP, and Sprague Lake was the perfect place for the ceremony.
The day started at a mountain home in Estes Park with unmatched views of the Rocky Mountains. Their friends and family helped them get ready, they wrote their vows, exchanged gifts and shared a first look before we headed to the ceremony. Their friends and family gathered around them at the lake as both dads took turns officiating the wedding, they had a symbolic group hug (not just because it was cold, but a symbol of support and love for the newlyweds), exchanged their handwritten vows and were pronounced husband and wife!
After the ceremony, the guests headed back to the mountain home to warm up and enjoy food and drinks as we geared up to hike to a frozen alpine lake. Layered up in jackets, gloves, toques, spikes and snowshoes we started our hike back to one of Rocky Mountains most famous lakes. While it was absolutely freezing on the lake in the middle of March, the snow covered mountains and lack of crowds made the winter wedding absolutely worth it.
After finally reaching our destination, Jade and James shared their first dance on a frozen alpine lake to their favorite Taylor Swift song. We took our time exploring every lookout, admiring the ice beneath our feet and soaking in every moment before heading back to the trailhead.
The celebration continued back at the vacation home where they had decorated with handmade center pieces and florals. They even had a private chef cater a meal for the newlyweds and their guests!
We're absolutely honored to have been chosen to document such a perfect winter elopement in Colorado. Huge congrats to Jade & James!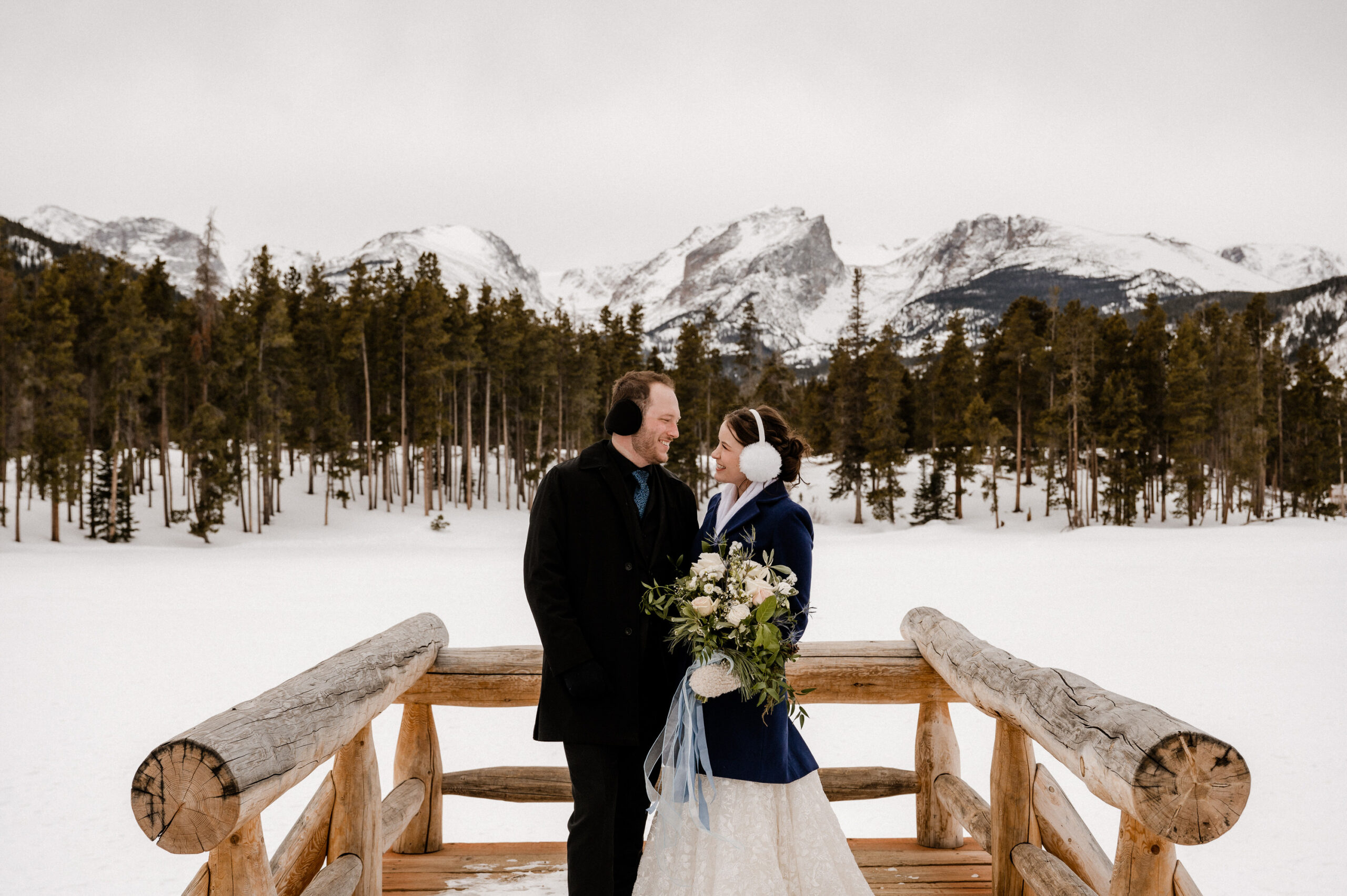 "Wow, wow, wow. These are absolutely incredible. We have been pouring over them the past few days unable to take our eyes off of them. We have so many favorites it's hard to decide. I am personally shocked by how incredible the getting ready photos are. You truly captured the love and beauty of our friends and family. And the photos from halfway through the hike where we stopped at the overlook are so incredible. The lighting and our smiles are amazing. These are everything we wanted and more. Thank you so much once again for everything. You guys were absolutely amazing and we are so happy with our decision to book you for our wedding."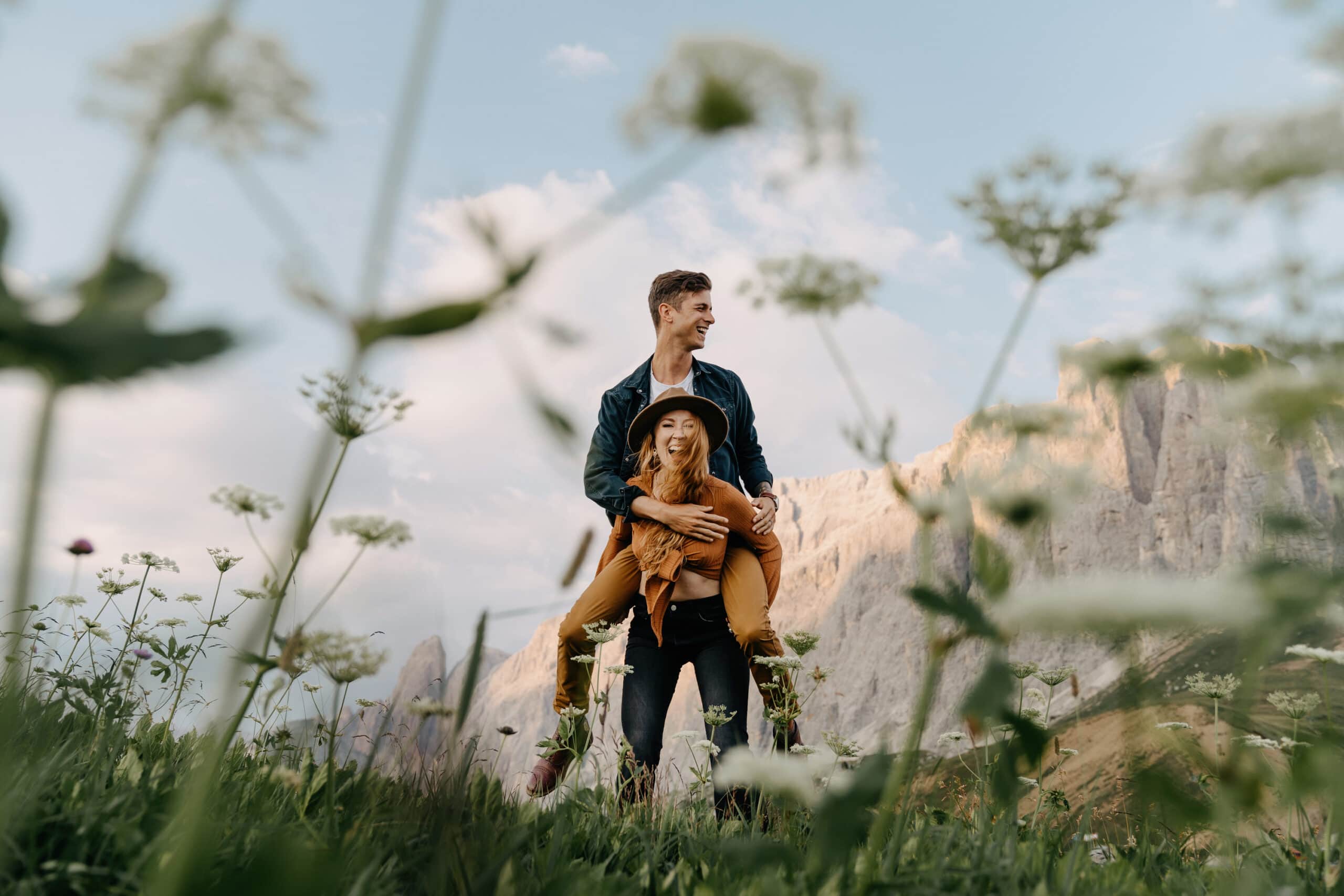 Hey, we're Savannah & Greg!
Sprague Lake Wedding Photographers
We're a husband and wife team specializing in elopement photography and videography in Colorado. We believe eloping is the best way to get married, so much so that we did it ourselves! We know it can feel overwhelming not knowing where to start, which is why we help couples set a date, pick a location, make a timeline, etc!
Sprague Lake Wedding Packages
Photography & Videography
It might seem counterintuitive to look for a photographer before you have an exact location and date set, but trust us on this one. If you're looking for some help finding the perfect location, an elopement photographer who specializes in the area you're considering will be a huge help to you.
Professional photography and optional videography services from an experienced husband/wife team who've photographed over 150 weddings together. Posing guidance and direction to make you feel and look great in front of the camera, no experience necessary.
A 50+ page digital planning guide to help you through the whole elopement planning process. Including tips on booking travel and lodging, buying your attire, activity ideas, packing checklists, including family and more.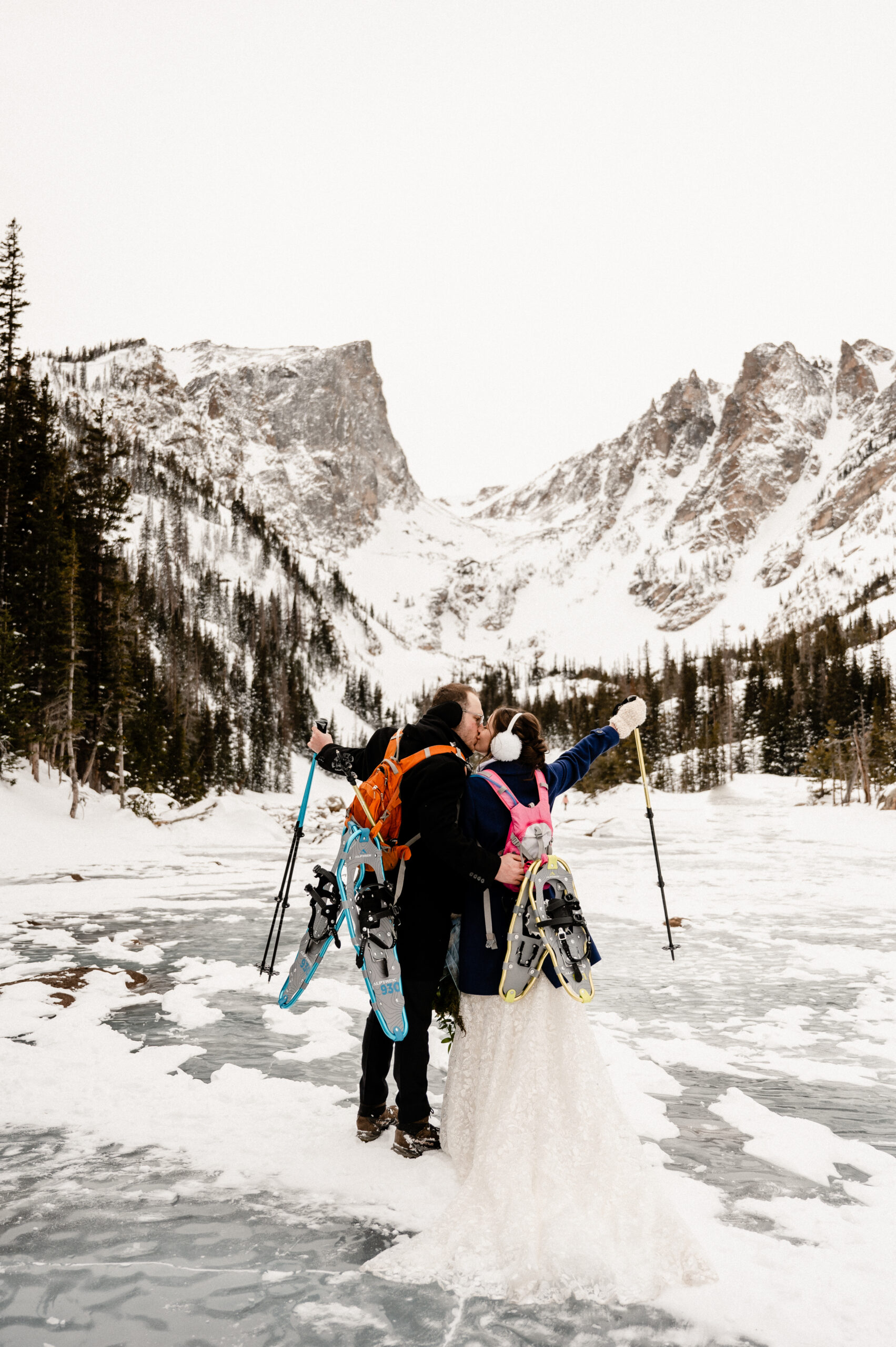 A list of all the most beautiful locations in the area you choose based on scenery, accessibility, permits and logistics. We do the work so you don't have to!
We'll craft a timeline that fits all the locations, activities, and moments you have planned for your day as well as consider ideal lighting and making sure your whole experience is relaxed and stress free.
Looking for a florist, hair and makeup artist, or other vendors? We've got you covered with local recommendations.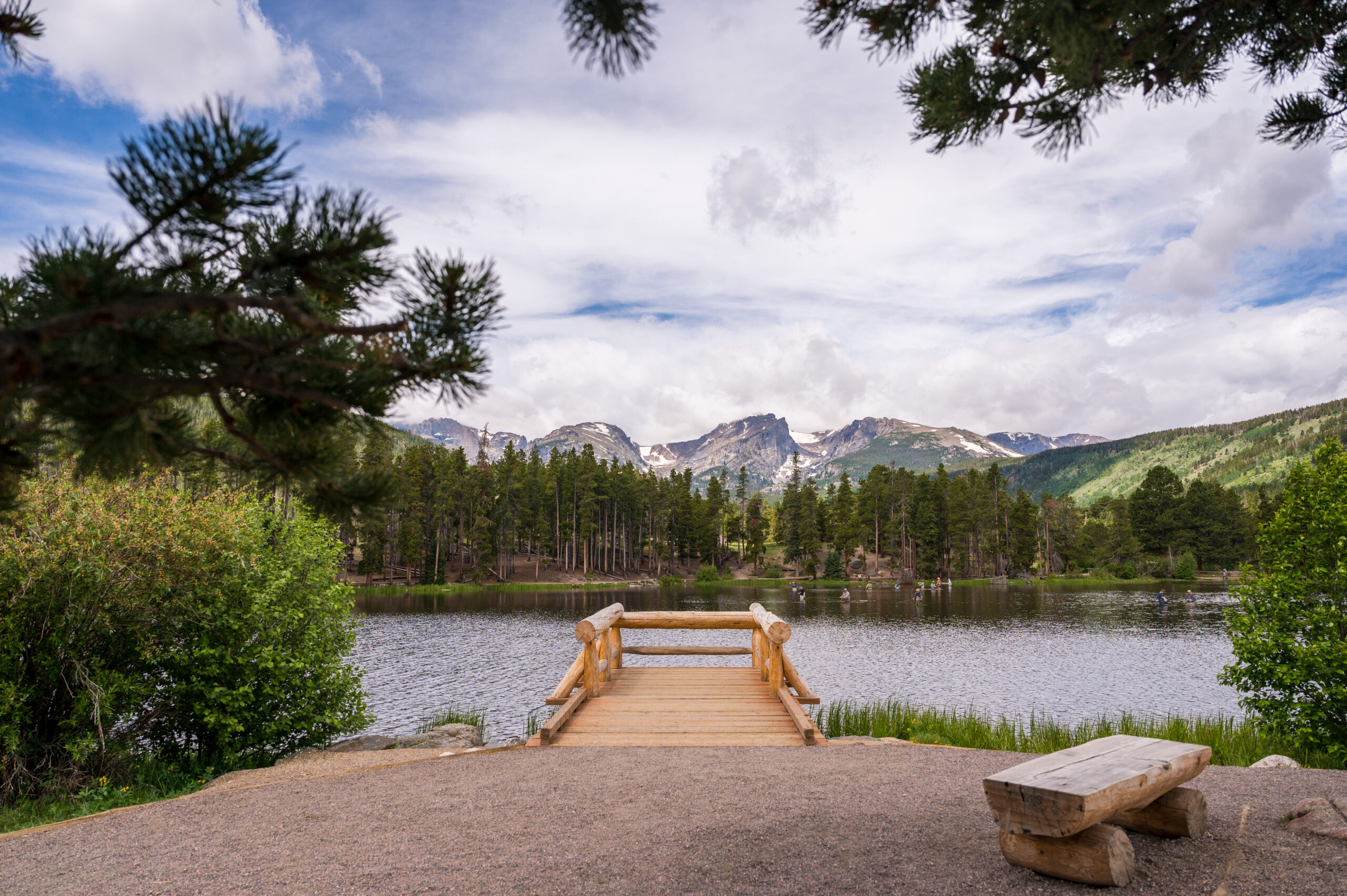 LET'S START PLANNING YOUR Sprague Lake wedding!