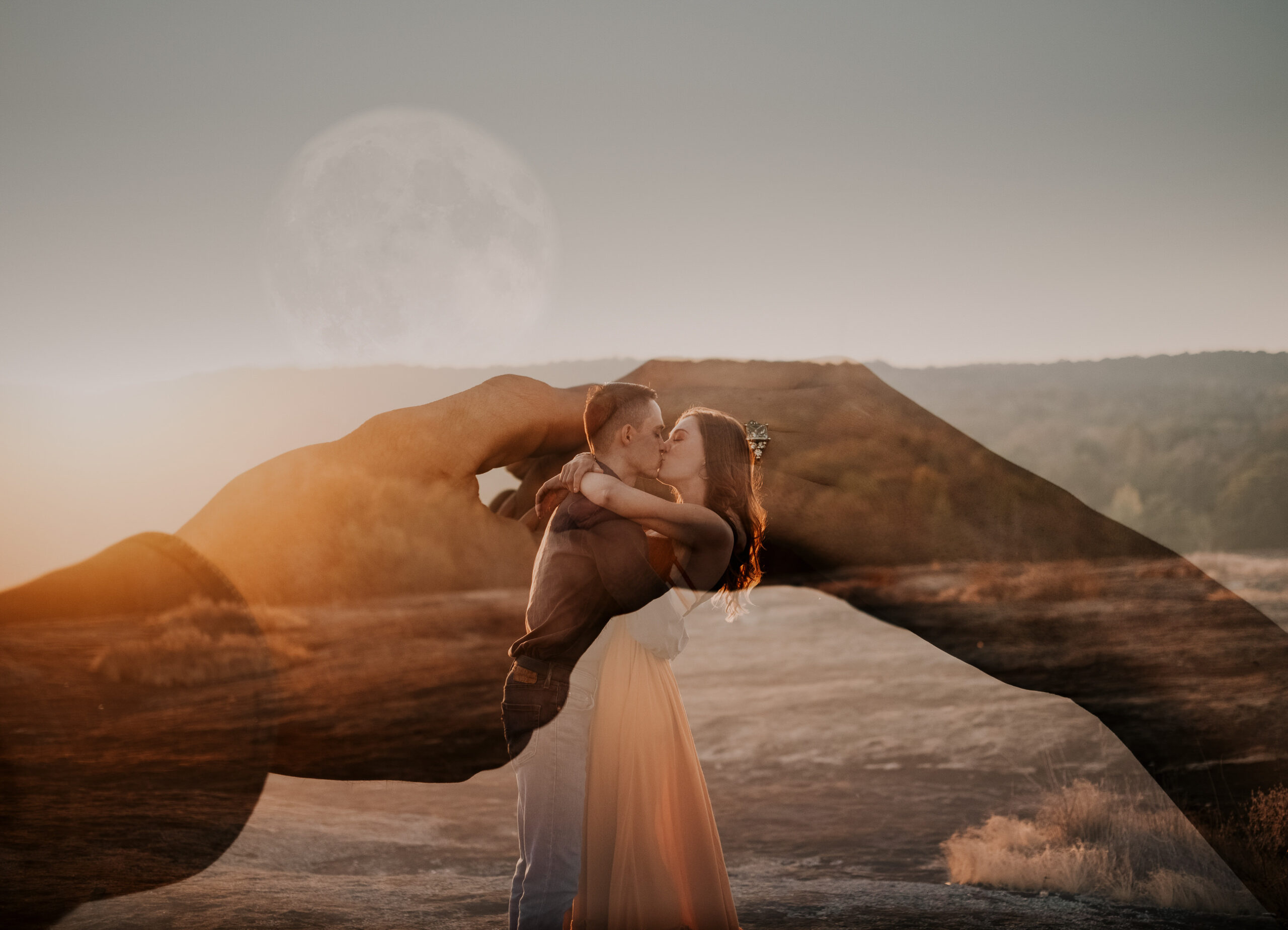 Arabia Mountain Engagement Photos
Victoria and Mike made their Arabia Mountain engagement photos an absolute dream to capture! We were just in time for the golden hour sunset light on the top of Arabia Mountain. Being surrounded by beautiful views in every direction is one of the many reasons we love Arabia Mountain engagement photos! We couldn't help extending the engagement shoot to catch the blue hour and moon for a few photos before wrapping up their Arabia Mountain photoshoot. 
What to wear for your Arabia Mountain Photoshoot
We loved Victoria and Mike's outfits for their Arabia Mountain engagement photos. They avoided busy patterns, chose colors that went great with the location and complimented each other but didn't match too much! If you're wondering what you should wear for your Arabia Mountain photoshoot, we'd suggest reading this blog on what to wear for engagement photos. 
Arabia Mountain Photography
To book your Arabia Mountain engagement photos make sure to head over to our Engagement Photo Packages page and submit the inquiry form! You can also browse our free resource of the best places for Eegagement photos in Georgia. to get more inspiration.
The Couple
Victoria and Mike met on bumble a couple years ago when they noticed their mutual love for an obscure band. They're both bartenders so they don't get a lot of nights off together, but when they do they love to try new restaurants and drinking Italian red wine. Mike loves to play the guitar and Victoria's a professional actress (you might recognize her from her role in Walk the Line!)
When it comes to their relationship they work a lot on being intentional with each other. They try to spend any time they have together focused and present on each other. Mike is extremely caring and often goes out of his way to try to take things off of Victoria's plate and show her how much he loves her. Victoria constantly makes Mike feel like he's the only person in any room. In his words "Her wit and humor are a poignant compliment to her natural charisma, and she continues to surprise me every day."