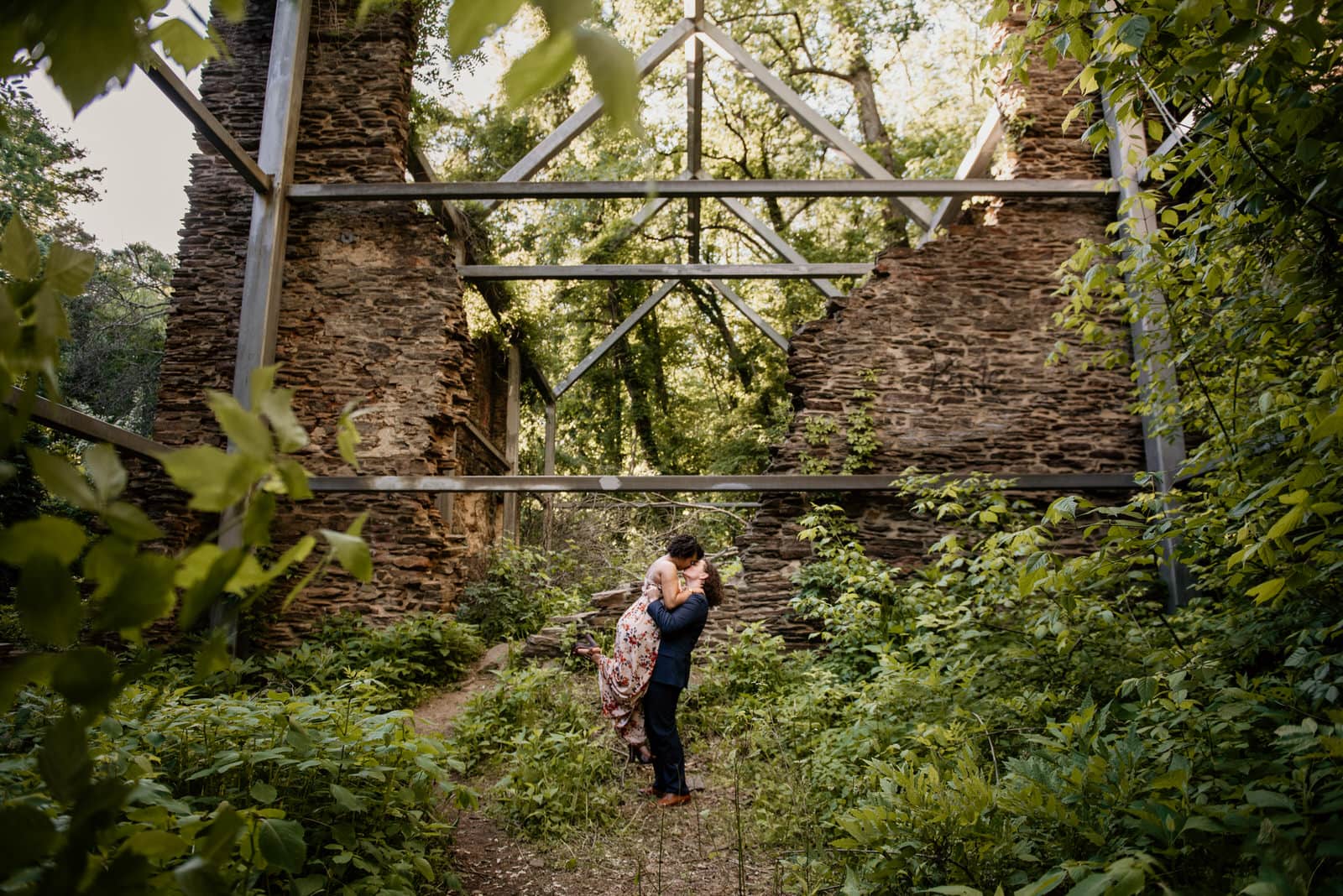 The Location
We are SO excited to share these photos from Andi and Hayley's engagement session! With the couple being so artistic, and Andi being a location manager, an awesome location was a must for their engagement photos. We searched high and low for a location that was unique, gorgeous and fit the epic, artistic vibe we were going for. Honestly, we couldn't find anywhere that met the criteria. That's when Greg and I randomly stumbled across these mill ruins when out for a hike one day and instantly knew it would be the perfect spot!
The Couple
Andi and Hayley met through their connections in the film industry after Hayley first moved to Atlanta from Michigan State. For their 5th year anniversary, Andi asked Hayley to marry her on the beach in St. Martin. Now, they're taking the quarantine downtime to start planning their wedding!
Hayley makes custom costumes, paints and draws. Andi is also a photographer and director for hit shows such as Dynasty!  Both ladies are very artistic. They also have the cutest black lab named Beau, who wasn't able to come to the session but will for sure make an appearance in our next shoot.
The Engagement Session
We started the session inside of the overgrown ruins. They were even badass enough to climb onto the cross beam for a few photos! We could have shot inside the ruins for hours, but as people started to flood in we headed out for an outfit change (have to keep that 6ft distance)!
Andi and Hayley put on their casual clothes before we all took off our shoes and went into the creek to wrap up the session. There were dips, lots of steamy kisses, notebook level romance and finally, water fights! I think Hayley surprised everyone when she wanted to actually LAY down in the water for the last shot!
This was the second LGBTQ engagement session in Atlanta we've had the privilege to photograph and hope for many, many more! We hope you enjoy (:
Your Narrative blog will appear here, click preview to see it live.
For any issues click
here
Check out another LGBTQ Engagement Session here!
View an Atlanta LGBTQ Wedding here!