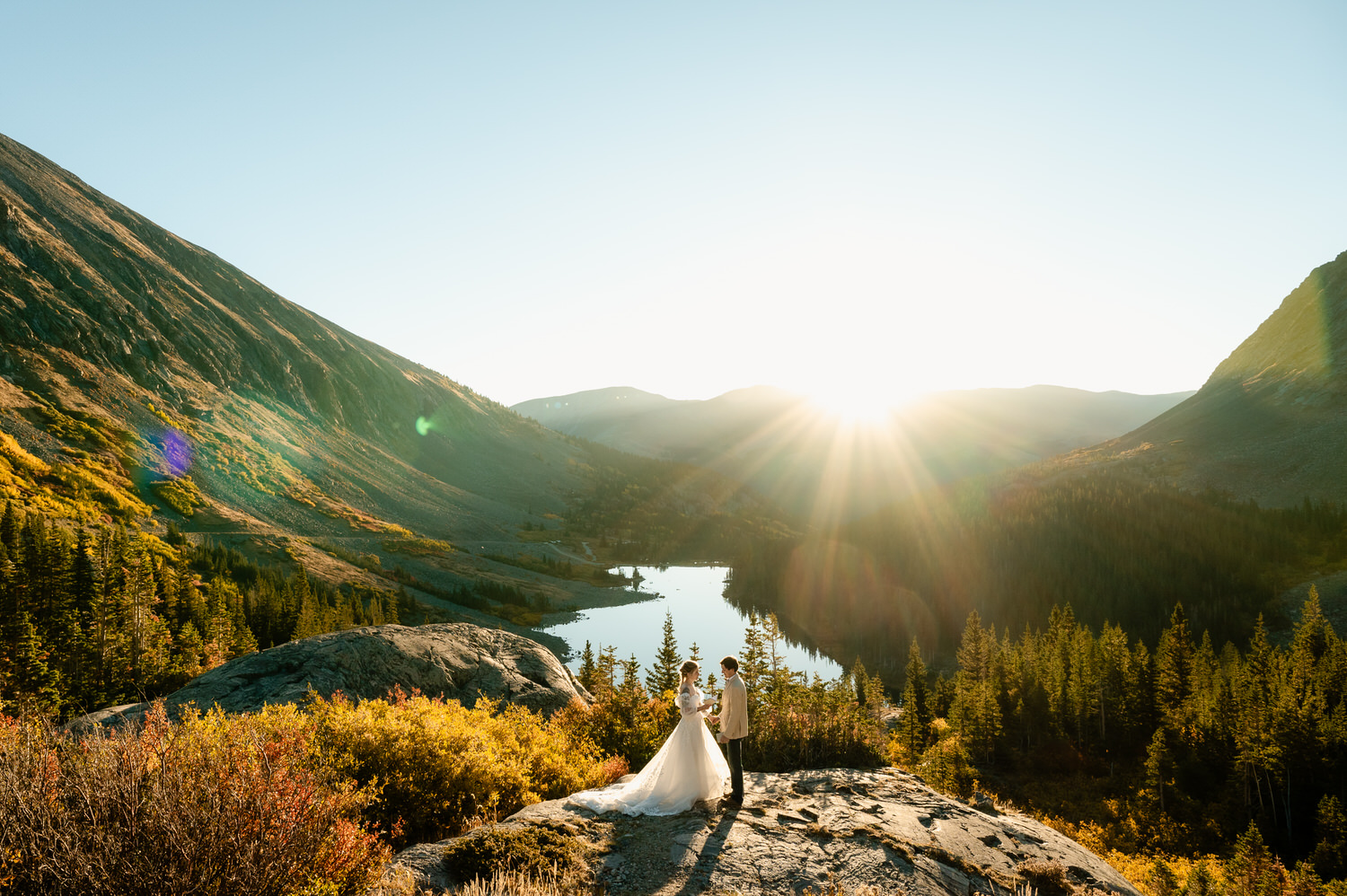 Why Elope In Breckenridge?
If you're looking for accessible locations with beautiful views and a cute town to celebrate in after your ceremony, a Breckenridge elopement is perfect for you.
Breckenridge is one of the most popular mountain towns in Colorado. It's less than a 2 hour drive from Denver and sits at 9,603 ft of elevation. It's a trendy town with lots of great restaurants, bars and attractions.
Breckenridge is nearby to other popular towns such as Dillon, Frisco, Silverthorne, Keystone and Alma. We'll be including these surrounding areas for the purpose of this guide!
As Breckenridge elopement photographers, we'll walk you through the best places to get married, when to visit, where to stay and our Breckenridge elopement packages.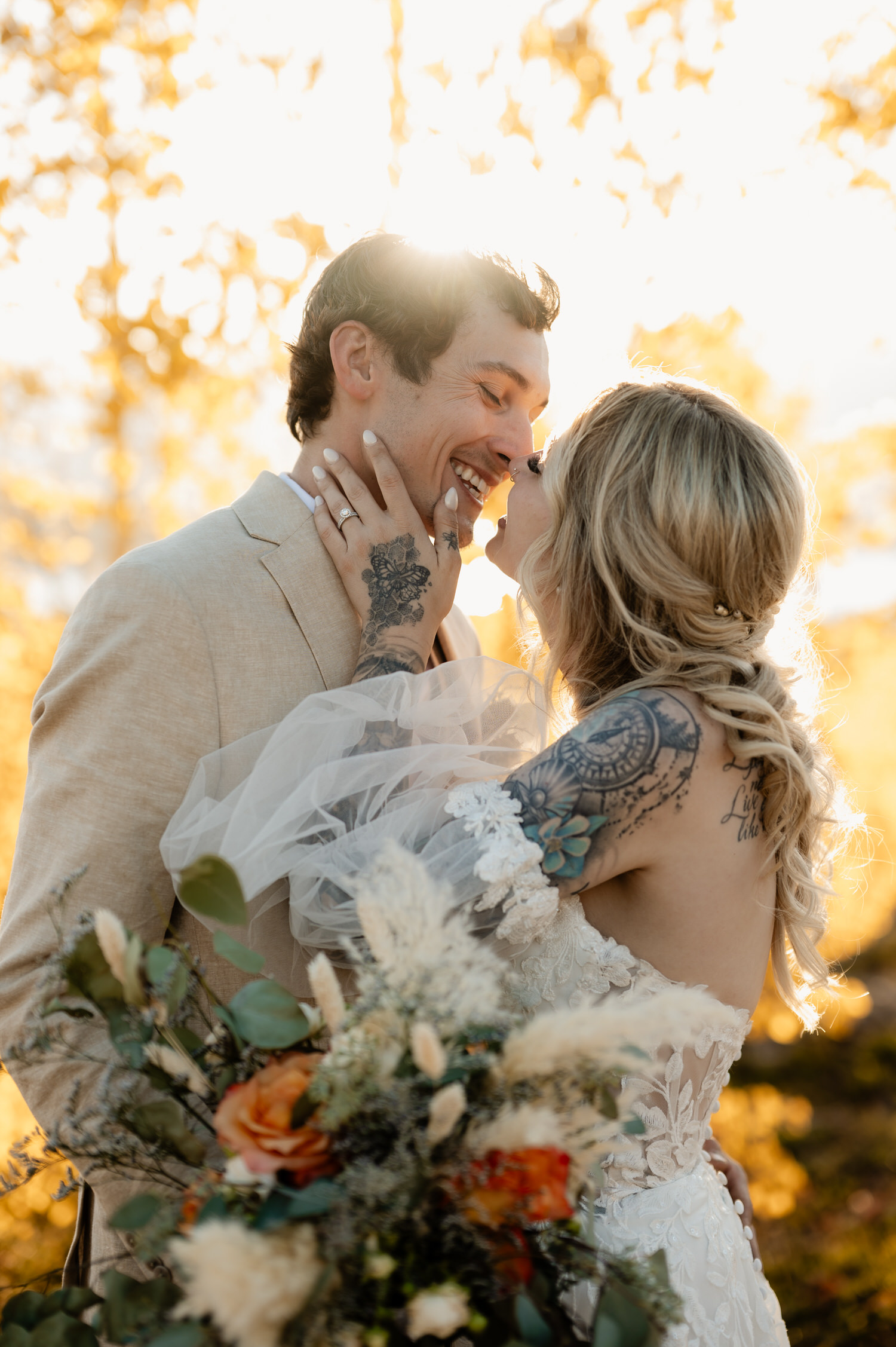 When To Elope In Breckenridge
Breckenridge is truly a great place to elope year round!
Summer provides lovely temperatures, though afternoon thunder storms are common so we always recommend sunrise weddings. Winter is great if you want to hit the slopes. Snow is typically present from late October until the end of May.
Fall in Breckenridge can be stunning if you time it right. Trying to forecast when the leaves will change is difficult as it changes every year and storms can come through that down all the leaves. However, typically mid to late September offers fall foliage.
We highly recommend planning your elopement for a weekday (Monday-Thursday) to avoid crowds. Sunrise elopements are our favorite as they're pretty much always private and there's a lower chance of inclement weather.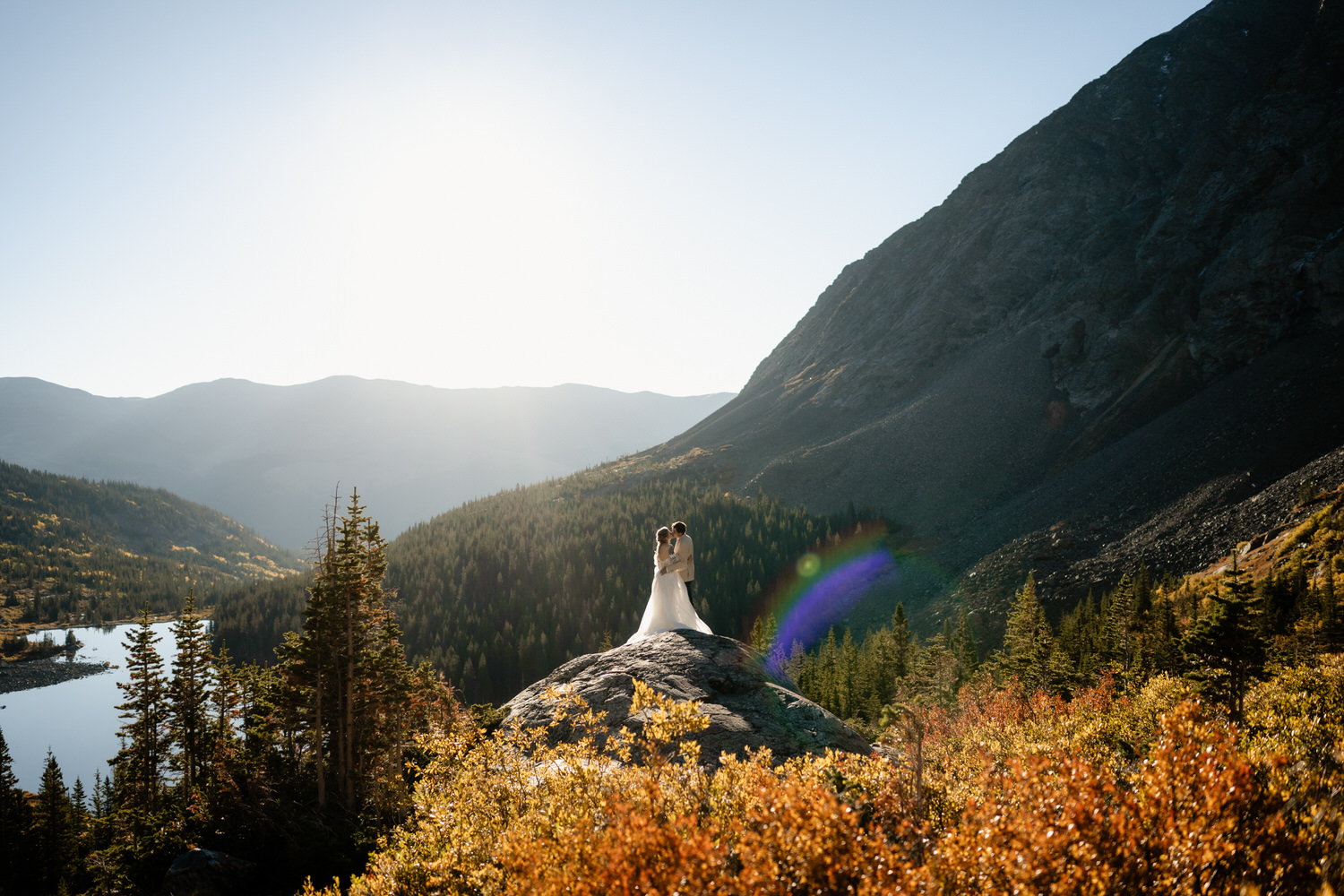 As elopement photographers, we've spent a lot of time searching for the perfect locations for our couples to get married. We've put together a Breckenridge elopement guide for our couples that outlines all of the most beautiful places to get married. In addition to locations, the guide includes local vendor recommendations, lodging inspiration, activity ideas and sample itineraries to make planning as easy as possible!
We keep the best hidden gems secret to keep the privacy for our couples, but here are some of the most popular locations in Breckenridge for elopements and micro weddings!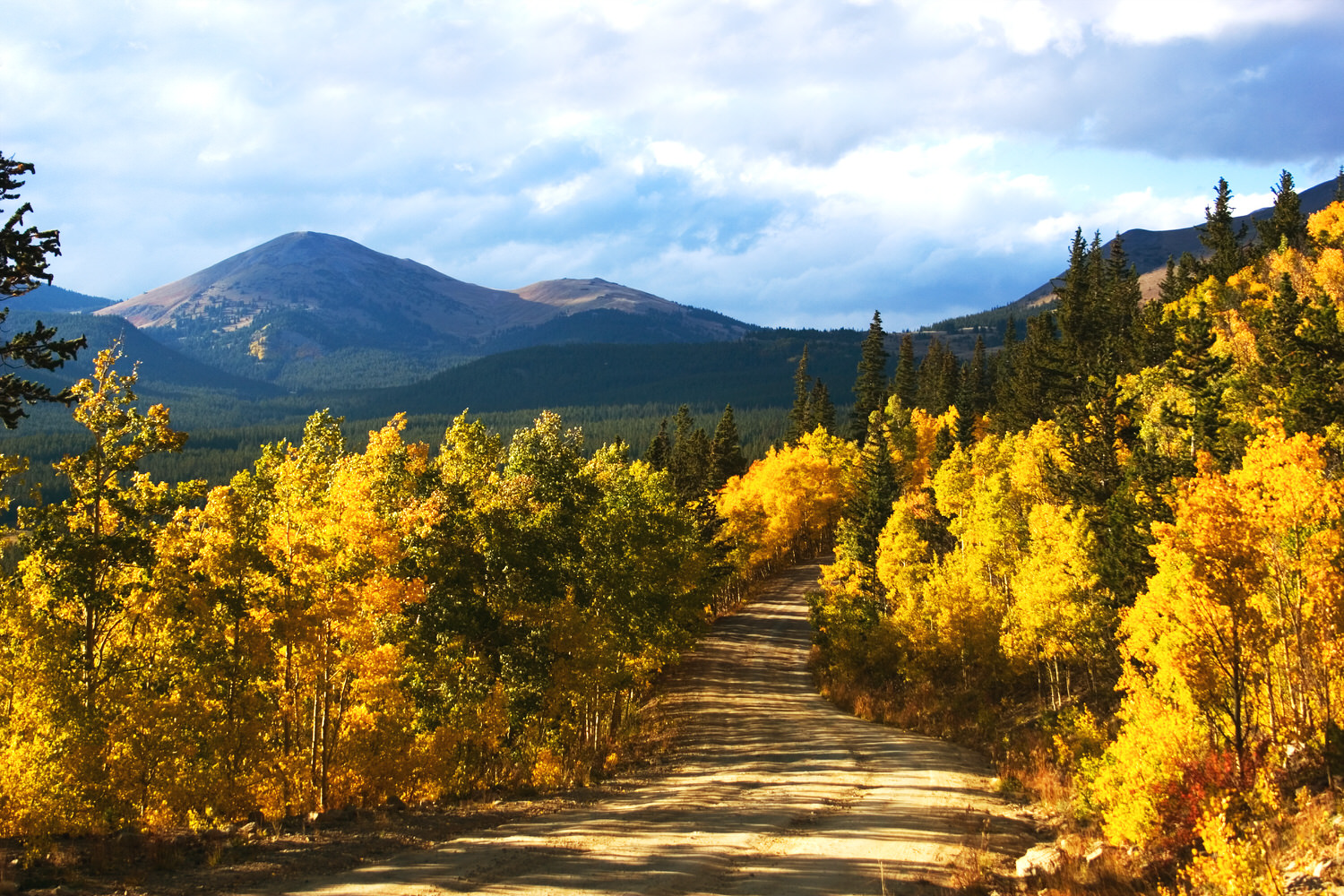 Hoosier Pass & Boreas Pass
Not into hiking on your wedding day? No worries. Choose from one of the many mountain passes around Breckenridge and drive to your location!
Hoosier Pass - At 11,539 ft elevation along the continental divide, you can either hike or drive to the top (with a 4x4) of this popular elopement location.
Boreas Pass - Another scenic drive with lots of hidden gems to stop at along the way! Perfect for leaf peeping in the fall.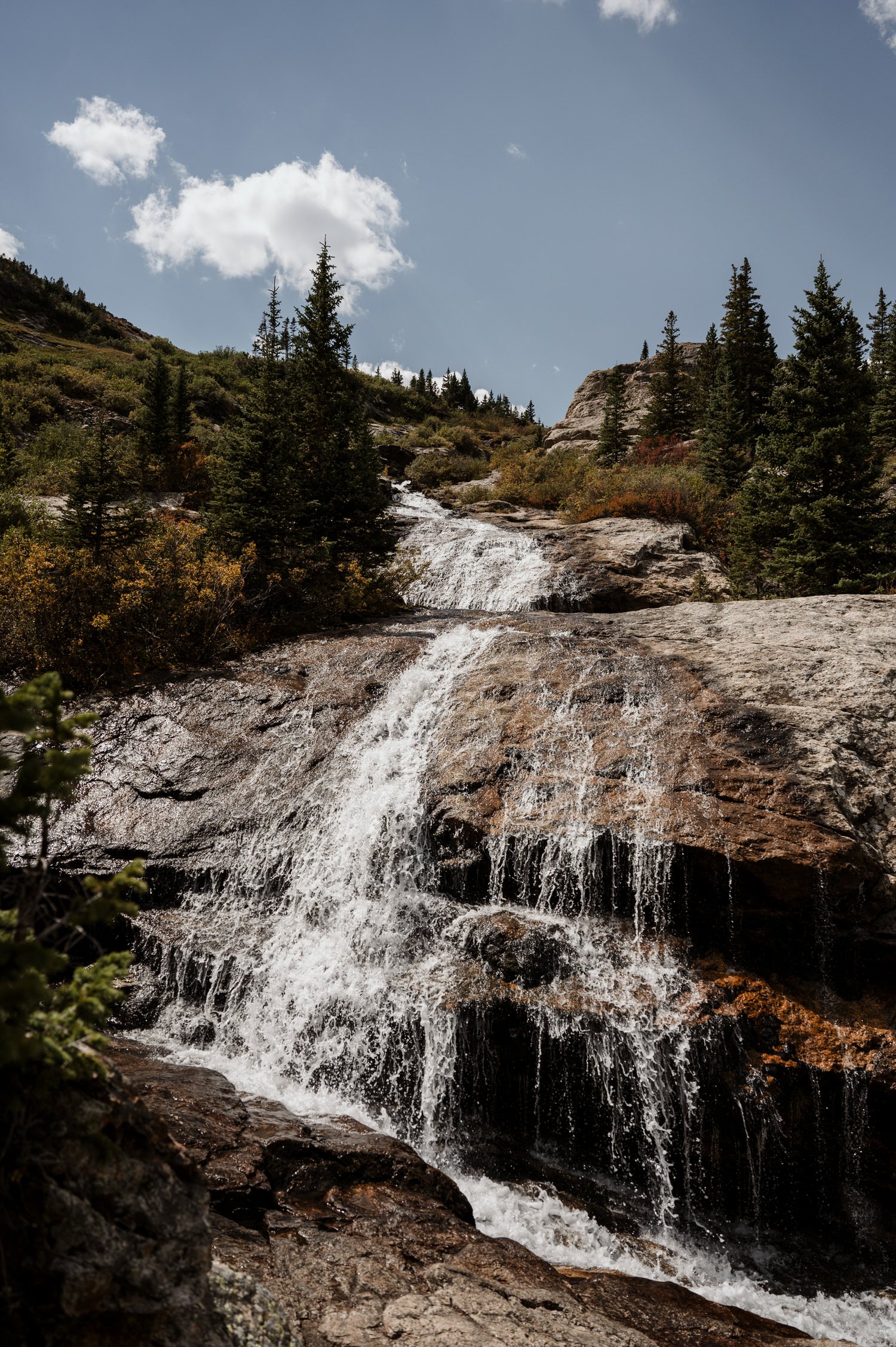 If you're hoping to stop by a waterfall or two on your elopement day, Breckenridge is the perfect place! There's a variety of falls in the area that can also easily be paired with mountain views for a best of both worlds.
Continental Falls

McCullough Gulch

Other Hidden Gems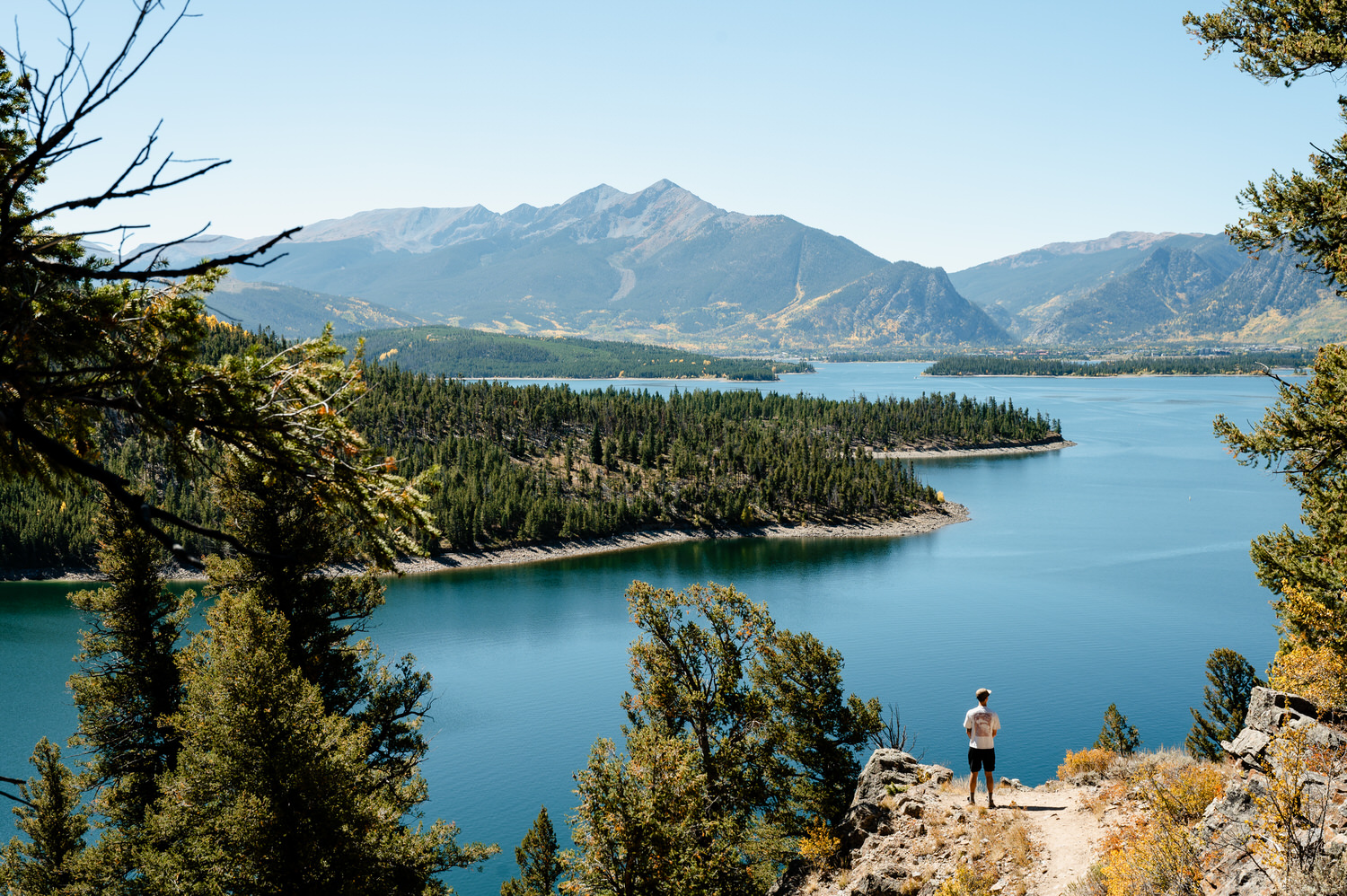 The Dillon Reservoir is an iconic location near Breckenridge that's perfect for elopements and micro weddings. There are a variety of locations around the reservoir where you can get married, from hiking elopements to reservable locations and venues.
In addition to the popular Sapphire Point, there are a few other lesser known locations and rental properties that allow small weddings on their property. There are also lots of hiking trails with beautiful mountain and lake views!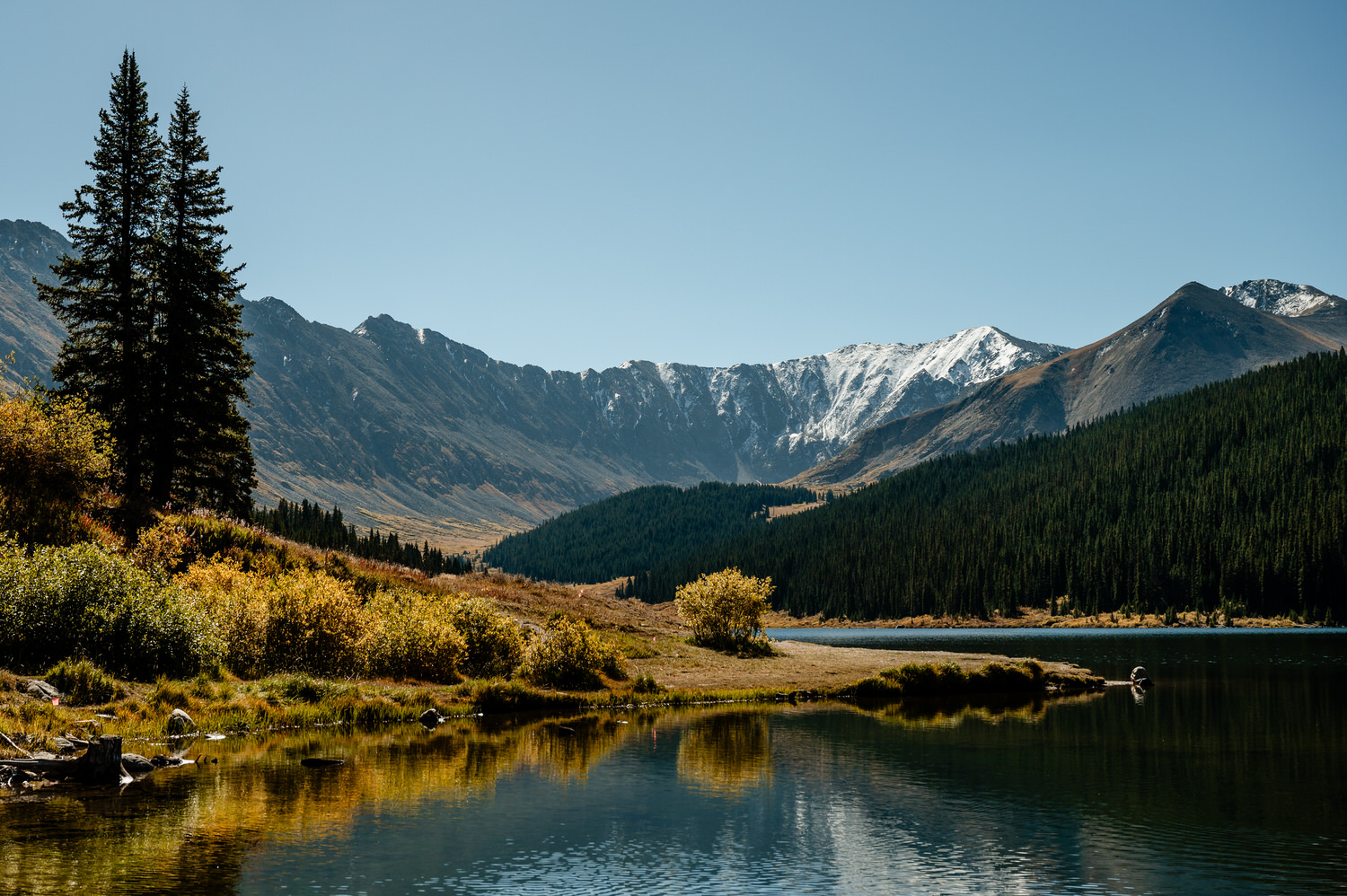 A Breckenridge elopement isn't complete without a visit to one of the many lakes! Perfect for just admiring as you relax and have a picnic, or do some water activities such as a pack raft or paddle board!
Don't worry if you aren't into hiking on your wedding day, there's lots of options for lakes you can actually drive right up to (like the one pictured here). You may need a 4x4 depending which trail you choose, as some of the roads are pretty rocky.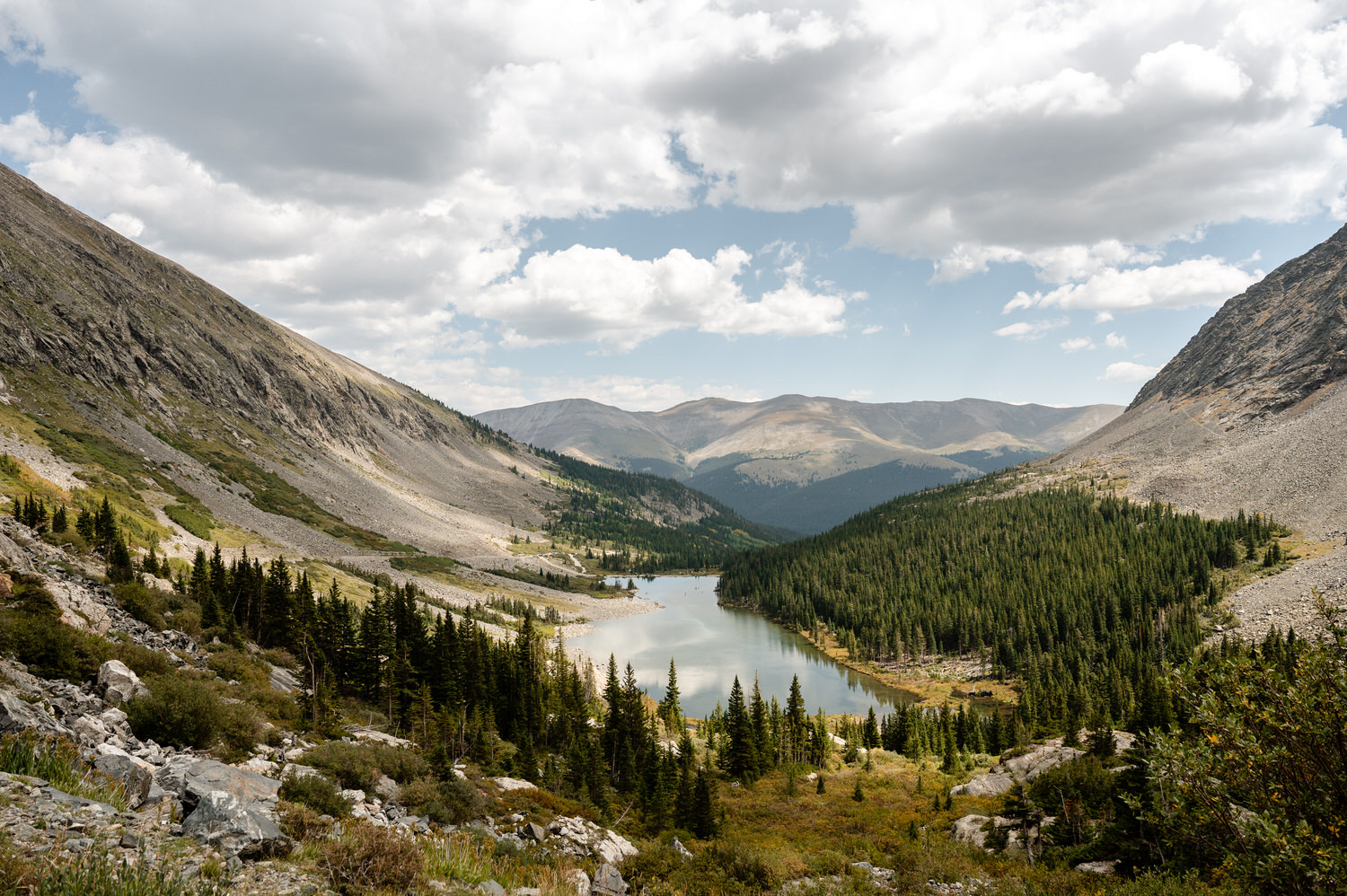 just A couple of the locations we've scouted exclusively for our couples..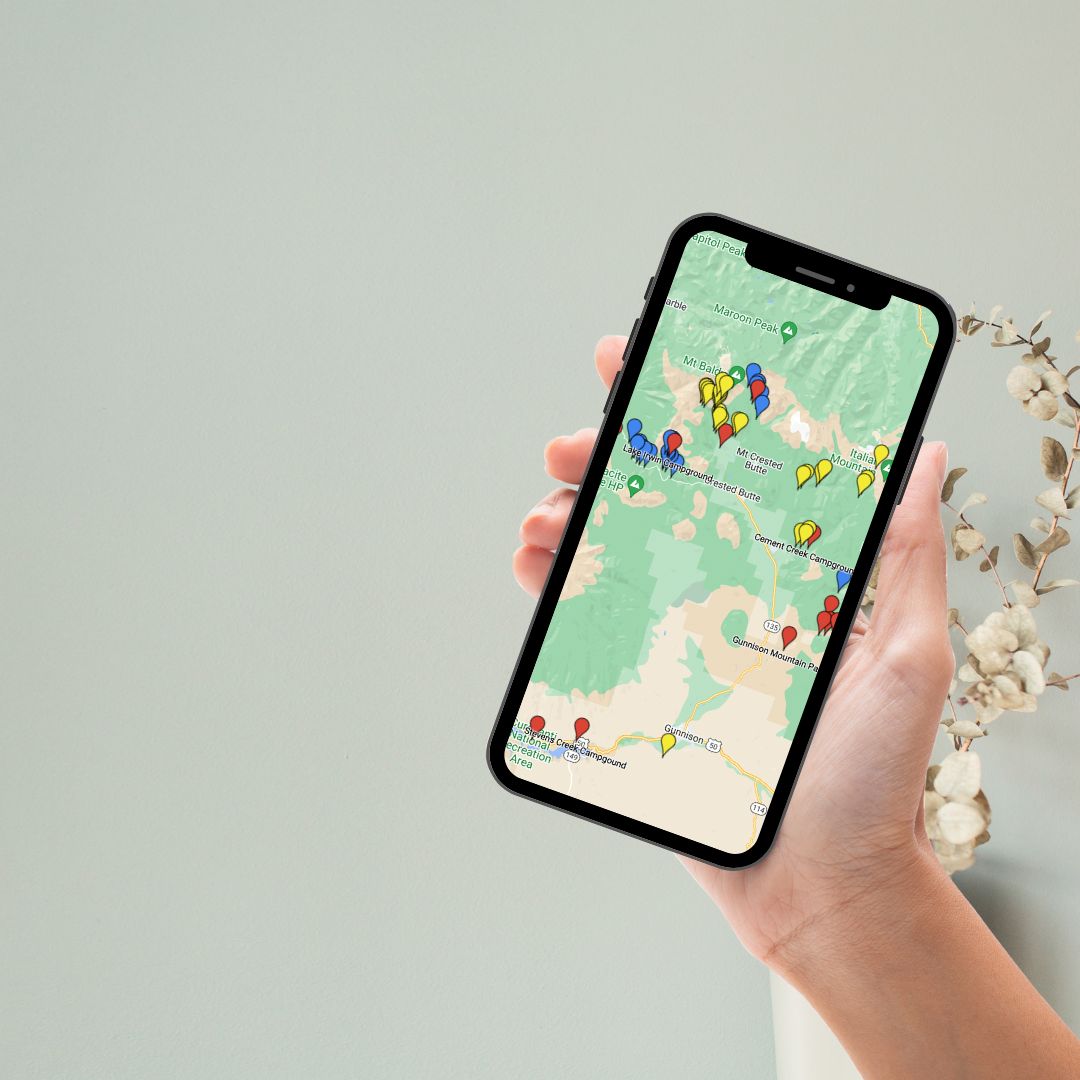 Breckenridge Elopement Guide
Our clients get exclusive access to our Breckenridge guide including a full list of locations, local vendors, where to stay, activities and more.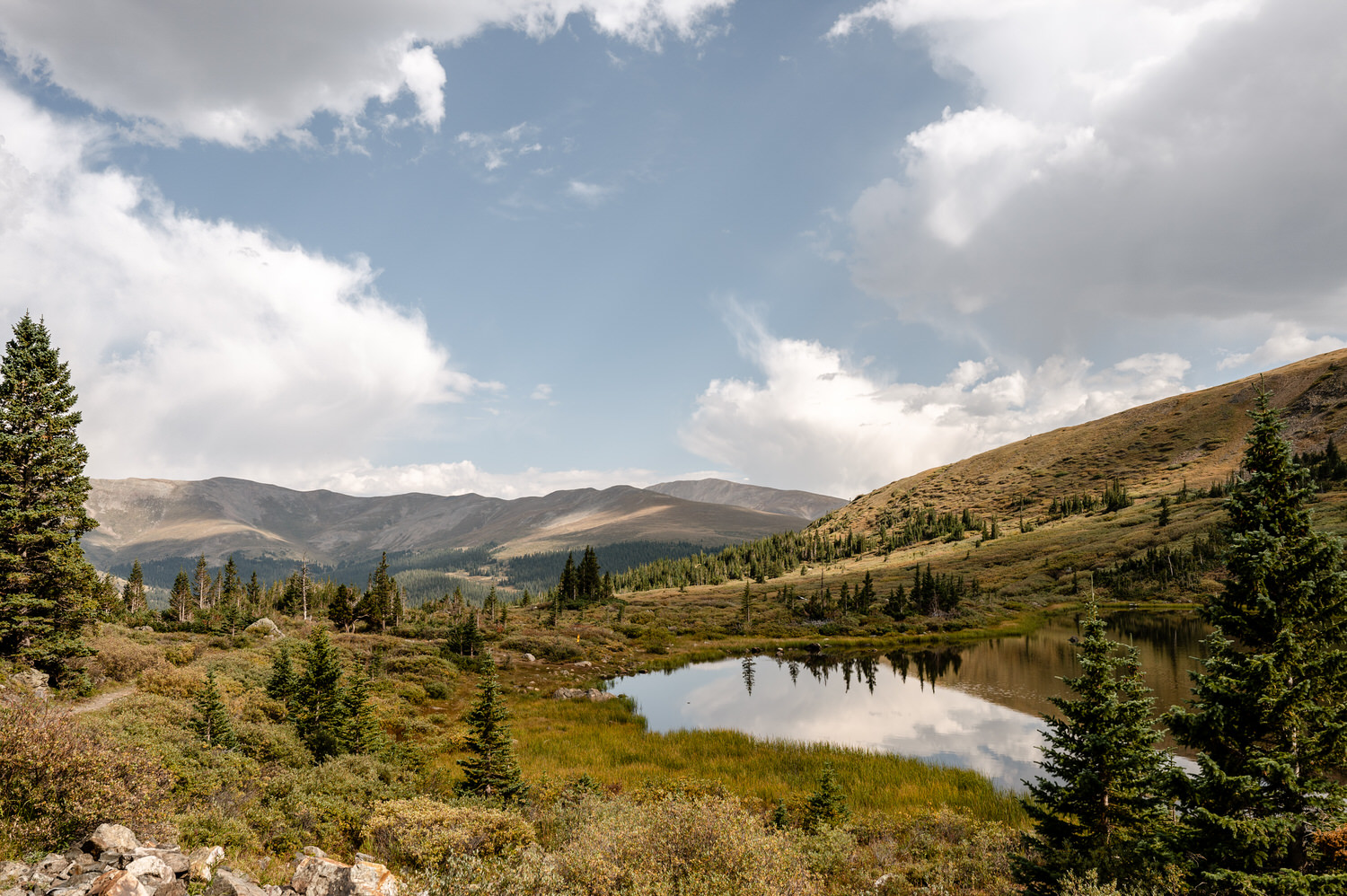 THERE'S SO MANY HIDDEN GEMS WE CAN'T WAIT TO SHARE WITH YOU!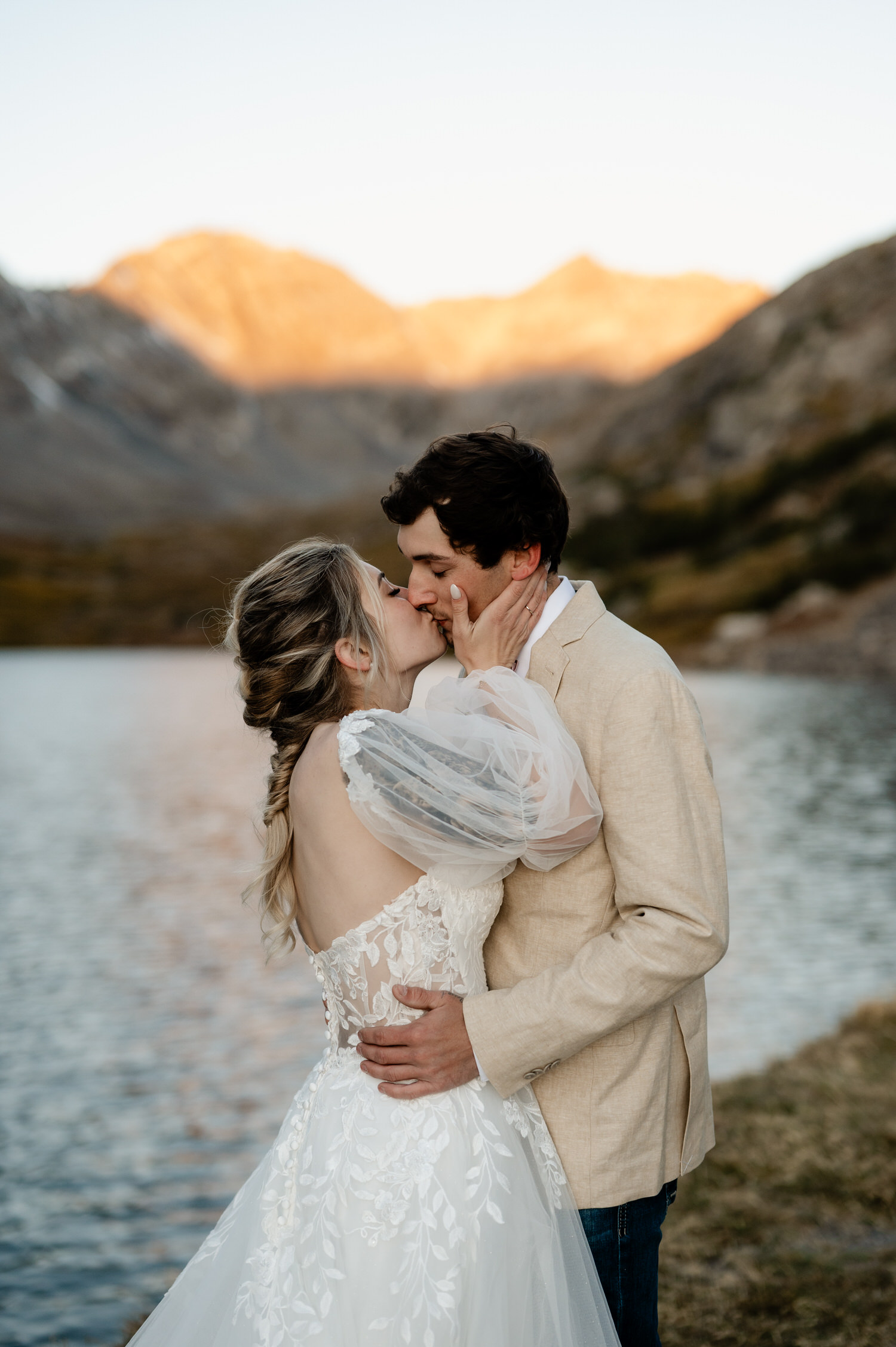 Breckenridge Wedding Venues
A small wedding venue may be more suitable for your event depending on what you're planning. If you're planning to have a micro wedding with 20+ guests, any structures (arches, chairs, etc.) or would like an indoor option, consider these locations.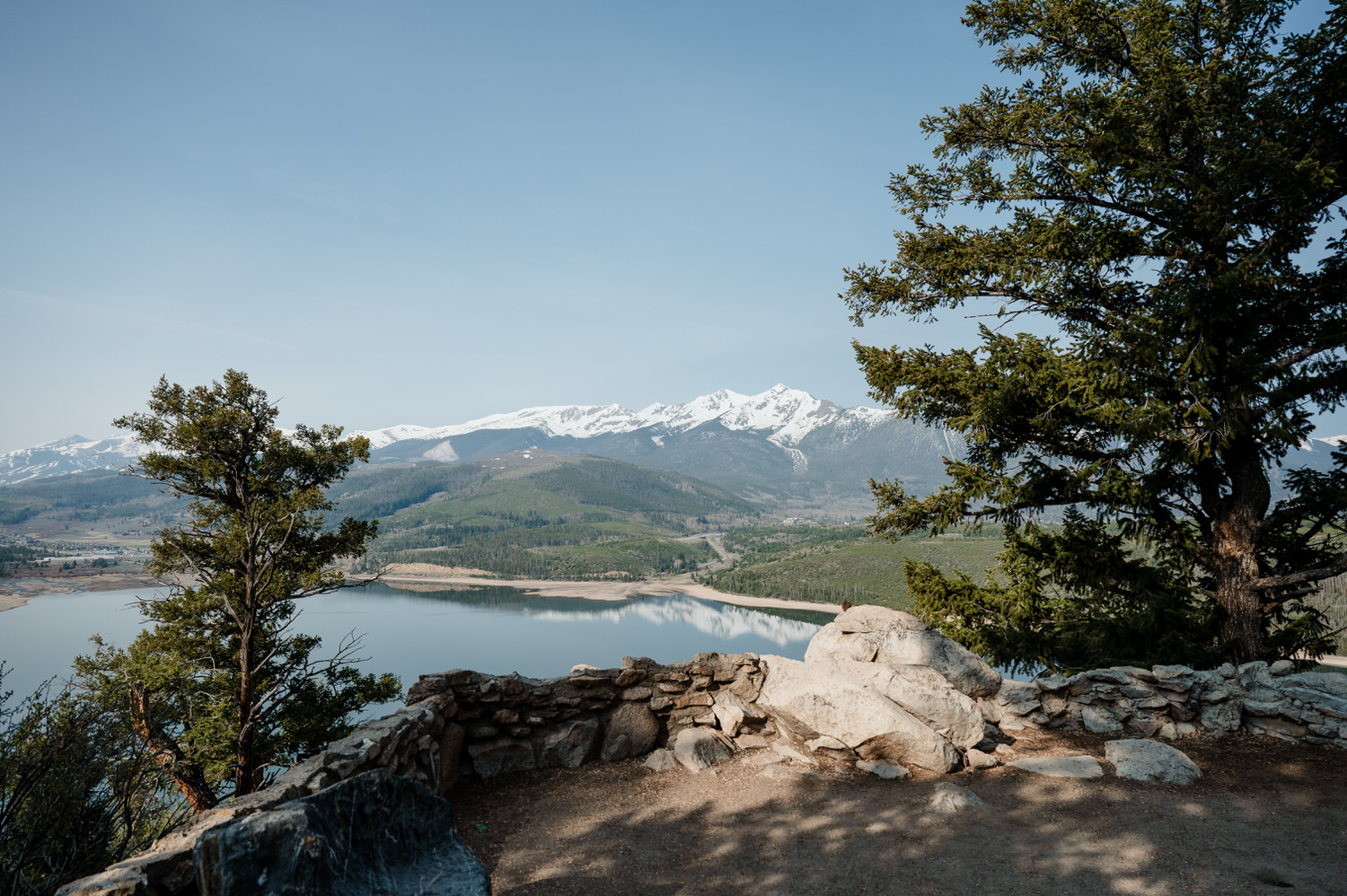 Sapphire Point is a reservable space overlooking Dillon Reservoir. It's on a popular trail, so it's common to have lots of tourists walking by. Sunrise or sunset recommended.
Capacity: up to 35 guests
Availability: year round
Estimated Cost: $120 per 2 hour window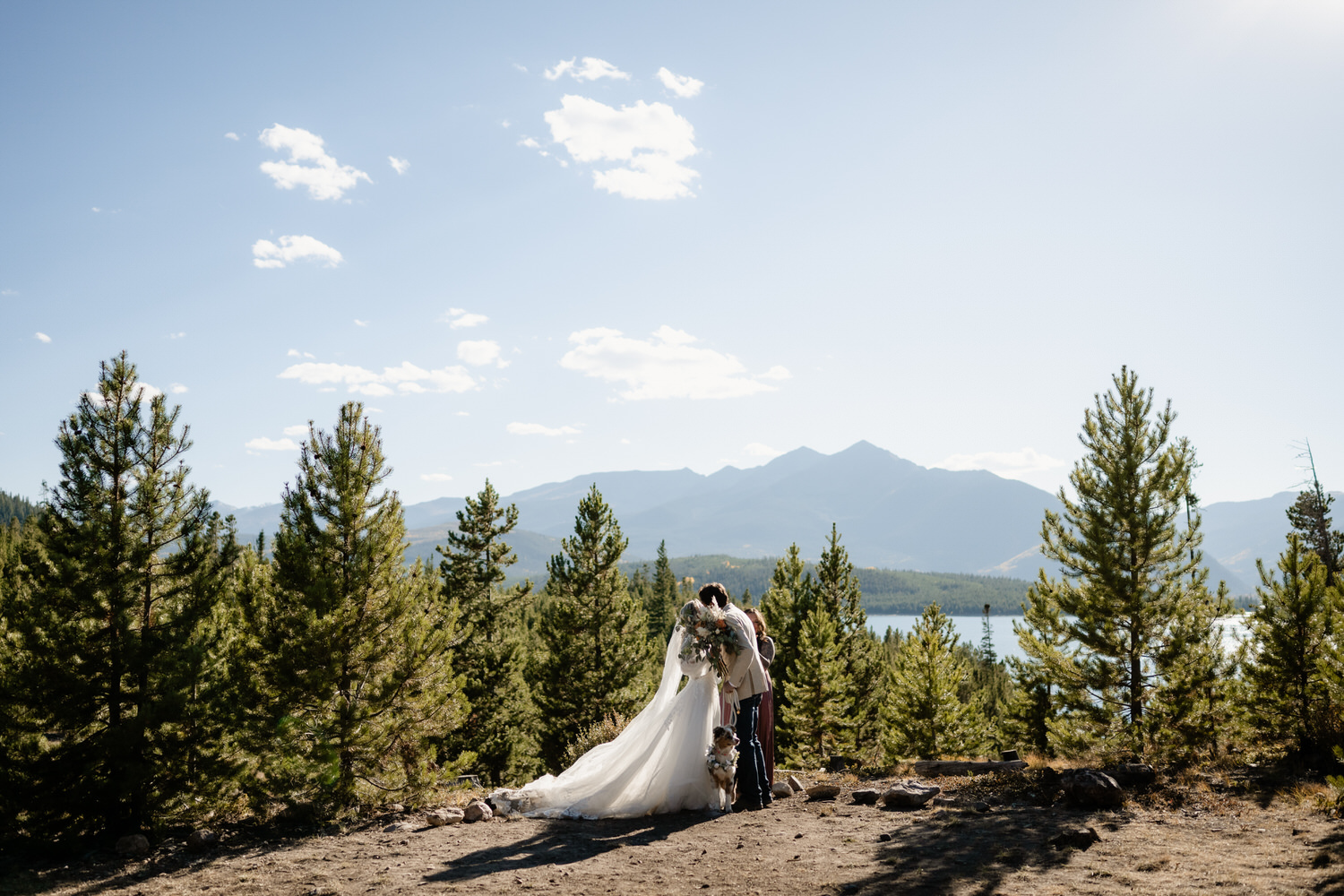 Windy Point Campground offers two reservable locations that are perfect for a scenic ceremony and outdoor reception! View more in our full guide below.
Capacity: up to 100
Availability: mid-may through september
Estimated Cost: $300
The Lodge at Breckenridge
Breckenridge Nordic Center
Ten Mile Station
Timber Ridge in Keystone
Black Mountain Lodge at Arapahoe Basin Ski Area
Silverthorne Pavilion
Rivertree Lodge
10 Mile Events
Breckenridge Wedding Venues
here are a few more traditional wedding venues for larger guest counts. some offer elopement packages on weekdays!
Best Vrbo wedding Venues in Breckenridge
Here are a few rentals in Breckenridge that allow events! Always contact the host and let them know about what you're planning before booking to ensure your event is allowed. Go on VRBO and filter by "events allowed" to find more places.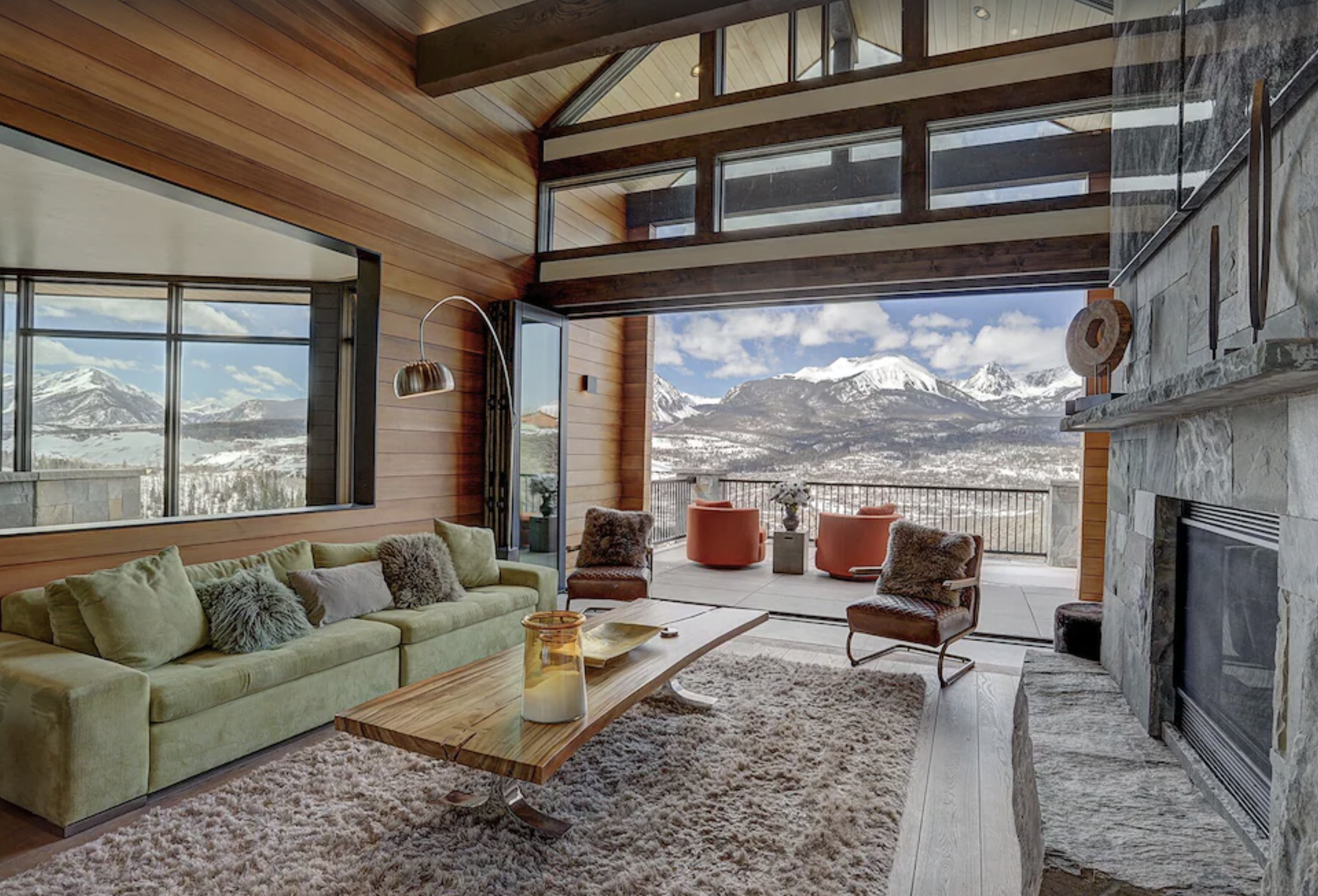 "Home is also perfect for Weddings! Walking distance to bars, restaurants, and the year round free shuttle route! There are hiking/biking/cross country ski trails out the back door. Wedding or large group and need more space? The Lodge (hotel/restaurant) is a short walk away with plenty of off street parking."
guests: 5 bedrooms, 16 beds, sleeps 12
Maximum event attendees: 30 (total, including vendors)
cost: Starting at $9000 for 3 days
Luxury in-town Home, Amazing Views & Hot Tub
"The property is surrounded by breathtaking views of the ski area, 10 Mile Range, and Mt. Baldy, and only 5 blocks to the downtown shops and restaurants. You're close to 4 different ski areas including Breckenridge Ski Resort, Copper Mountain, Keystone Resort, and Vail Ski Resort."
guests: 4 bedrooms, 4 beds, sleeps 12
Maximum event attendees: 25
cost: ~$1250/night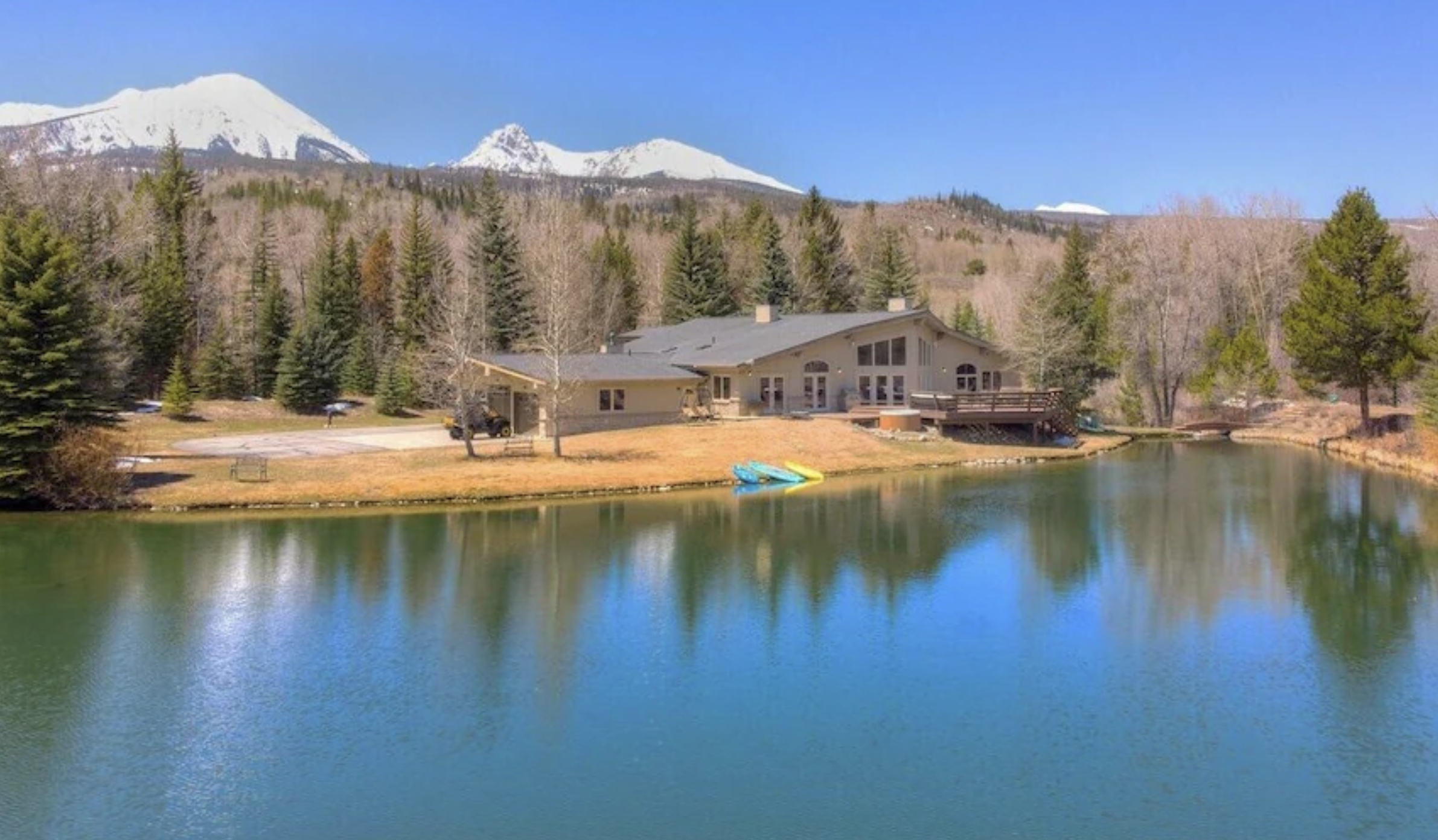 private access to Blue River w/ hot tub
"Spectacular River Ranch, 17+ quiet acres, ½ mile of private Blue River frontage for the best fly fishing in Colorado, large 2+ acre pond & woods to explore. 3 bed 3.5 bath+office & 2 large living areas in the sprawling ranch style home w/ unparalleled views of private pond and Rocky Mountains."
guests: 3 bedrooms, 9 beds, sleeps 8
Maximum event attendees: 25
cost: ~$1500/night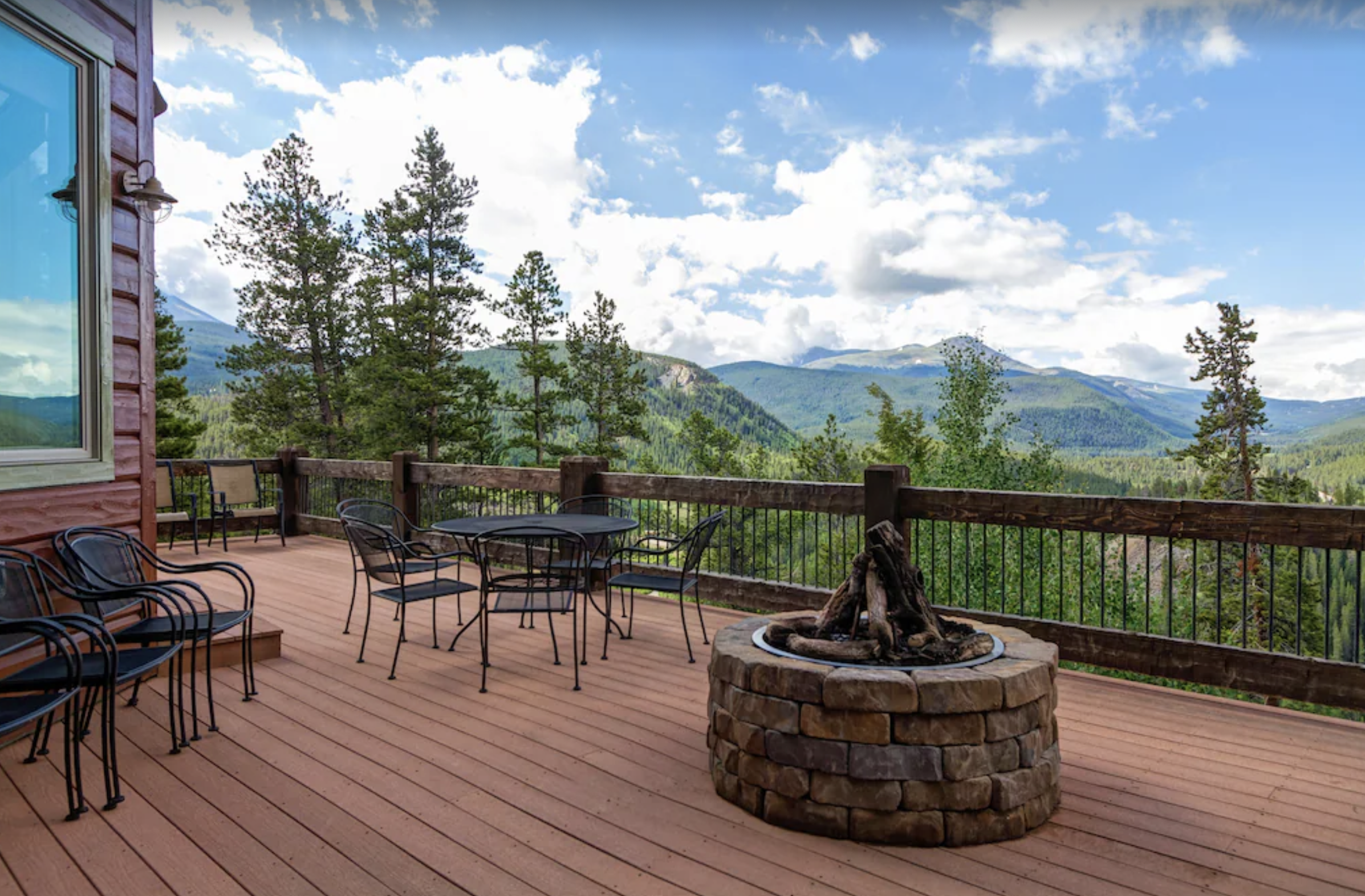 "Home is also perfect for Weddings! Walking distance to bars, restaurants, and the year round free shuttle route! There are hiking/biking/cross country ski trails out the back door. Wedding or large group and need more space? The Lodge (hotel/restaurant) is a short walk away with plenty of off street parking."
guests: 3 bedrooms, 7 beds, sleeps 10
Maximum event attendees: 12
cost: ~$583/night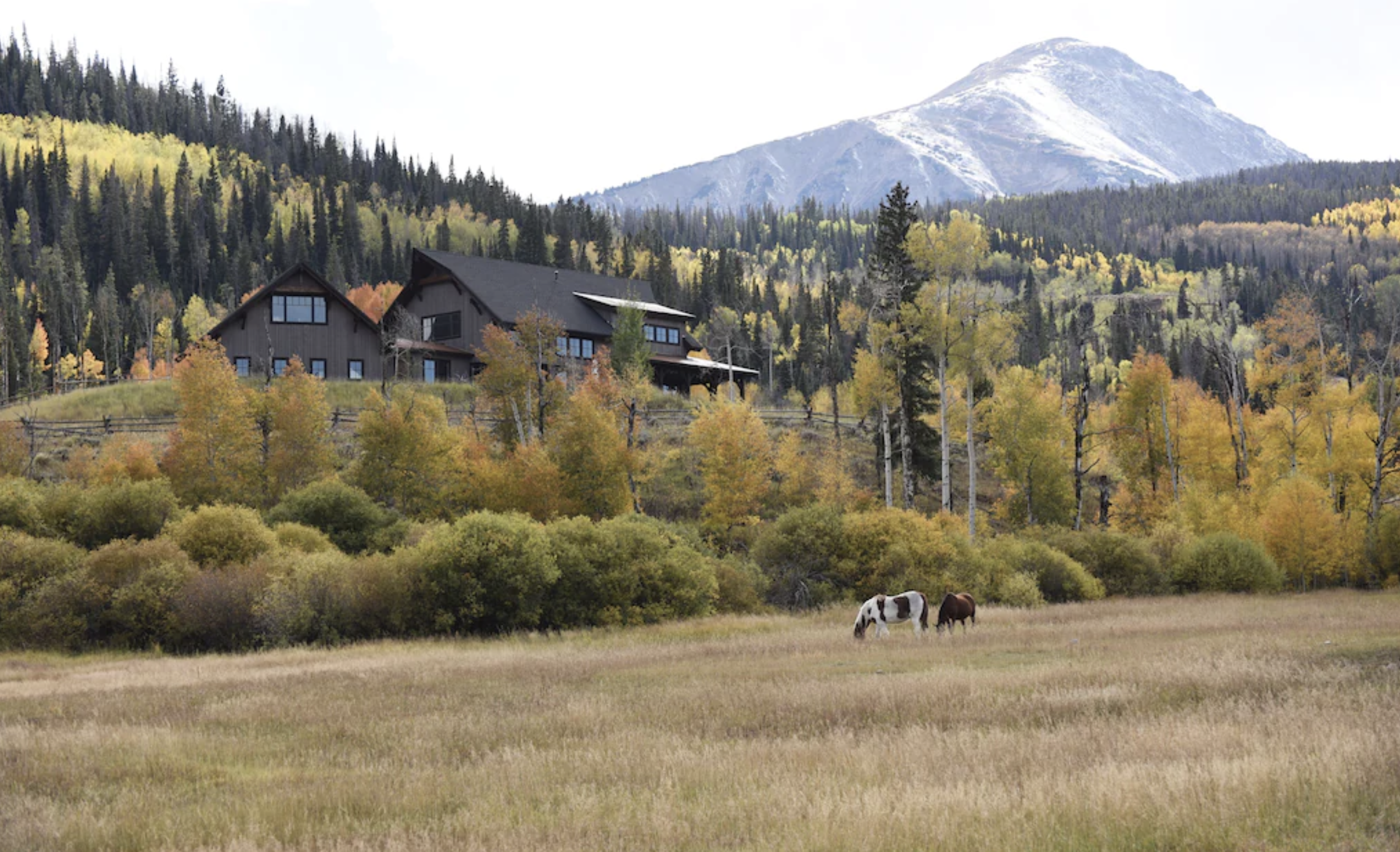 Home backed by National Forest
"Apache Ranch is a secluded home at the base of the Gore Range Mountains. It is a perfect home and location if you are looking to escape and be surrounded by nature, but also within a few minutes to town. The house is situated on seven acres of meadow, which lends itself to incredible unobstructed views, privacy and sunshine."
guests: 4 bedrooms, 5 beds, sleeps 8
Maximum event attendees: 30
cost: ~$842/night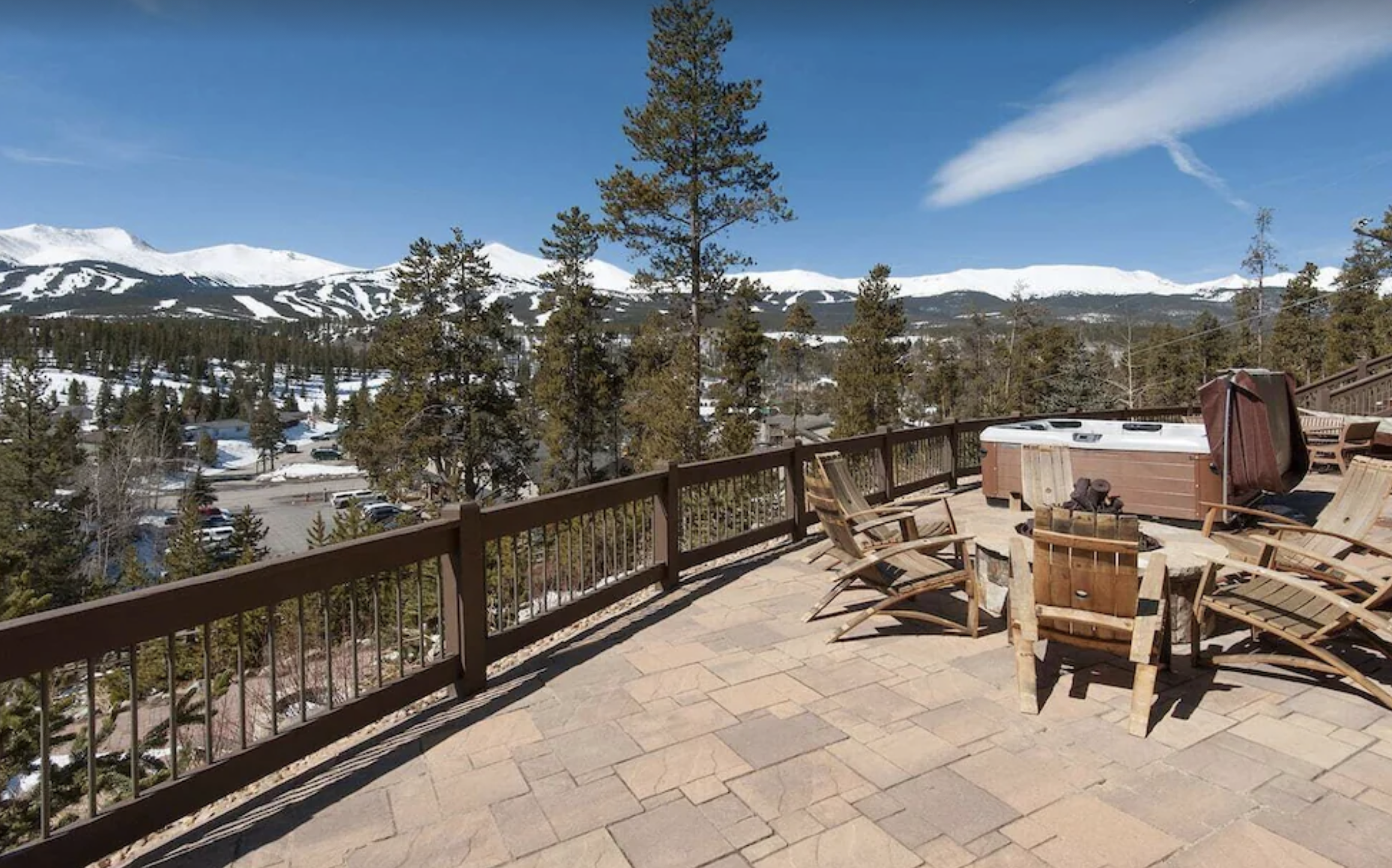 Close 2 Town/Lifts! Skiers oasis. 2000 sq Ft patio
"Listing includes parking in a heated garage right at the ski lifts! There are maybe 20 houses that are truly ski out to the lift and ski back to your doorstep in the entire community which means you're hiking one way or the other but my parking blows all of that away! It's roughly a 5 minute drive from my place to the garage."
guests: 5 bedrooms, 11 beds, sleeps 17
Maximum event attendees: 40
cost: ~$950/night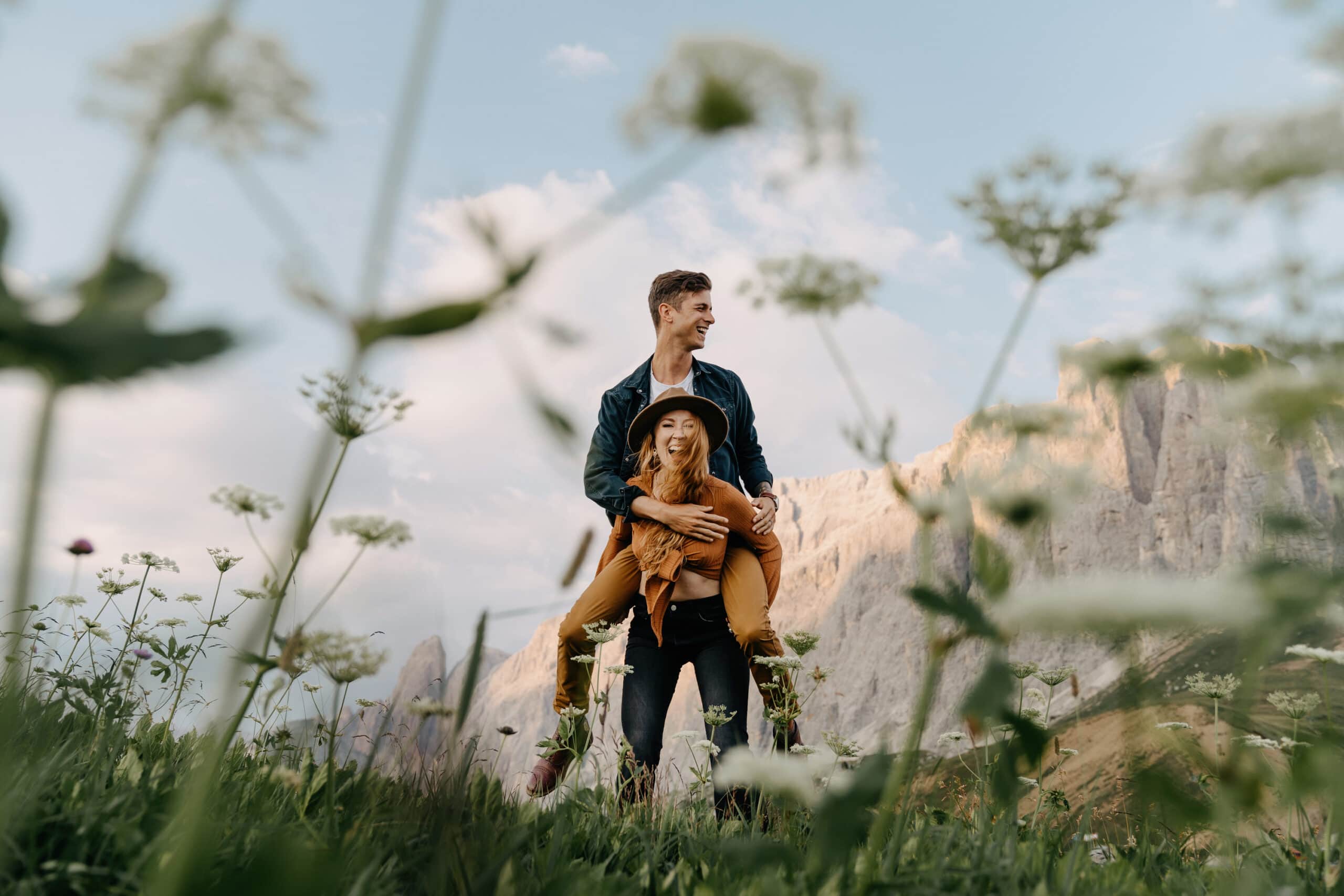 Hey, we're Savannah & Greg!
Breckenridge Elopement Photographers
We're a husband and wife team specializing in elopement photography and videography in Colorado. We believe eloping is the best way to get married, so much so that we did it ourselves! We know it can feel overwhelming not knowing where to start, which is why we help couples set a date, pick a location, make a timeline, etc!
Breckenridge Elopement Packages
Photography & Videography
It might seem counterintuitive to look for a photographer before you have an exact location and date set, but trust us on this one. If you're looking for some help finding the perfect location, an elopement photographer who specializes in the area you're considering will be a huge help to you.
Professional photography and optional videography services from an experienced husband/wife team who've photographed over 150 weddings together. Posing guidance and direction to make you feel and look great in front of the camera, no experience necessary.
A 50+ page digital planning guide to help you through the whole elopement planning process. Including tips on booking travel and lodging, buying your attire, activity ideas, packing checklists, including family and more.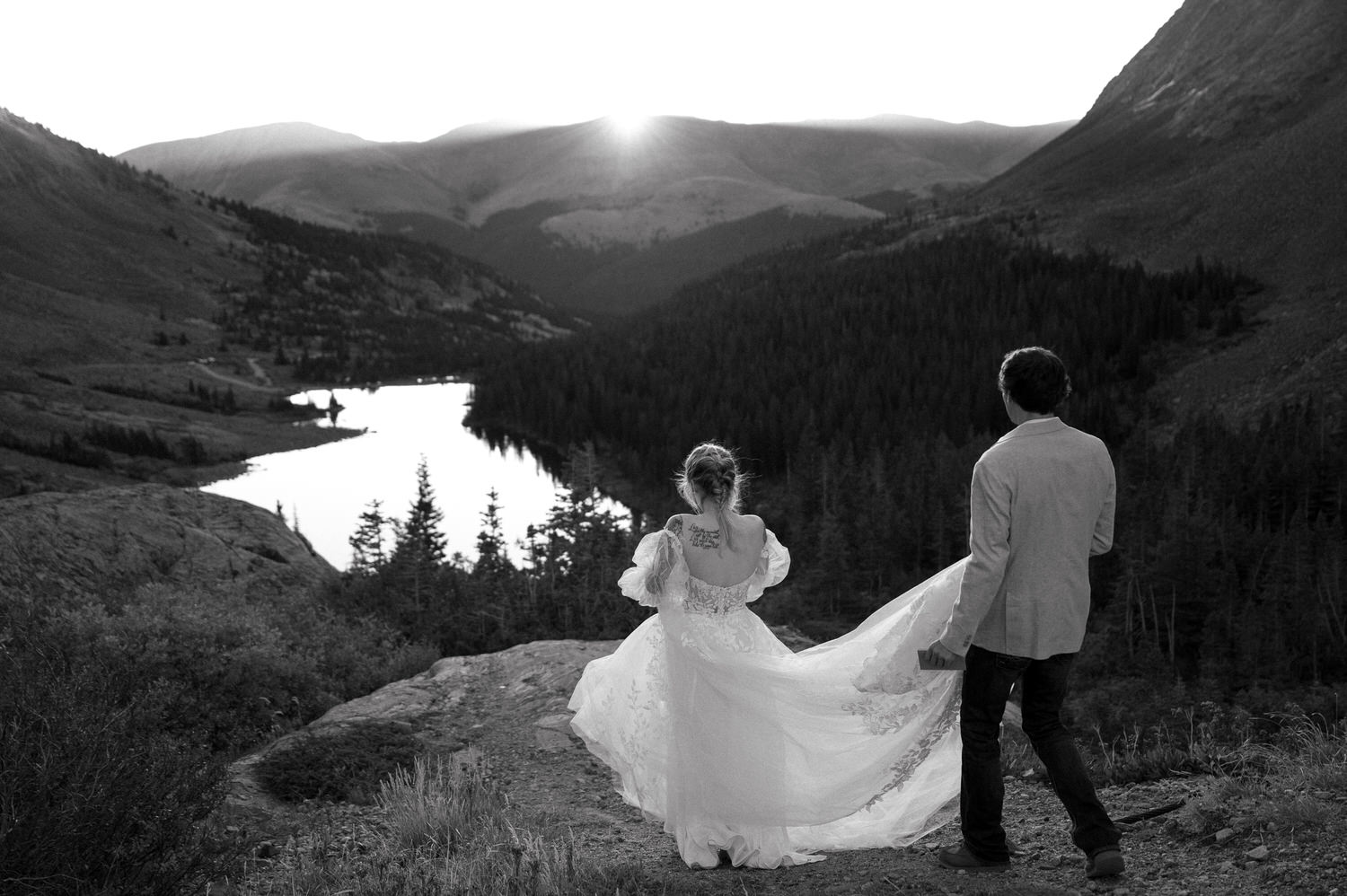 A list of all the most beautiful locations in the area you choose based on scenery, accessibility, permits and logistics. We do the work so you don't have to!
We'll craft a timeline that fits all the locations, activities, and moments you have planned for your day as well as consider ideal lighting and making sure your whole experience is relaxed and stress free.
Looking for a florist, hair and makeup artist, or other vendors? We've got you covered with local recommendations.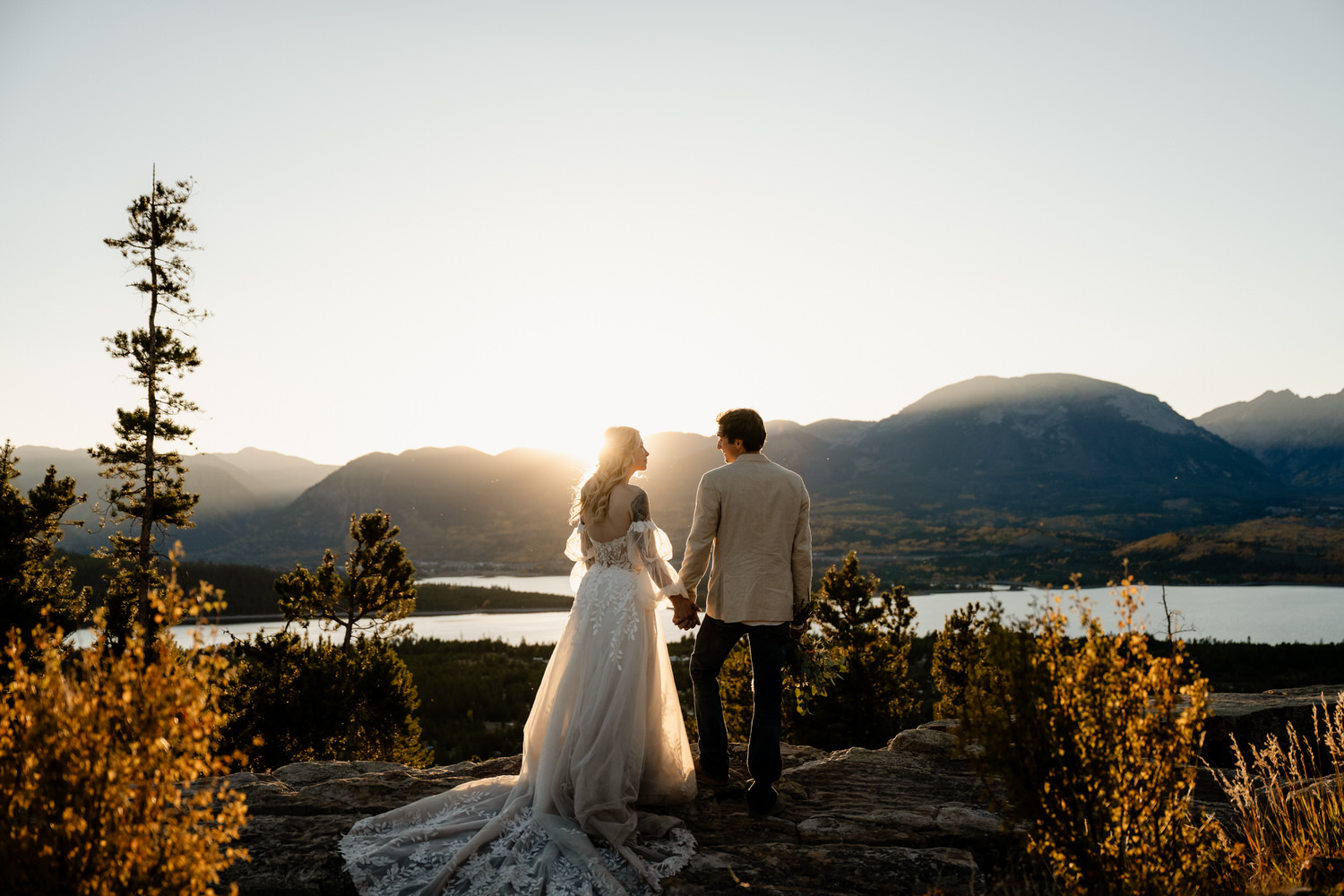 Save for later or share with friends!