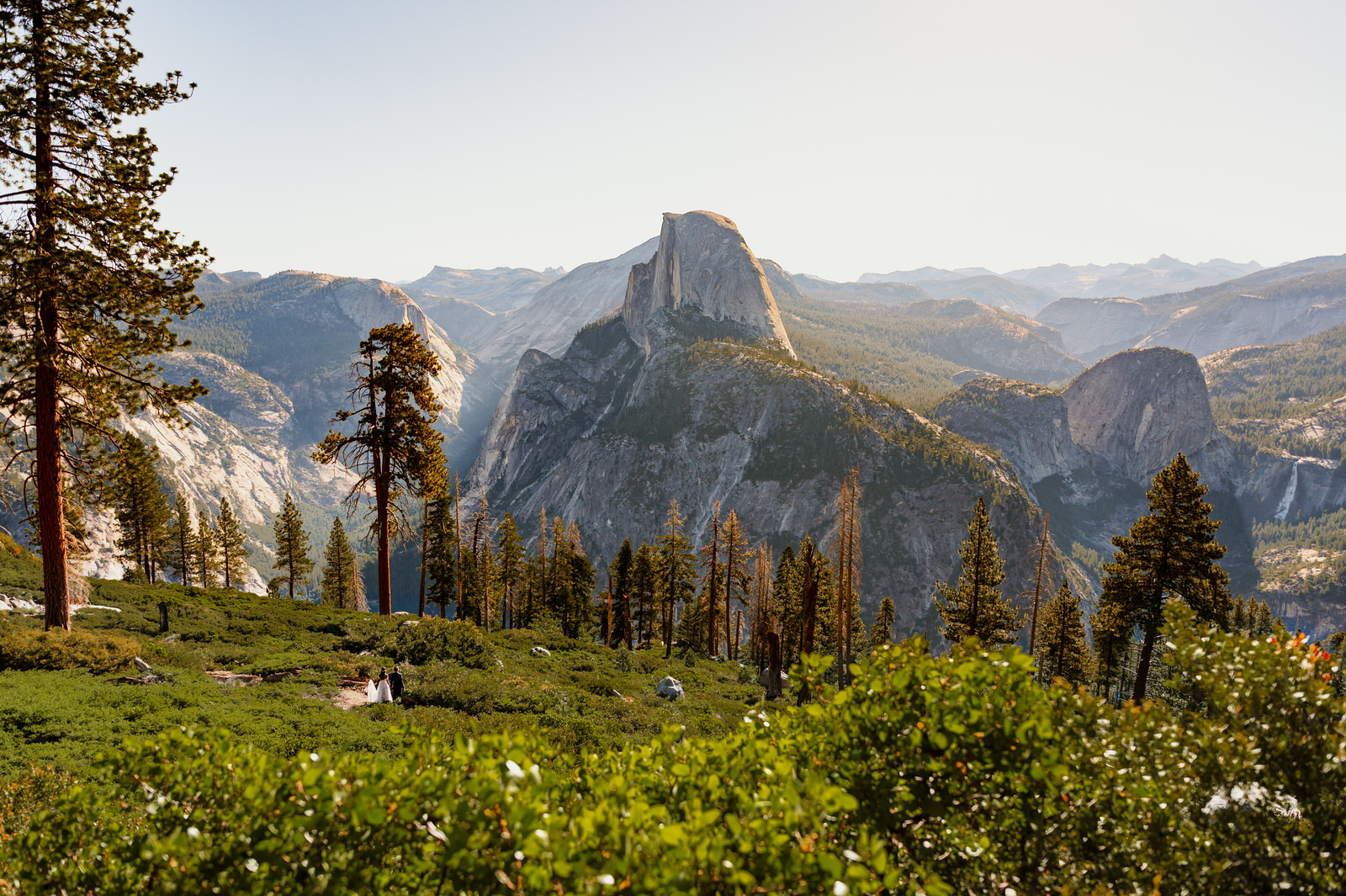 Glacier Point Wedding | Yosemite, California
Emily and Rob's Wedding
Yosemite was the first national park these two New Yorkers had ever visited, only two short years ago. Since then their lives completely changed. They fell in love with everything the earth has to offer and have been living on the road for nearly a year. It only made sense that they get married where it all started- Yosemite National Park!
Yosemite was closed due to COVID up until very shortly before their wedding. With that being said, Emily and Rob were pretty certain they were going to have to postpone. Then, we got word that they were re-opening! We had alarms set and were waiting in front of our computer constantly refreshing our browsers to ensure we were able to get reservations once the tickets were released. Luckily, even with all the uncertainty and conversations about possible postponement, it all worked out!!
A Sunrise First Look at Glacier Point
We woke up at 2:30am on July 7th and drove up to Glacier Point with Emily and Rob for their first look. Greg took Rob to the location we had found, while I helped Emily perfect her hair and get into her dress. Just as Emily walked up behind Rob, the sun started to peak over Half Dome. This ended up being their favorite moment of the entire day! (Ours too!)
Emily looked absolutely stunning in her Elora Dress from Madi Lane, it had the cutest off shoulder sleeves and long, flowy train that is perfect for photos. Rob rocked an awesome suit from Calvin Klein accessorized wish a personalized Treehut Wooden Watch and Kenneth Cole shoes.
We spent the rest of the morning wandering around Yosemite Valley, stopping anywhere and everywhere that looked gorgeous. That's one thing we love about being Yosemite photographers, you have the mountains, waterfalls, meadows, forests, alllll the beautiful landscapes within driving distance!
Swinging Bridge Wedding Ceremony
Emily and Rob's Yosemite wedding ceremony took place at Swinging Bridge in the Valley with Yosemite Falls as the backdrop. Emily walked over the swinging bridge to Canon in D – Brooklyn Duo as Rob and their parents awaited her on the beach below. Kathleen Malloy officiated their wedding in front of the waterfall as they read their vows, exchanged rings and became a married couple!
Since some of their family was unable to attend they set up a livestream on their computer for them to watch. We also filmed the ceremony for the couple so they would be able to share the video with their friends and family as well! Watch the full ceremony filmed by Yosemite photographer, Authentic Collective Films here.
Reception at Elderberry House of Chateau du Sureau
After their ceremony we all headed to the Elderberry House of Chateau du Sureau for an intimate outdoor reception. I have to brag about The Elderberry House, it's such a great option for a Yosemite wedding reception! While it's about 2 hours from the valley in Oakhurst, it's worth the drive. The venue has a gorgeous outdoor area with a Tuscan vibe adorned with string lights, a fountain and tons of florals. Also, the best part of all.. their food and drinks were to die for!
The newly weds had their first dance to There Will Be Time by the Mumford & Sons. They choose to set up a video call again to allow some family members to watch that were unable to attend. The night was filled with good food, drinks, laughing and dancing until the sun set behind the mountains. It was the perfect end to an unbelievably perfect day.
Although we were with Emily & Rob for nearly 17 hours that day, it was hard to say goodbye! They said the absolute sweetest words to us that we'll truly never forget (and admittedly had us tearing up).
THANK YOU Emily & Rob!  We're soo happy we had the opportunity to get to know you and explore together on your wedding day in the beautiful Yosemite National Park. We wish you safe travels on all your journeys and can not wait until our paths cross again!
A note from the couple on planning a wedding during COVID
"While planning your wedding, always remember to do what is right for you! Do not try to please everyone. Follow your gut and go with what your heart wants. You only get married once and you should be able to have the wedding of your dreams guilt free! Secondly, we also chose to record our ceremony and do a live "Zoom" call to include those who could not be there. These were both a WONDERFUL option if you are getting married during a pandemic or just simply deciding to traditionally elope! Sharing the recorded ceremony with loved ones helped them feel like they were able to share that special moment with us."
Your Narrative blog will appear here, click preview to see it live.
For any issues click
here