Wedding Venues in North Georgia
Your ultimate guide to finding the best wedding venues in North Georgia and Atlanta. Explore the most beautiful places to get married including small Georgia wedding venues, indoor and outdoor options, venues with mountain views and more.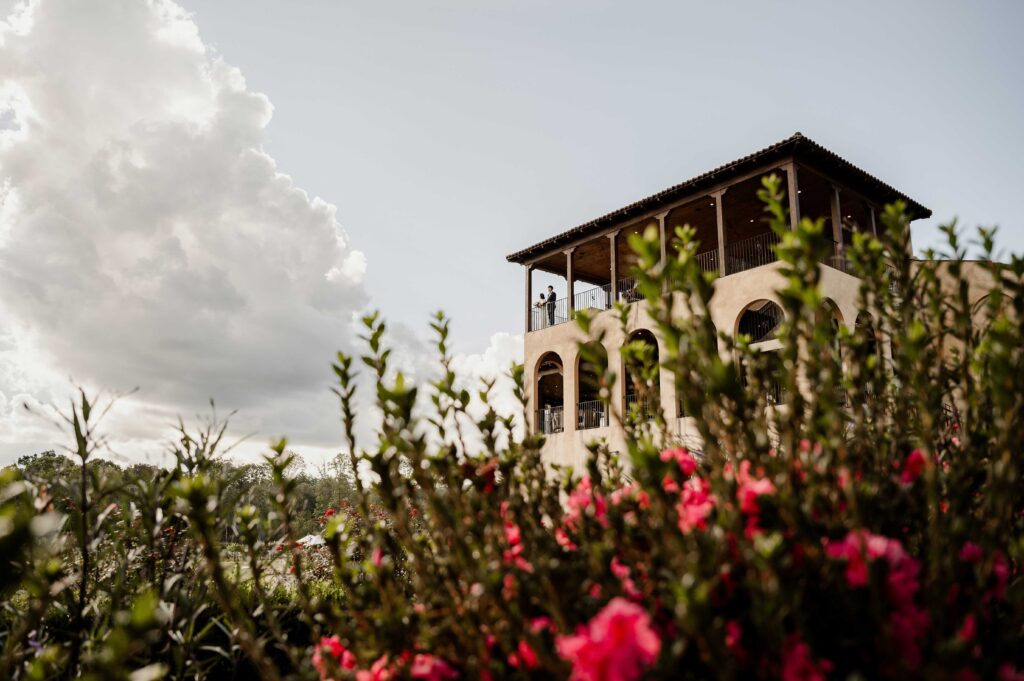 Wedding Venues in North Georgia Mountains
Montaluce Winery
Montaluce Winery is nestled within the North Georgia Mountains in a small town called Dahlonega, Georgia- about 2 hours north of Atlanta. The wedding venue is elegant with Tuscan architecture featuring a vineyard, small lake and the most delicious food. It has indoor and outdoor options, making it perfect for a wedding ceremony and reception. View our guide on how to plan your Montaluce Winery Wedding here.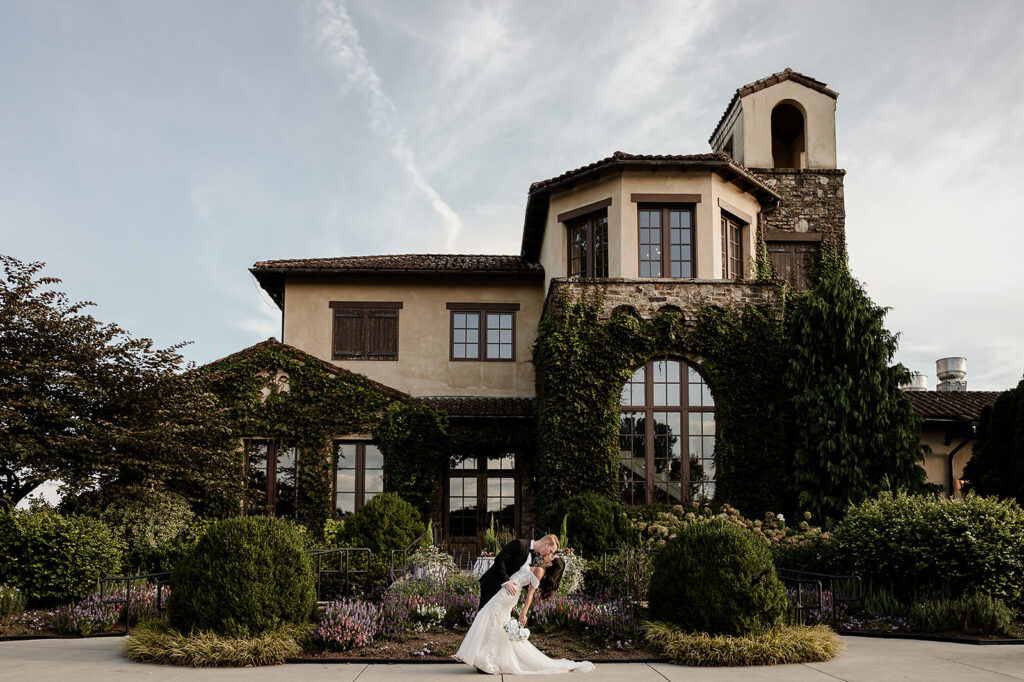 Meadows at Mossy Creek
Meadows at Mossy Creek is an industrial, farm house style, indoor venue with all white walls and exposed beams. It's situated on 100 acres of land in North Georgia with mountains views and indoor and outdoor ceremony options.
Chateau Elan Winery
This elegant, high end winery offers 5 outdoor ceremony options and 8 indoor options with a French countryside feel. Chateau Elan Winery also a resort and spa- so you and your guests can enjoy a relaxing vacation at the venue.
Brasstown Valley
Brasstown Valley Resort and Spa is situated within the Blue Ridge Mountains offering stunning mountain views from the ceremony site.
Mountain Laurel Farm
Overlooking the Chattahoochee National Forest in the Blue Ridge mountains, Mountain Laurel Farm is the perfect North Georgia wedding venue. You can have up to 100 guests attend your wedding day, and there is even accommodation for up to 20 guests overnight.
Tate House
The Tate House is a historic site also known as the "Pink Palace". It has 3 different ceremony sites to choose from to tie the knot including indoor and outdoor options.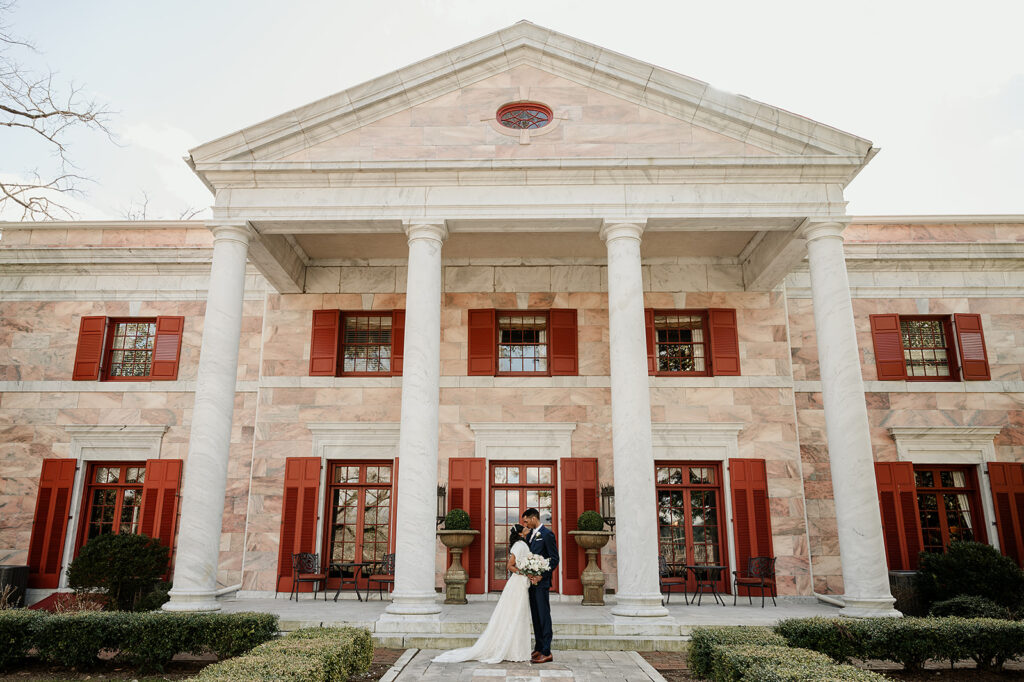 Outdoor Wedding Venues in North Georgia
Barnsley Gardens Resort
Barnsley Resort is truly a gem in Georgia for your wedding day. Featuring gorgeous brick ruins, a garden with a pond, farm and more! Plus, it's a resort so you and your guests can all stay within the property.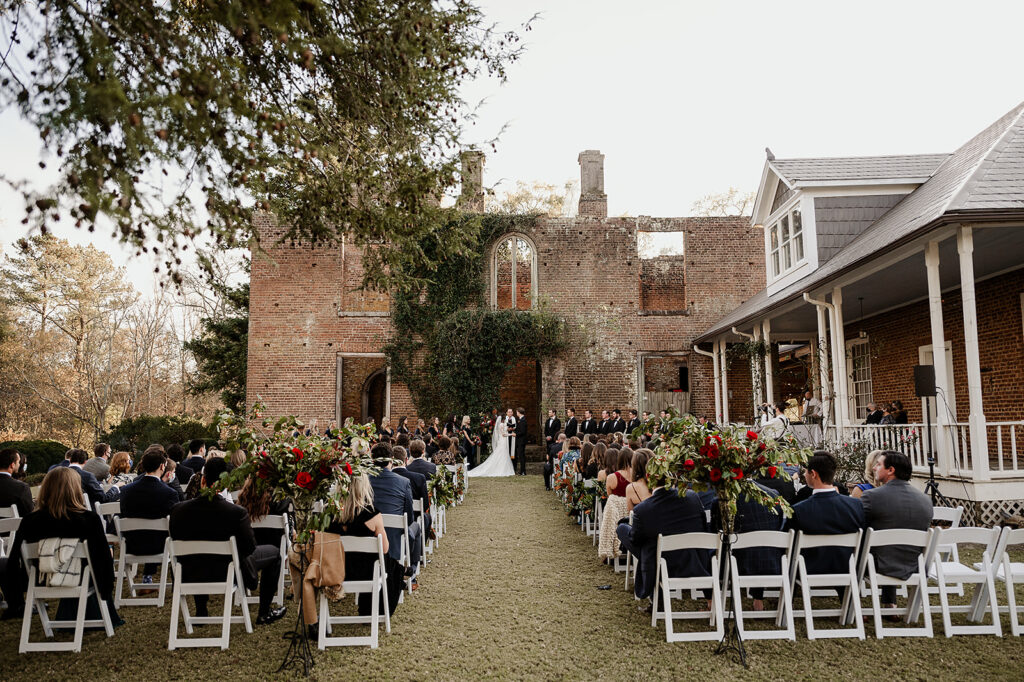 Lanier Islands
The Lanier Islands have multiple lake front venues from you to choose from. You can even have your ceremony or reception actually on the water if you choose the Venetian Pier.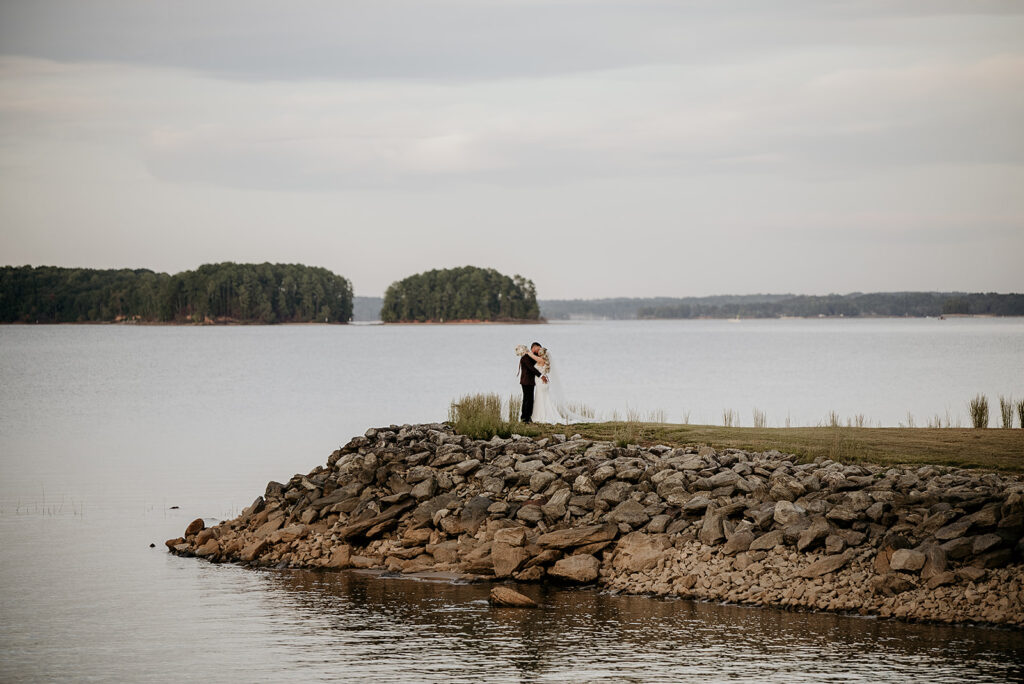 Ruins at Kellum Valley
Ruins at Kellum Valley is a completely outdoor wedding venue that has stone ruins as it's main feature, where most have their ceremony, cocktail hour and reception.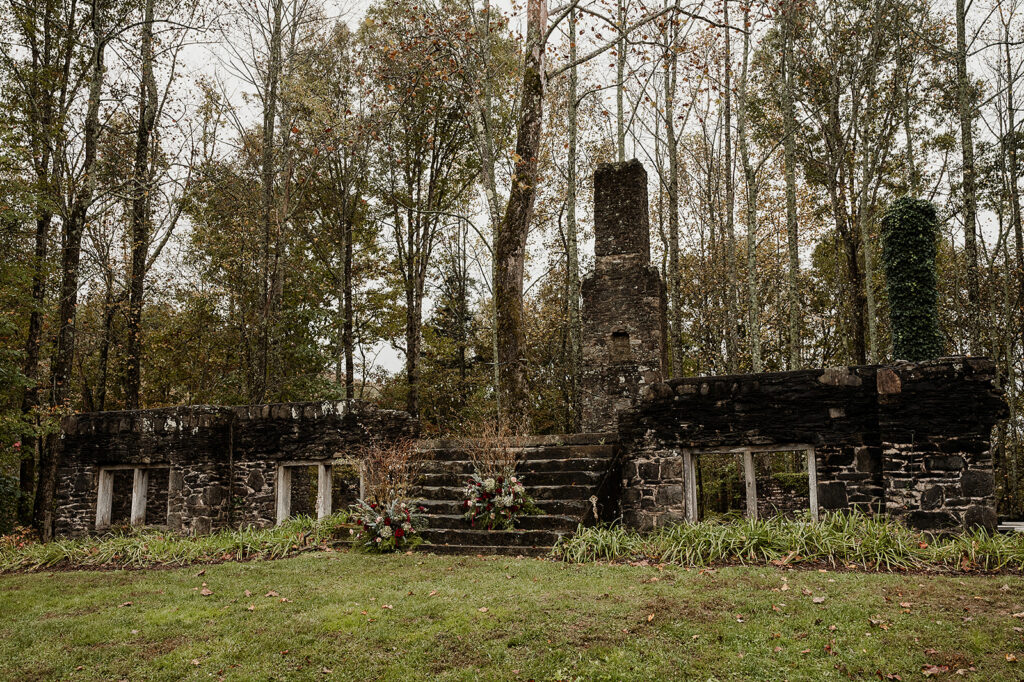 Dunaway Gardens
Dunaway Gardens is a lush venue that has an enchanted forest vibe. We love the amount of space and different locations for photo ops. They also have a lovely open concept reception area.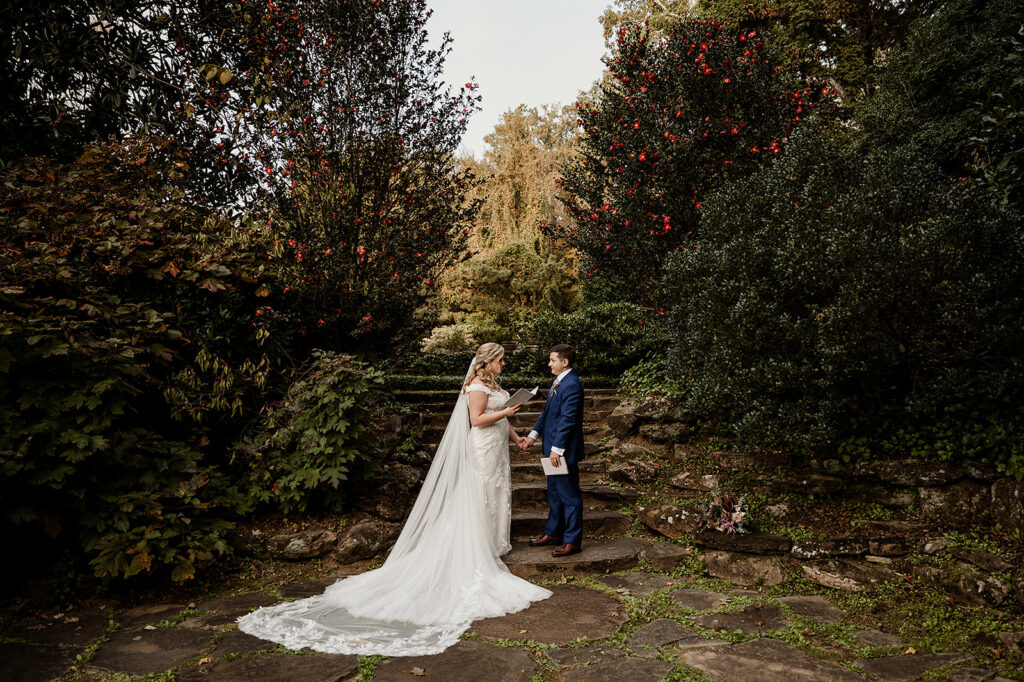 Sweet Meadow Farm and Homeplace
Sweet Meadow Farm is the perfect North Georgia wedding venue as it includes a beautiful greenhouse for photos, modern barn for receptions, a large oak tree for ceremonies, and even a lake.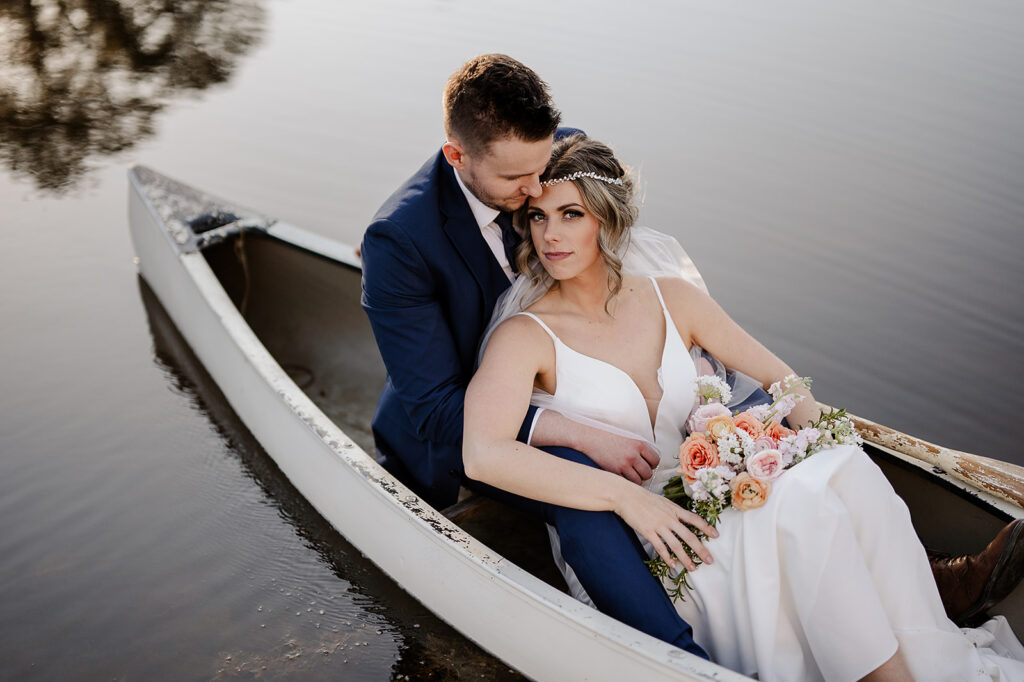 The Greystone Estate
The Greystone Estate located in Ball Ground, GA features a pond, lots of green space and a white-walled barn.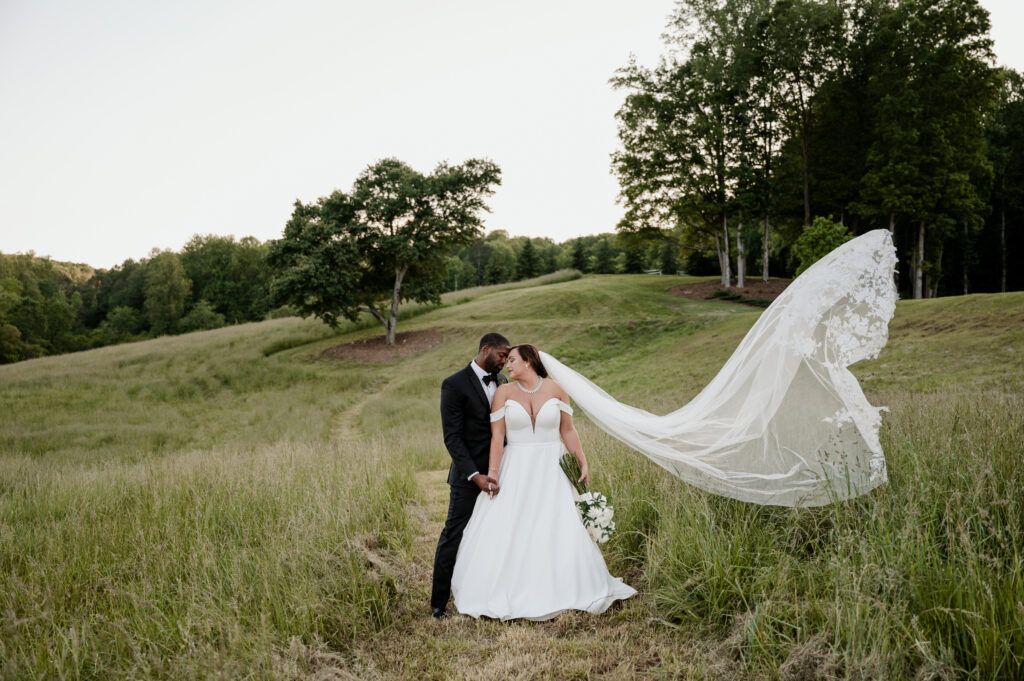 Small Wedding Venues in North Georgia
Atlanta Botanical Gardens
Located at Piedmont Park, the Atlanta Botanical Gardens is perfect for intimate weddings with small guest counts.
Juliette Chapel
Juliette Chapel is a small wedding venue in North Georgia located in Dahlonega. Couples have their ceremony in the well lit chapel, their cocktail hour out on the lawn and their dinner inside the venue's reception space.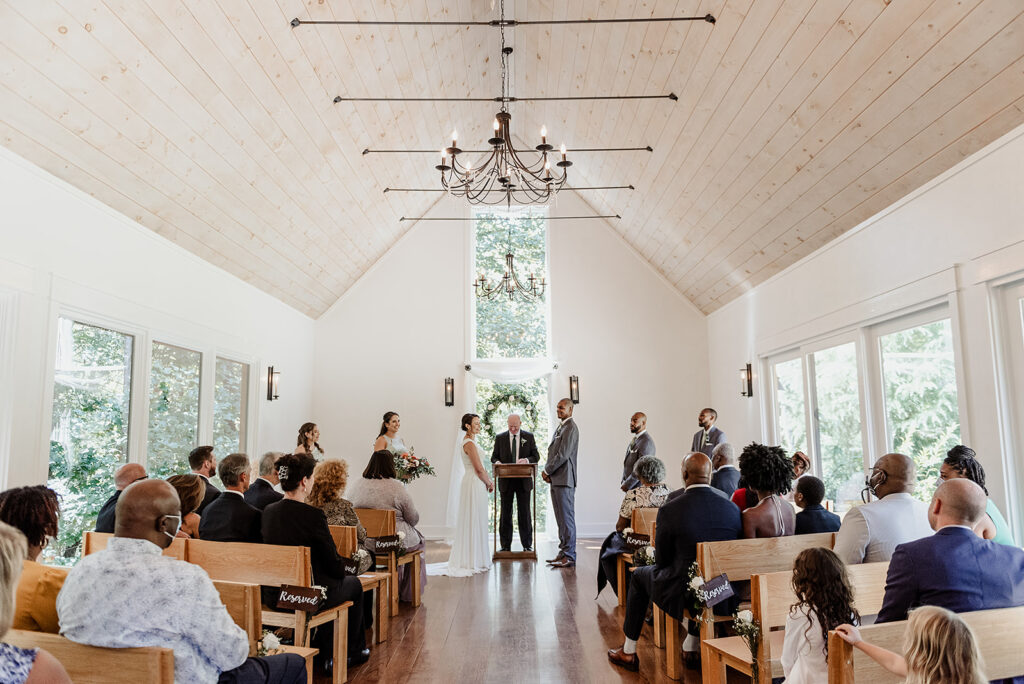 Wedding Venues in Atlanta
Swan House at Atlanta History Center
The Swan House is an elegant venue located in the upscale neighborhood of Buckhead. This is a classic Atlanta wedding venue that is centered around a historic building, grand staircase and fountain. Most couples love having their outdoor ceremony on the main lawn and their dinner and reception in the ballroom.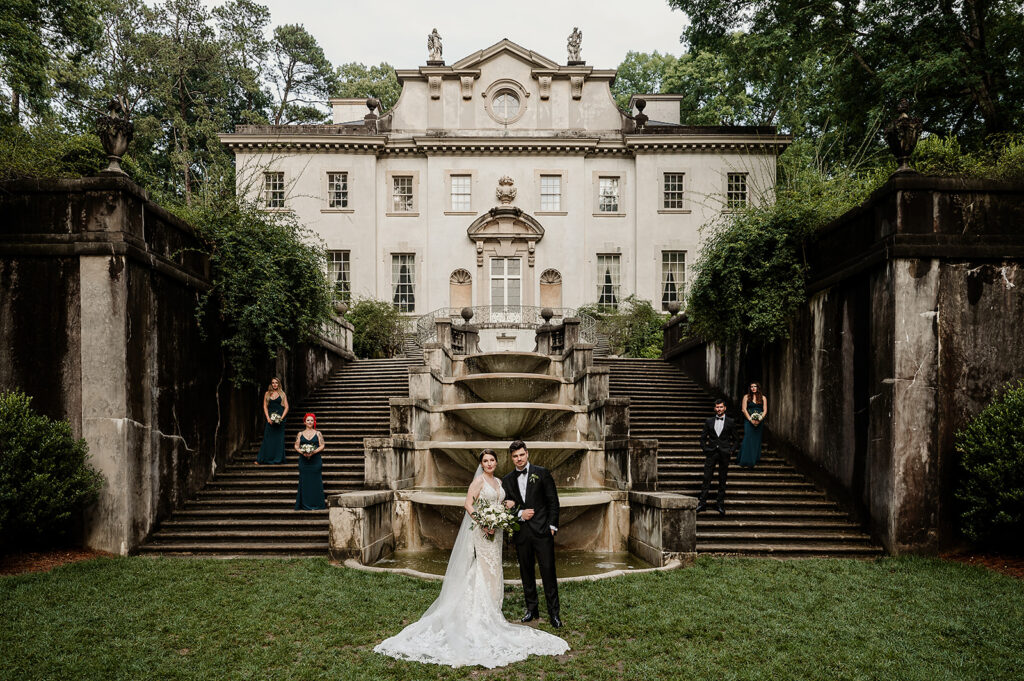 Summerour Studio
Summerour Studio is a stunning venue with indoor and outdoor options. Many couples choose to have their first look and cocktail hour outdoors in the lush courtyard, and have an indoor ceremony and reception. Read our guide on how to have the perfect Summerour Studio wedding here.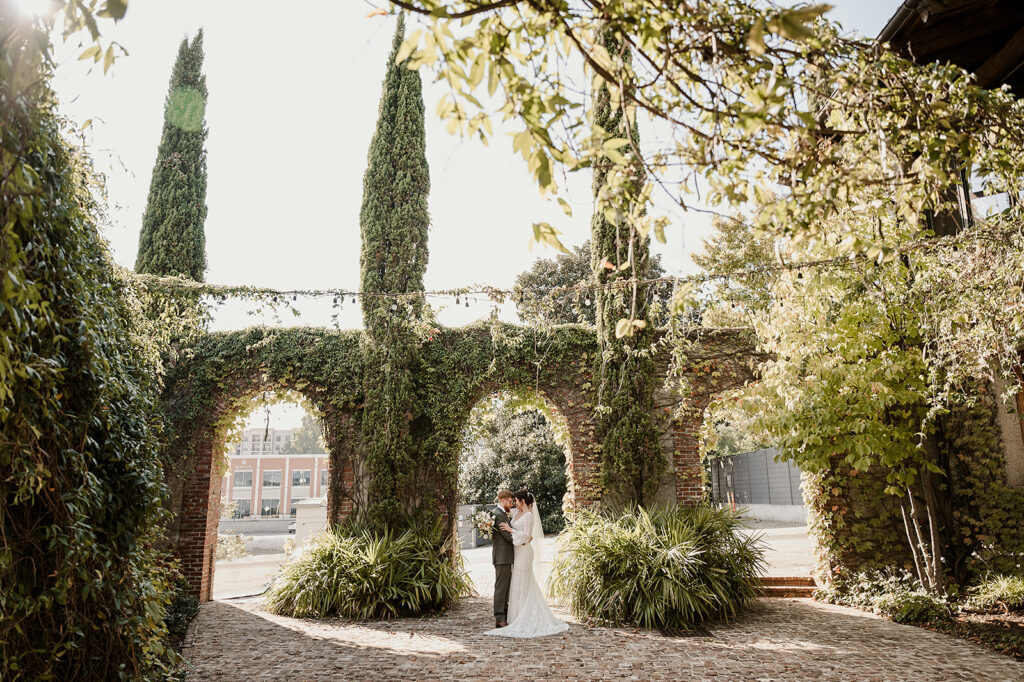 Cator Woolford Gardens
Cator Woolford Gardens is a beautiful garden oasis and wonderful wedding venue for nature lovers that don't want to travel outside of the city to say their vows.
Bishop Station
Bishop Station is an industrial wedding venue in Atlanta featuring brick walls lined with windows, allowing natural light to fill the room.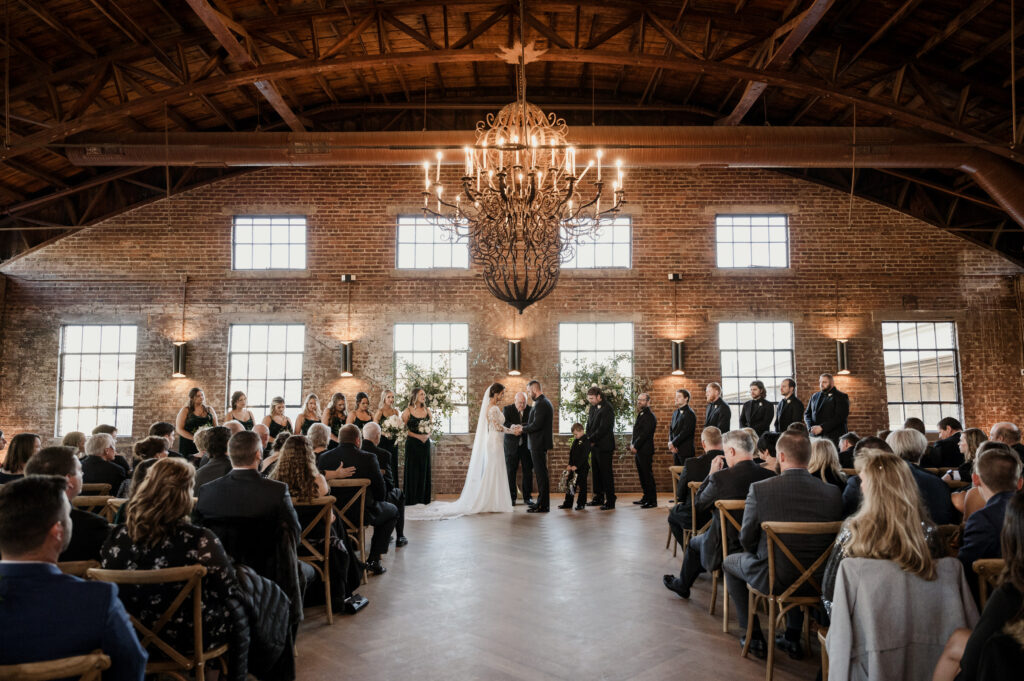 Ventanas
Ventanas is rooftop venue with skyline views of Atlanta. Have your ceremony on the rooftop terrace, your reception inside the venue with floor to ceiling windows, and your send off via the helicopter on the helipad.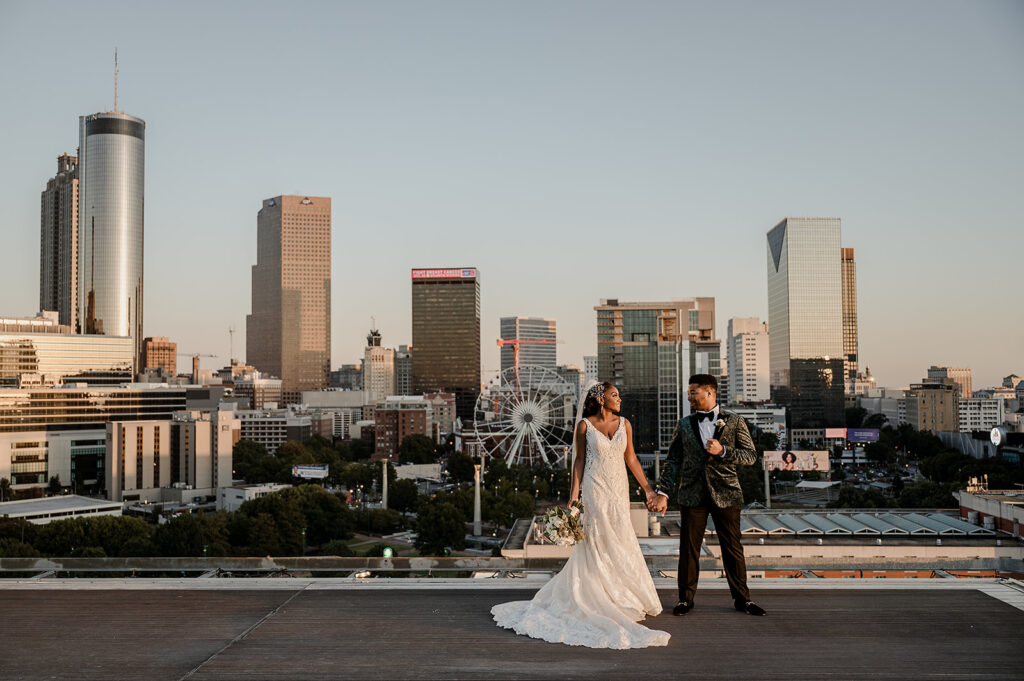 Fernbank Museum
The Fernbank Museum might be the most unique location for a wedding in Atlanta! It's perfect for dinosaur and history lovers, or those who are just looking for an incredibly different venue.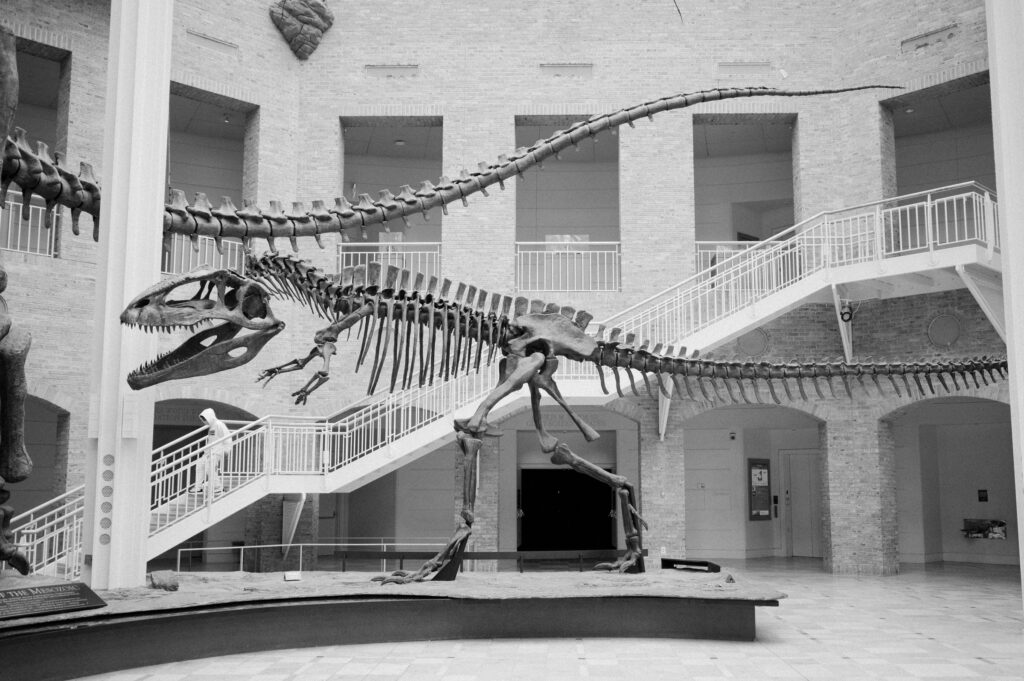 Why Choose a wedding venue in North Georgia? 
Georgia wedding venues offer something for everyone, regardless of what you're looking for on your big day. Whether you want a rooftop venue in the city of Atlanta, a venue with mountain views in the Blue Ridge Mountains, a small AirBnB in Dahlonega, or a lakeside ceremony in Piedmont Park- Georgia has it all.
There are a multitude of indoor and outdoor wedding venues and event spaces to choose from. Take your pick from traditional wedding venues, hotels, country clubs, farms, barns, state parks, museums, lake front venues and more.
You can choose to stay in Atlanta, or bring your guests outside of the perimeter such as in Marietta, Alpharetta, Athens, Dahlonega or Helen. There are also many options for lodging for you and your wedding guests, whether you're planning a micro wedding, elopement or if you'll have 250 guests.
North Georgia Wedding Venue FAQs
What is the average cost of a wedding in Georgia?
The average cost of a wedding in Georgia is about $20,000. High end weddings that splurge more, particularly on the venue and photo/video team, usually spend closer to $30,000. One way to save on your wedding is to consider a weekday or off-season for your wedding date, as venues may offer lower pricing.
Eloping, or having weddings with smaller guest counts, is becoming increasingly popular as they not only allow more quality time with your loved ones, but it also saves an incredible amount of money. You can read more about what eloping means and why couples elope here, and how to elope in Georgia here.
How much does a wedding venue cost in Georgia?
A wedding venue in Georgia costs approximately $5000-$10,000. However, this price can be influenced by a lot of factors including the type of venue, guest count, time of year and more.
Many of our couples choose to save on the cost of a venue by choosing naturally beautiful and low cost venues such as state and national parks, which typically run between $0-300 for a permit. This allows them to allocate their funds towards things they value more, such as travel, photo/video, honeymoons, etc.
Where can I get married in the North Georgia mountains?
There are plenty of places to get married in the North Georgia mountains, especially around Dahlonega and the Blue Ridge Mountains. While there are many wedding venues situated in the North Georgia Mountains, the most beautiful views are accessible for those who choose to elope in state parks such as Cloudland Canyon, or along the Appalachian Trail.
What is the best month to get married in Georgia?
The most popular months to get married in Georgia is October and November due to the mild weather and beautiful fall colors. The spring, April-June, and fall, September-November, are all beautiful months to have a wedding in Georgia. July and August are not recommended for outdoor weddings as it gets incredibly hot and humid in the south east during these months.