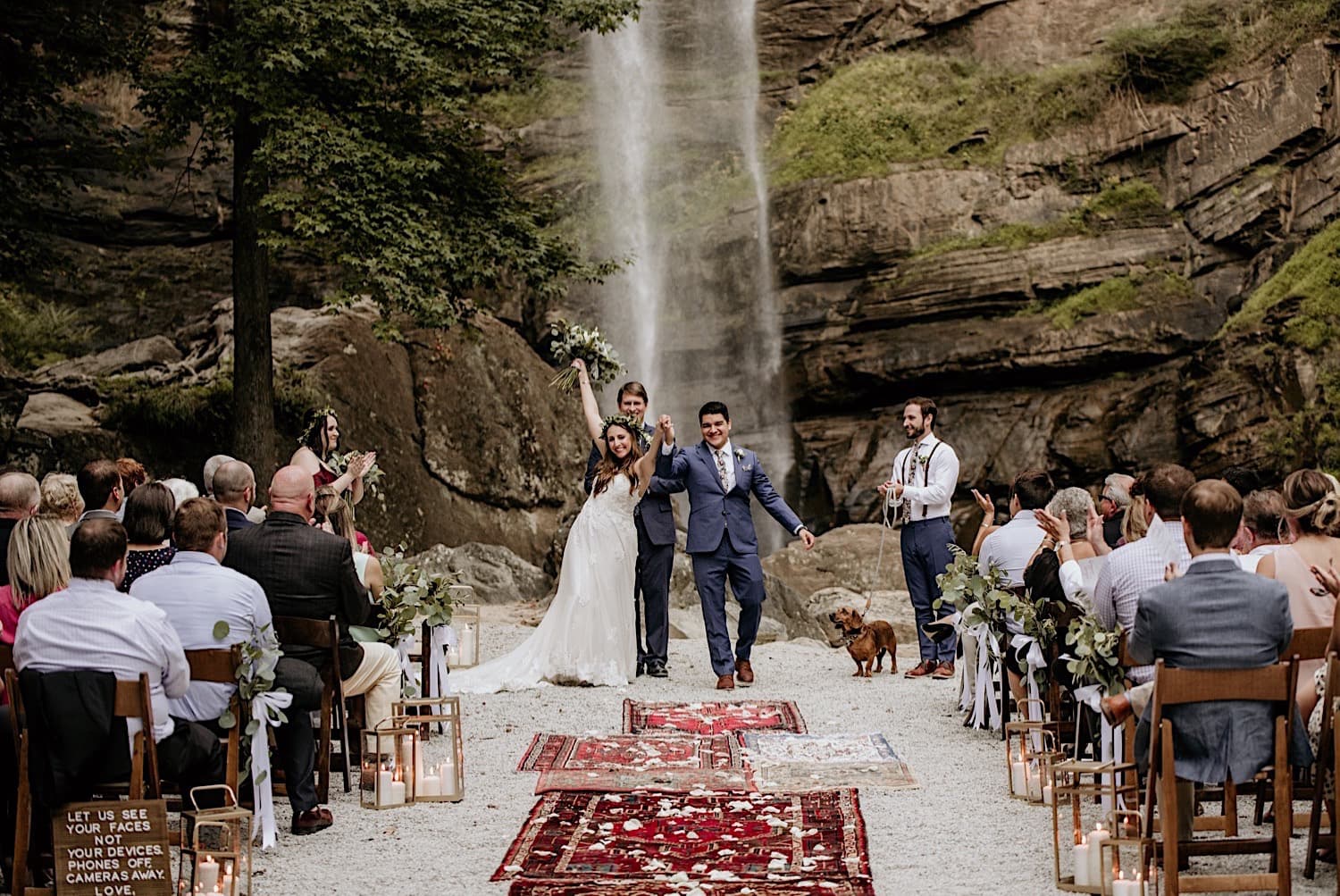 We are no longer accepting Toccoa Falls Weddings.
This blog was photographed and written prior to learning that Toccoa Falls does not allow same-sex weddings. Since learning this we no longer accept bookings at this venue in support of the LGBTQ+ community. There are plenty of other beautiful wedding venues in North Georgia and places to elope in Georgia that are inclusive which we'd be happy to share with you!
Toccoa Falls Wedding
Toccoa Falls features a 186 ft free falling waterfall located on a college campus. Their ceremony location features the waterfall in the background, and they also have a reception space though it's optional to use. Most couples choose to have an intimate wedding or elope at the falls, though it is possible to accommodate up to 200 guests. 
Greg and I have shot countless engagement sessions at the falls and have always dreamed of shooting a Toccoa Falls wedding. When Rebecca & Charlie reached out and explained their plans for an intimate ceremony nestled in the North Georgia mountains with Toccoa Falls as their backdrop we lost our minds! After we chatted with them, got to know them a bit more and learned about their mutual love for dogs, beer and travel we knew we would get along perfectly.
Their September Toccoa Falls wedding, started at a quaint cabin in the woods where they prepped for the big day. We then ventured to Panther Creek where they shared a private first look. Their doggo, Brownie, loved his moms dress so much he started rolling around in it! We then made our way to Toccoa Falls where the ceremony was set to take place. After an absolutely stunning ceremony we were able to steal the newly weds away for some waterfall newlywed portrait magic!
Rebecca and Charlie were down to climb down to the water and we are SO happy they were, as it made for some of our favorite shots of the day. We could have spent hours photographing them at the falls, but we made our way to their reception at The Barn at Lake Rabun to begin the reception shenanigans. The dance floor and photo booth were always full which is how you know it was a good night! Rebecca & Charlie's wedding wrapped up perfectly with a sparkler send off lined with all of their closest friends and family.
A HUGE congrats to our friends Rebecca, Charlie, and Brownie!! We are so happy for you and can't wait to see what your future holds. Thank you for allowing us to be apart of your lovely day!