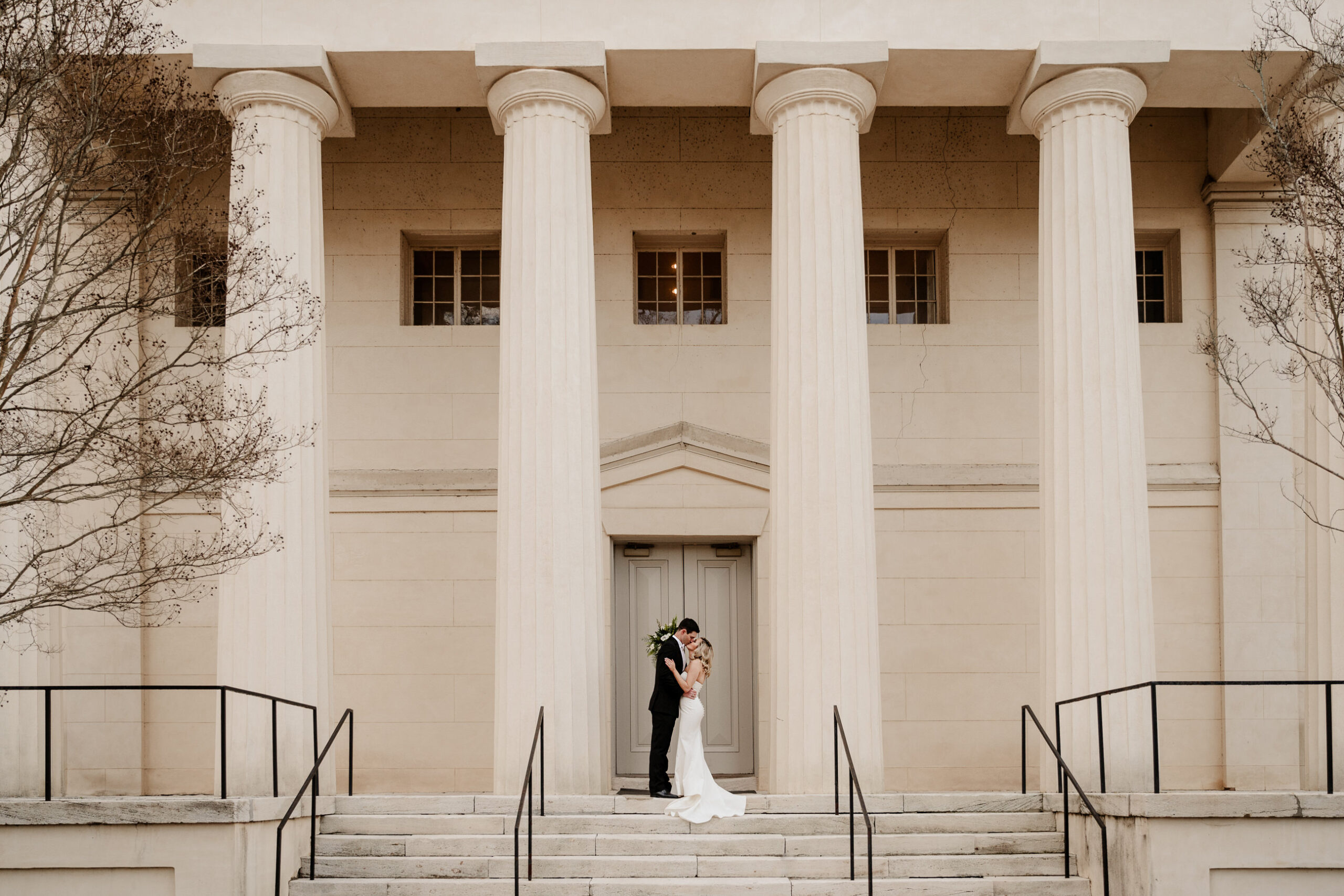 The Couple
Maddy & Mitch met at a football game while she was attending the College of Charleston and he was attending Citadel. They got engaged on December 29th, 2020 while visiting Mitch's family farm in Augusta over Christmas. They chose the Old Medical College in Augusta for their wedding venue because it reminded them of the buildings in Charleston, which is the city they met and went to college in!
The Venue
The Old Medical College in Augusta, Georgia is a National Historic Landmark built in 1835, one of the oldest medical colleges in the Southeast. It features a Greek Revival structure with large, fluted Doric columns as it's main entry. Needless to say, it's a stunning building that perfectly fit with Maddy & Mitch's aesthetic.
The Old Medical College Wedding
Maddy looked so elegant in her BHLDN dress designed by W.Too by Watters, pairing perfectly with Mitch's outfit from Generation Tux. She completed her look with jewelry from Twigs and Honey, matching her engagement ring from Harlin Diamonds and wedding band from Stephanie Gotleib. The Darling Loft did a fabulous job on the bride's hair and makeup, offering a classy, sophisticated look. Amelia Rose Florals embellished the Old Medical College wedding with a touch of greenery. Their colors were black, green, and accents of gold, a color pallet that would age well and wasn't overly trendy.
To make the Old Medical College wedding uniquely them, they cut all of the things and traditions that they didn't feel were meaningful and focused on the ones that did. Their ceremony took place under a tent at the front of the building with a sign that read "welcome to our weird & wonderful life" as guests took their seats. Their close friend officiated the ceremony and they read their own written vows to each other before placing their rings and sealing "I do" with a kiss.
Then, the party began! DJ Jon Fiest provided the tunes for the night and Fat Mans Catering served dinner. Another way they made their wedding meaningful to them is that they had Mitch's mom make their favorite cake that was a family recipe, instead of doing a formal wedding cake! The party lasted all night, with one of Maddy's favorite moments of the wedding being during the reception when Mitch ripped open his shirt to reveal his "tattoos" from the night before scribbled across his chest!
Maddy & Mitch were sent off by their friends & family with a sparkler exit to their honeymoon - a road trip in an Escape Campervan across Utah!! Congrats Maddy & Mitch!!
"My advice is to not get caught up in all of the things you are "supposed" to do and really just focus on creating a day that's meaningful to you." - The Taylors
Your Narrative blog will appear here, click preview to see it live.
For any issues click here
Engagement Ring Designer: