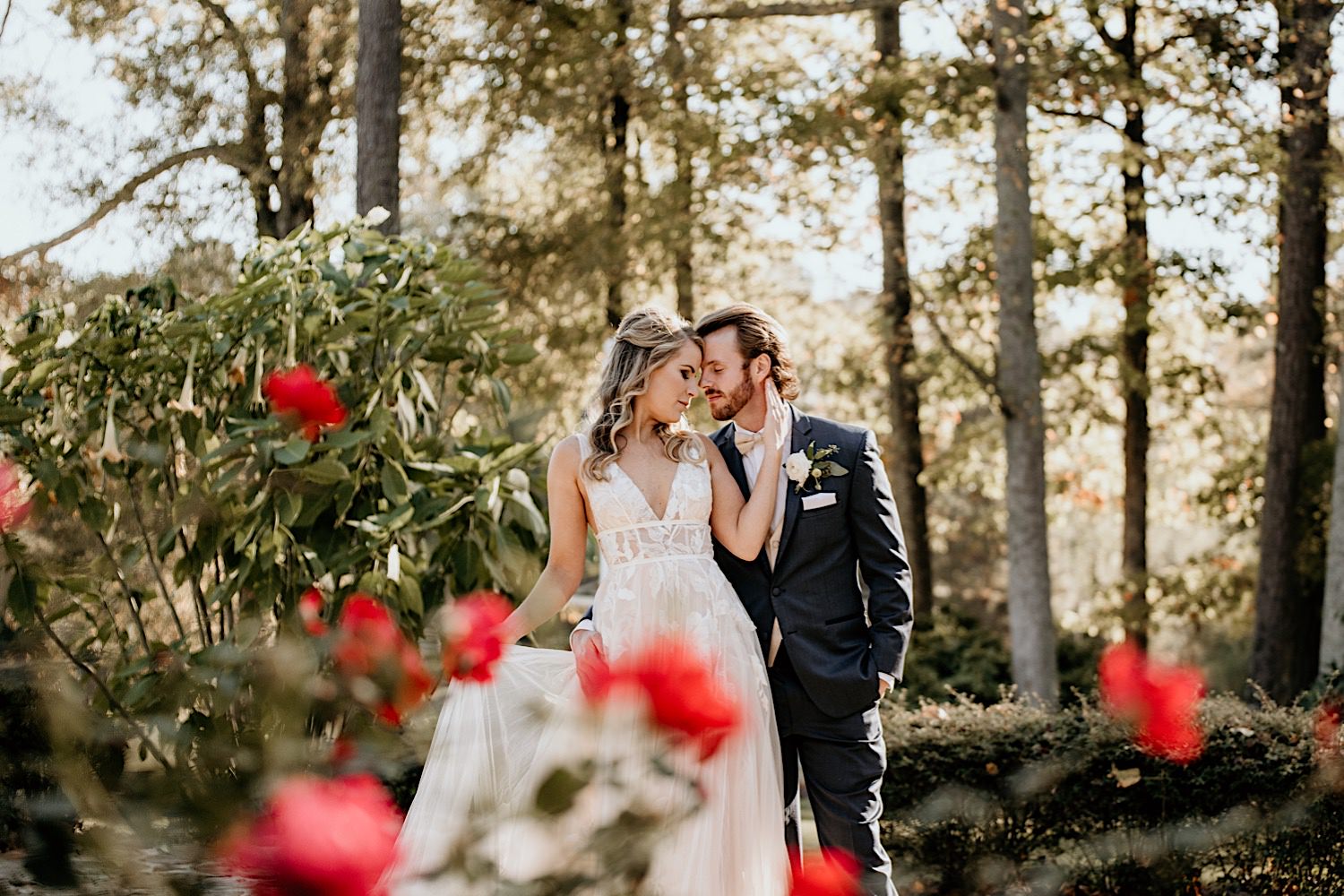 Little River Farms Wedding | Alpharetta, Georgia
Little River Farms is one of our absolute favorite wedding venues in Georgia, especially in the fall! It features a gazebo, lake and tons of gorgeous places for photos! We were lucky enough to have been able to photograph the wedding of the most amazing couple, Kelsey and Tyler, in November this past year.
The Wedding
We started the day off with photographing Kelsey's wedding dress from BHLDN. I'm not exaggerating when I say it's literally my FAVORITE dress we've photographed.. I could not stop obsessing over it and probably took 100 photos of it around Little River Farms. It's also one of my favorite dress photos we've taken! Can you guess how we got it? Greg was actually standing behind it and threw the sides of it up and I photoshopped him out later!
After photographing the couples details we caught the tail end of their wedding day prep. Brushworx did an amazing job on Kelsey's hair and makeup! Another thing we love about Little River Farms is that they have areas for the couple to get ready there with their bridal party! It always makes everything so much easier when you're able to get ready at the wedding venue, removing any moving parts (and avoiding Atlanta traffic..). Kelsey had a sweet dress reveal with her bridal party before the first look with Tyler!
They did such a great job with their timeline, it really makes all the difference in the photos! There was plenty of time after the first look to take fun, relaxed photos with their bridal party and use the extra time we had before the ceremony to get gorgeous portraits of the both of them around Little River Farms. If you are on the fence of if you should have a first look on your wedding day or not we suggest reading this article we wrote on the subject: https://authenticcollective.blog/should-you-have-a-first-look/
The Ceremony
They had the sweetest ceremony at the gazebo at Little River Farms just in time for the stunning golden hour light. Afterwards we used the last of the light to capture newly wed photos around the venue before heading to the reception!
The reception was an absolute blast, we had so much fun photographing it. We were almost sad when the sparkler send off came around because the entire day had been such a dream.
This wedding is definitely one that we can look back at again and again and never tire of the photos! We hope you enjoy it as much as we do!