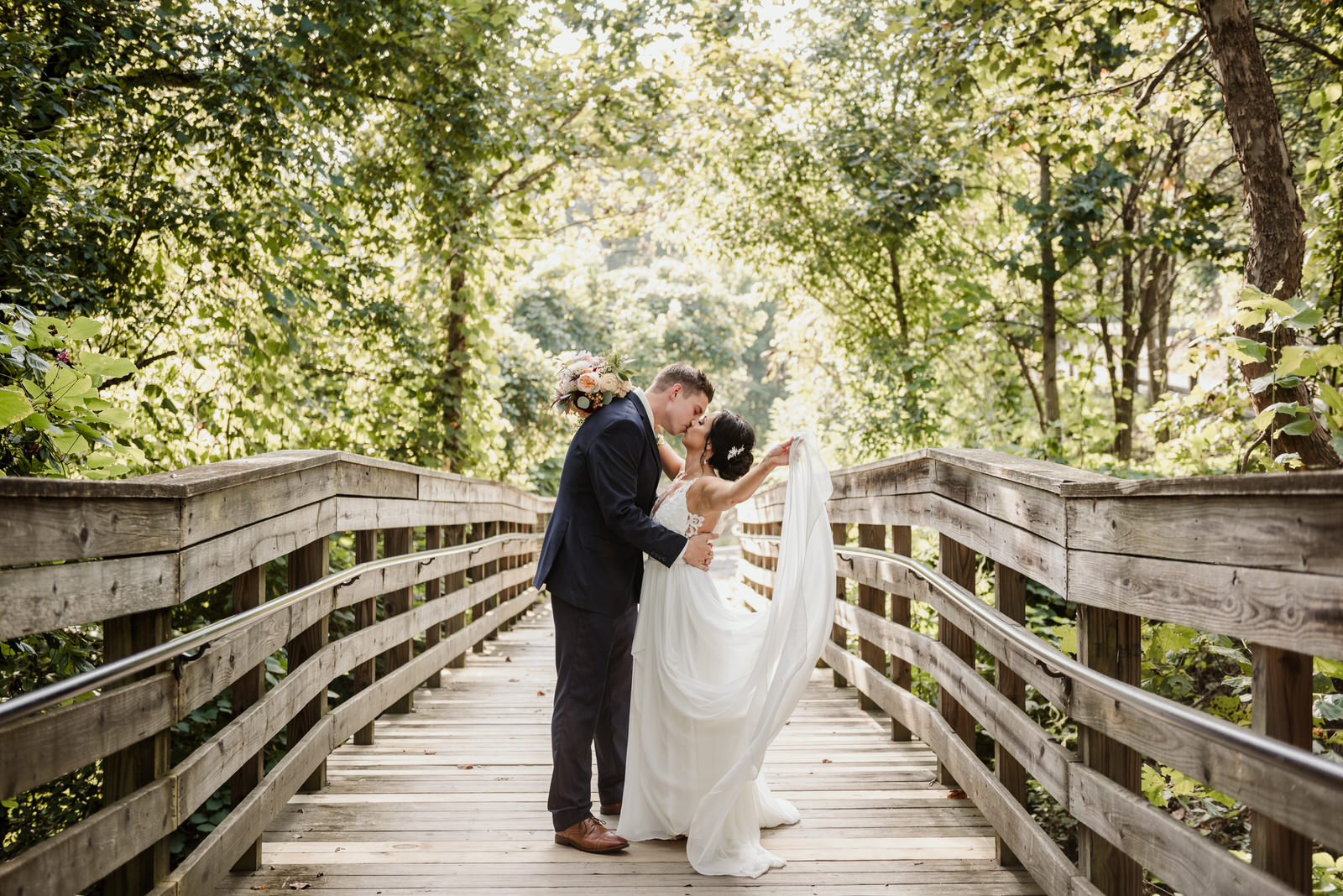 Ivy Hall Wedding at Roswell Mill
Ivy Hall Wedding
Ivy Hall is a wedding venue located at Roswell Mill, just outside of Atlanta, Georgia. The establishment is alongside Vickery Creek, providing nature paths, water and a covered bridge close by the venue. It's perfect for outdoor ceremonies on the 25,000ft deck or an indoor ceremony with it's large windows and great lighting inside the venue!
Ashley & Scott almost didn't make it to see the venue on their scheduled tour. Scott got a flat tire on the way, but they decided to still try to go. After touring the venue they stood outside and Ashley started crying. Scott asked what was wrong and she said, "nothing, this is the one." It was a huge sigh of relief for them after a very long search over three states and 10+ different venues. Then began the planning for their Ivy Hall Wedding!
"We were looking for a venue that "had it all." I fell in love with the historic and rustic venues. Ours was perfect for us - as it incorporated the historic feel, with the perfect locations of our big day. We had our ceremony on the deck overlooking the river, old historic buildings and the mill bridge to take photos on, and a great reception room with surrounding windows. Favorite features were definitely the various locations, rustic feel, windows, and historic nature of the venue."
The Décor
On choosing the perfect décor for their Ivy Hall wedding, Ashley always had leaned towards the "rustic" feel/theme, and after choosing to have an Ivy Hall wedding at Roswell Mill she knew that theme fit perfectly. She liked having the opportunity to mix materials incorporating wood with copper and various shapes. Believe it or not, Ashley made all of the décor! In her own words "When things shutdown for quarantine in March, thats when I purchased my Cricut machine and self-taught myself how to use it. I made 100% of my decor, whether it was painting, vinyl, HTV (heat transfer vinyl) or cardstock. The majority of metal shapes that were on the tables I had to paint, I painted the welcome sign, made the table numbers, made the guest giveaways out of cardstock, made the koozies, the cardbox etc. and my dad handmade the cornhole boards and jenga set."
The couples primary colors were Navy and a Mauve/Sedona color with accents of Slate Blue and Copper. Ashley always knew she wanted Navy with Copper accents. Ashley was thrilled to see her colors perfectly fit the early fall foliage after her original wedding date was pushed from late May!
Being Intentional
The newlyweds chose to personally craft the whole ceremony instead of going off a traditional script. Ashley said "It was definitely important to us to do our own personal vows - as I wanted this to be special to us." They also decided early on to do a first look providing some personal time and space for the two of them during their busy wedding day. They said, "We are both pretty traditional so were not open to this at first but SO happy we opted to do a first look and spend that time together."We find most of our couples would agree that after their first look, they feel both relived and excited that just for a moment the day paused and allowed time for just the two of them!
The Moments
"There were so many great moments. Scott says the "first look." Mine would probably be introductions/entering the reception, as "Mr. and Mrs. Sika." It was such a long journey and now the stressful parts were all over - it was like a rush of happiness and joy, and now we just got to celebrate that we made it."
The Obstacles
"COVID. Everything was planned and then COVID hit and we had to post-pone to a date in which we thought "things would be better by." We are from Michigan/Ohio and our wedding was in Georgia so most of our guests had to travel. The mid-west was more "shut-down" from COVID than Georgia so our guests had varying levels of comfort in terms of traveling. It was heartbreaking for us to not have EVERYONE there that we wanted to be there, but also we couldn't keep putting our lives on hold and pushing the wedding back. Planning two weddings was about all we could handle! Advice for those planning: Do what's best for you - whatever it may be! It's hard, but don't stress. I stressed about so many things leading up to the big day and on our actual wedding day I didn't think of any of those things! Lastly, enjoy every second of it. Enjoy the planning, enjoy all of it. In the end it all goes by so fast!"
Your Narrative blog will appear here, click preview to see it live.
For any issues click here
See an Ivy Hall wedding reception here. 
Photography by Authentic Collective