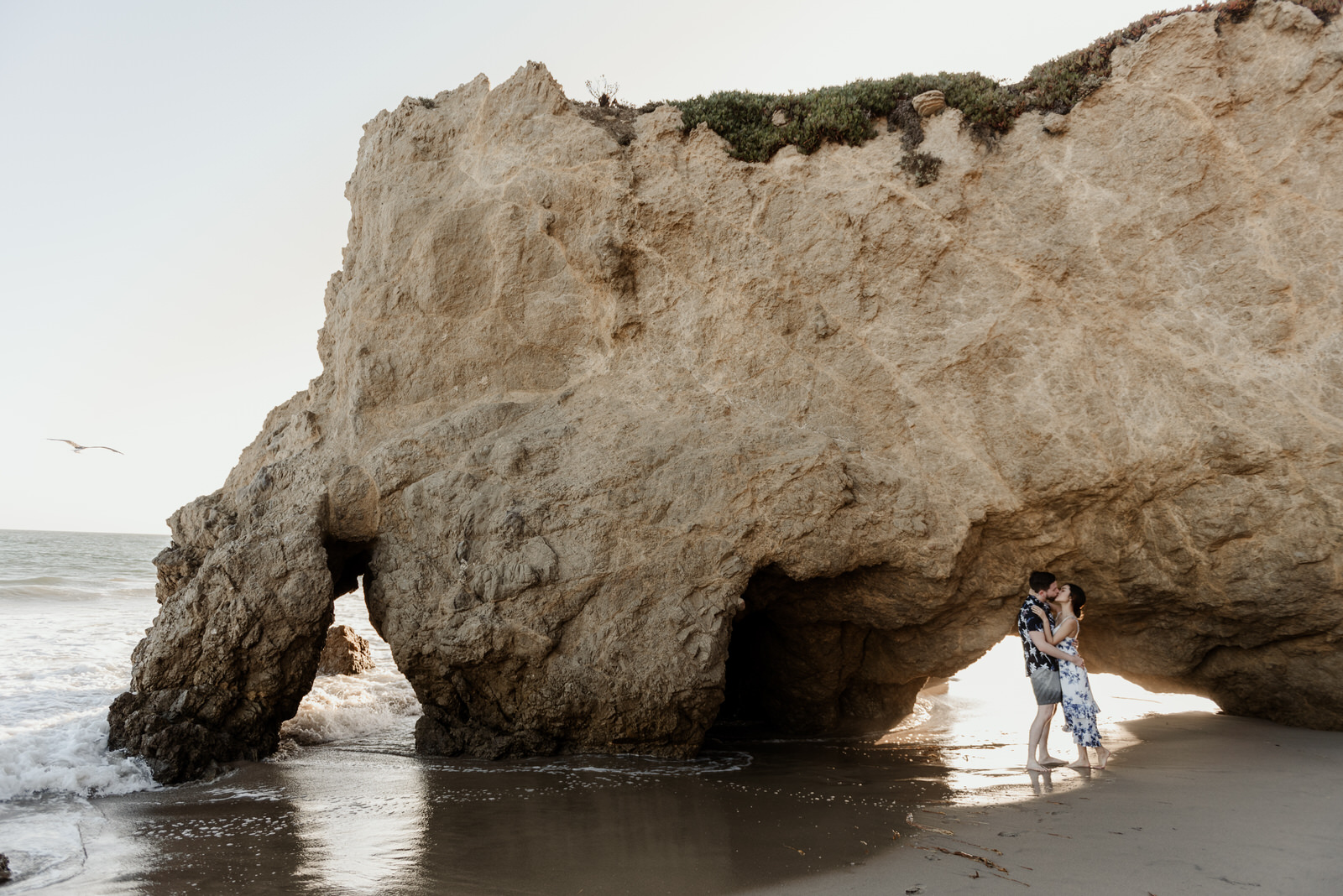 El Matador Beach Engagement Photos
El Matador Beach is a gorgeous location right in the heart of Malibu, perfect for Malibu engagement photos. The landscape of the beach is so stunning and unique, featuring massive rock formations including the iconic arch rock. El Matador beach sunset provided us with some of the most dreamy golden light we've ever come across. The beach is extremely popular- and for a good reason! Don't be fooled by these photos, there were tons of other photographers and beach goers occupying the beach that we had to work around, but we made it work. Nothing beats El Matador Beach Engagement Photos!
El Matador Beach Sunset
If you're looking to get El Matador Beach Engagement photos, you're going to want to go there for sunset! Although it can be busy, it's definitely worth it for the beautiful lighting. We'd recommend having your El Matador Beach engagement photos taken on a weekday to minimize the amount of beach-goers. It's also important to hire the right photographer for your El Matador Beach Engagement Photos so that they know how to shoot around the people and can photoshop out a couple if they're in the way.
El Matador Beach Weather
One of the best reasons to get your engagement photos taken at El Matador Beach is that it's great year round! The weather is always nice, no matter the month. The summer will provide warm weather and almost no chance of rain, while winter can be a bit cooler (good for those who get sweaty!) and also will reduce the amount of visitors.
Malibu Engagement Photos
If you're looking into Malibu engagement photos, we recommend contacting a professional photographer to provide you with a list of the best photo locations! We always give our couples a location guide so that they can choose the best location for their photos.
About the Couple
How They Met:
Natasha and Will met in 2013 at a party during the first week of a new school year at UC Santa Barbara. They clicked right away, talking and dancing all night and weren't able to focus on anyone else at the party. Will was planning to study abroad the following year, however despite this they continued to see each other throughout the school year – going out together, meeting up at parties and school events and spending time at the beach. At the end of the school year Natasha confessed her love for Will and he revealed that he felt the same way about her. They decided their love was worth braving the difficulties and hardships of a long distance relationship and jumped in with both feet- eventually leading to them getting engaged and getting El Matador Beach Engagement Photos!
The Proposal:
Will had originally planned to propose to Natasha on their vacation in Phuket. Unfortunately, they were forced to cancel their trip due to COVID so Will had to get creative. The couple absolutely loves to travel, so although they were sheltered in place Will found a way to bring the adventure to Natasha. He took their travel videos from their GoPro and created a beautiful proposal video with all of their favorite memories from traveling throughout Europe and Asia. Natasha told us she cried listening to Ed Sheering singing Perfect Duet while reliving their best memories together- and of course said yes!
The Couple:
Natasha and Will are a very adventurous couple, part of the reason they were drawn to El Matador Beach Engagement Photos. They love to explore new places and cuisines, and challenge each other on who can eat spiciest food. They enjoy talking about political issues and world events, but spend most of their time joking and laughing together. They strike a good balance between being outgoing & spending quality time at home. They are thoughtful and expressive about what their relationship means to them, and they look for opportunities to continuously improve their communication and mindfulness. They naturally gravitate towards other funny people & couples who share their love of food & travel.
We hope you love browsing through some of their El Matador Beach Engagement Photos!
Your Narrative blog will appear here, click preview to see it live.
For any issues click
here