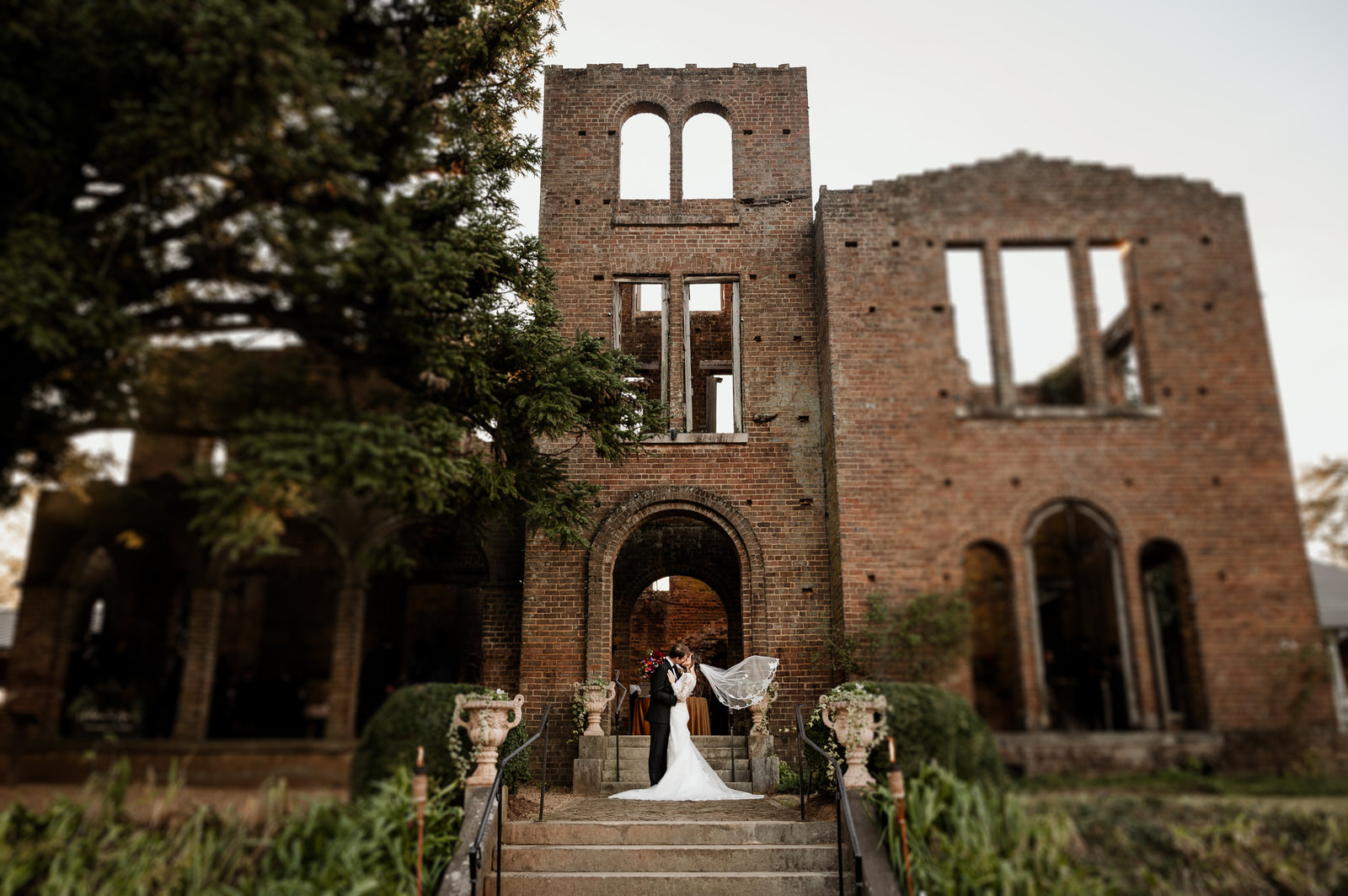 Barnsley Gardens Resort Wedding | Adairsville, Georgia
Barnsley Gardens Resort is a rustic yet elegant wedding venue located in Adairsville Georgia, just over an hour drive from Atlanta. The resort also has cottages, hotels and restaurants on site so you and your guests can stay at the venue. In addition to that, there are endless photo ops such as the bamboo forest, meadow, pond and brick ruins. It's seriously a photographers dream!
Amber and Hudson knew they would have a Barnsley Gardens wedding even before they were engaged. They had been to the resort for events in the past and instantly fell in love with how warm, cozy and inviting it is. The couple loves the outdoors and Barnsley Gardens Resort had it all! In fact, they loved the venue so much they we did their engagement photos there as well. 
First Look & Private Vow Reading
On a sunny fall morning in November, Amber and Hudson's Barnsley Resort wedding began. They got ready in separate cottages within the resort with anticipation of seeing each other. Artistry by Shannon did a stunning job on the bridal hair and makeup for Amber. Since the bridal party hadn't seen Amber's dress, we did a reveal for them!
They initially didn't want to have a first look, however, with it being the shortest day of the year they decided it would be beneficial. (Thanks Chancey Charm for doing a great job with explaining the benefits for the photos and timeline!) In the end, this is what they had to say about it:
"We absolutely did not want a first look at all and thought it would take away from the ceremony, but we were way wrong. We'd do the first look over and over again! It allowed us to spend more time together and our family and bridal party to enjoy themselves right after the ceremony. And when it did come down to the ceremony we still cried haha" - Amber
A lot of couples don't like the idea of seeing each other before the ceremony because they're afraid that the ceremony won't be as special. However, it can be great to calm nerves and be able to spend some private time together. This also gave Amber and Hudson the opportunity to read their vows to each other in private prior to the ceremony. We LOVE this idea and highly recommend it! We even had them go inside the bamboo forest while we photographed them out of ear-shot so they could share that moment completely alone. Some of my favorite shots from the day!
Manor House Ruins Ceremony
Amber and Hudson's ceremony took place at The Manor House Ruins, a brick structure overgrown with greenery. They fully embraced the season of fall and the natural beauty of the venue, only needing to add some florals to the space for a pop of color. French Market Flowers did a fantastic job on the florals, bringing the brides vision to life of a colorful bouquet to match her personality!
It was the perfect fall evening as their guests took their seats before the ceremony. Although it was the end of November, the trees still danced with vibrant leaves and the breeze was still warm.  The couple tied the knot in front of their closest friends and family as the sun set behind the historic ruins.
Afterwards, they snuggled up with each other as we took their newlywed photos and the sun started to dip behind the trees.  They shared a private moment and reflected on the day together while watching the sky turn pink and fade to blue.
Sifi Entertainment, as always, brought the party to life when the reception came around! Everyone, I mean EVERYONE, was dancing their butts off. Someone literally ripped their pants from dancing too hard! As a perfect end to a perfect day, Amber and Hudson's love ones sent them off to their honeymoon with a sparkler exit. Hudson's parents had even surprised them with a horse drawn carriage! They poured a drink, cheered to being married and left their Barnsley Resort wedding to their honeymoon in St. Lucia!!
Wedding Q & A
How did you make your wedding about the two of you?
"Besides the decor representing our love for the outdoors- I would say our music was the biggest us move ever. We picked 95% of the songs played and we picked what we wanted to hear not what anyone else wanted so we had plenty of EDM, 90s throwbacks, and dance songs that kept us (and everyone else) dancing all night long."
Most memorable moment from your wedding day?
"Oh so many!! Our final song, first dance, father of the bride speech, but what stood out to us the most was our private moment after the pictures were done and before our announcement as mr. and mrs. chancy. We were able to talk and truly take it all in- we remember seeing the pink sunset and just thinking wow we freakin' did it."
What was the biggest challenge you faced in planning your wedding? Do you have any advice for those planning now?
 "COVID! Planning a wedding during a pandemic is the hardest thing to do on top of everything else. The best thing we did though was providing on-site covid testing and making sure everyone was tested beforehand so we could feel some sort of normal during this crazy time. Update on that: we had lots of friends get tested afterwards and they were all negative so we pulled off a covid free wedding!"
Thank you!!
Amber & Hudson, you're the best. Seriously two of the sweetest and most beautiful people inside and out!! We hope your wedding day was everything you could have wished for and that our photos enable you to live it over and over again. We're so thankful we had the opportunity to document this day for you and got to be a small part of your journey together! Once you're back and all settled in from your epic honeymoon in St. Lucia we absolutely have to meet up for celebratory drinks!! (:
All our love,
Sav & Greg
Your Narrative blog will appear here, click preview to see it live.
For any issues click
here
Barnsley Gardens Wedding Packages
If you're considering getting married at Barnsley Resort, we'd love to be apart of your day. Check out our Barnsley Resort wedding packages on our wedding pricing page and submit the contact form to get more information!
Photography by Authentic Collective